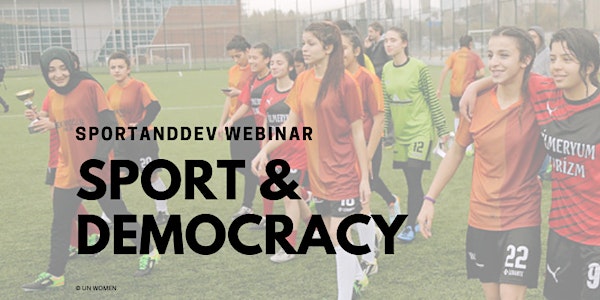 Global Webinar: Sport and Democracy
Join sportanddev and an exciting group of panelists for a discussion on the connections between sport and democracy.
By The International Platform on Sport and Development
Date and time
Wednesday, March 15 · 6 - 7am PDT
About this event
* How can sport promote and support the development of inclusive, democratic societies?
* How can we democratise the sport for development sector?
* What is the link between sport and human rights?
* How can sport be better governed, and what are the pros and cons of using sport as a tool for diplomacy?
Sport and democracy is an important yet complex topic, and over the past few weeks sportanddev has been collecting articles on these questions and others. We will now dig deeper with a panel of experts from different sectors. You will also have the chance to ask questions to the panelists and share your views.
With support from the Swedish Postcode Foundation, sportanddev launched this spotlight on sport and democracy, which aimed to increase awareness and knowledge of the topic, and to increase debate and dialogue.
The call for articles is accepting submissions until 10 March 2023.
Details:
• Date: Wednesday,15 March, 09:00-10:00 Eastern Time USA (EST) // 14:00-15:00 Central European Time (CET)
• Held on the Zoom platform: a link will be shared with registered participants one day before the webinar
Panelists:
Andrea Florence - Sport & Rights Alliance, Brazil
Andrea Florence is a Brazilian feminist, campaigner and international human rights lawyer dedicated to movement building. As the Director of the Sport & Rights Alliance, Andrea is responsible for ensuring the combined strength, representation and expertise of global civil society and trade union organizations working to advance human rights in world sport are harnessed, organized and amplified. Previously, Andrea led World Players Association's Census of Athlete Rights Experience (CARE), the first global study to look at elite athletes' experiences as children in sport. Andrea has also spearheaded global human rights actions as Campaigns Coordinator at Amnesty International Brazil and supported uncovering child abuse in sport during the Children Win campaign at Terre des Hommes International Federation.
Frank Appiah Kusi - School of Sports and Exercise Medicine at the University of Health and Allied Sciences, Ghana
Frank Appiah Kusi is an Assistant Lecturer in Sport Management at the School of Sports and Exercise Medicine of University of Health and Allied Sciences, Ho, Ghana. He is currently a PhD student specializing in Sport Marketing at the Graduate School of Business and Management of Philippine Christian University, Manila. Frank is the country Rep for Africa Sports Management Association, and an advocate for sport heroes inclusion in sport governance.
Sang Eun Lee - IOC Young Leader, South Korea
Sang Eun is a International Olympic Committee Young Leader, a former short track and speed skating athlete, and her current major sport is ice hockey. She was a professional assistant and team host in charge of the Women's Ice Hockey games in the PyeongChang 2018 Olympic Winter Games. She holds a bachelor's degree in international studies and is currently studying international law. She is passionate about advocating for those who are displaced due to inequality and founded her own sports business project The Dream League, which empowers girls and women through ice hockey in Korea.
Eli Wolff - Power of Sport Lab, United States
Eli A. Wolff directs the Power of Sport Lab, a platform to fuel and magnify creativity, diversity, connection, and leadership through sport. Eli's work has been at the intersection of research, education and advocacy in and through sport, with a focus on sport and social justice, diversity and inclusion. Eli serves as a co-organizer for the Athletes and Social Change forum with the Muhammad Ali Center, and he is an instructor with the Sport Management program at the University of Connecticut. He is also a co-founder and advisor to Sport and Society initiatives at Brown University. Eli was a member of the United States Soccer Team in the 1996 and 2004 Paralympic Games. Eli is a graduate of Brown University and has an MA in Olympic Studies from the German Sport University of Cologne.