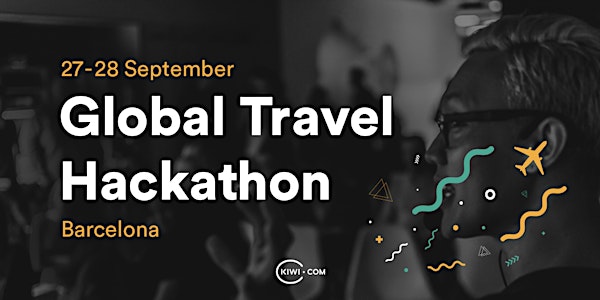 Global Travel Hackathon Barcelona Edition
When and where
Location
Aticco Verdaguer - Tu coworking en Gracia 339 Carrer de Provença 08037 Barcelona Spain
Description
Global Travel Hackathon 2019
Hack travel and make it smarter, sustainable and accessible for everyone.
Get together with other engineers, designers, travel innovators and help us make travel smarter, responsible and accessible for everyone.
Celebrate World Tourism Day by joining one of the hackathons happening all over the world on 27 September and develop your business idea in 24 hours.
We will prepare the perfect environment for you. Food & drinks and a cool venue is on us. You can be sure that you will be coached by travel industry experts, entrepreneurs, and innovation experts. The rest is up to you!
More info about the whole #HackTravel movement at hack.travel.
---


The topics for this year:
Sustainability
Do you have an idea about how to make travel more responsible? How to deal with mass tourism? Join us to make travel sustainable and bearable for everyone.
Accessibility
How to make travel better for people with disabilities? How to find well-adapted hotel rooms or accessible restaurants? Or how to make travel smooth for travelers flying with their musical instruments, bikes or surfboards? Accessibility can be perceived from different perspectives, help us find the one which will change the world of travel.
Community
How to find one's travel network? How to connect offline communities? Help us connect the unconnected.
---
Prizes
The Global Prize
The winning project of each location will be invited to send a demo for a global round, in which top Kiwi.com developers and managers choose the winner of the global prize. This round is 100% remote, more information will be provided soon.
Local Prizes
1st prize
€1,000 of travel vouchers for the winning team
Don't hesitate and register today!
Note: By completing the application form, you'll be added to the list of potential attendees. We'll let you know by 10 September if you were selected as a participant.
---
Mentors
To be announced soon
---
FAQs
What is a hackathon?
Hackathon is an unorthodox way to solve different kind problems. It is a competition that gathers programmers with different skill sets to work collaboratively, on a software project, which creatively solves various problems on a given topic.

Who's behind the Global Travel Hackathon?
The idea was born at Kiwi.com, however, each of the hackathons has a different organiser. Please, consult the web page to see who's the main organiser of the hackathon you are interested in.
What should I build?
The general theme of the Global Travel Hackathon is sustainability, accessibility and community in the world of travel.
In order to participate, do I need to stay for the whole 24 hours?
We don't force anyone but we higly recommend that to enjoy the time to the top.
Is there a hashtag?
Yes, it's #HackTravel.
Can I get support to travel to a hackathon?
We do not provide travel support to attend a hackathon of your choice. You are free to organize a hackathon in your city by yourself – if you would like to, let us know here.
How big can my team be?
From two to four people.
Is there an age limit?
Yes, you need to be 18 or older.
Can I get a head start on my hack?
To ensure a level playing field for all participants, all code and assets must be created during the hackathon. Failure to comply with this rule may result in the offending team's disqualification. Nevertheless, feel free to make plans, create wireframes, and brainstorm ahead of the event.
Can I use external APIs, services, and SDKs?
You are encouraged to use any 3rd party services, APIs, open-source projects, libraries, and frameworks as long as they are publicly available on the web. We offer our public API's that you can find on our B2B platform Tequila, so you can use our resources to take the travel experience to a new level.
Who owns the intellectual property generated during the hackathon?
What you create is yours. No one else, including Kiwi.com, has the rights to use it outside of the competition.
What if I don't know how to code?
You are still welcome! As long as you come willing to learn and ready to contribute ideas, you can contribute to a team. But your team must have at least one developer because you will be evaluated on the technical solution of a demo you deliver in those 24 hours.
What are the demos like?
You'll have 180 seconds to pitch your idea and demo to a panel of judges. You'll be provided with AV support, a microphone, and a projector. The specific criteria of the evaluation process will be presented in August 2019. What we know for sure, is that one of the criteria would be the technical solution. Please, make sure that at least one of your team members can code.
Is there any age limit for attendees of the event?
Yes, you have to be at least 18 years old on the day of the event.