Description
The 7th Annual Global Table, hosted by Alissa Yamnitz and Kelly Somberg, celebrates the diversity of refugees in Kansas City. Join JVS for an internationally themed evening with appetizers and drinks.
To learn more about sponsorship opportunities, please contact Malinda Kimmel at mkimmel@jvskc.org or 816-629-8935.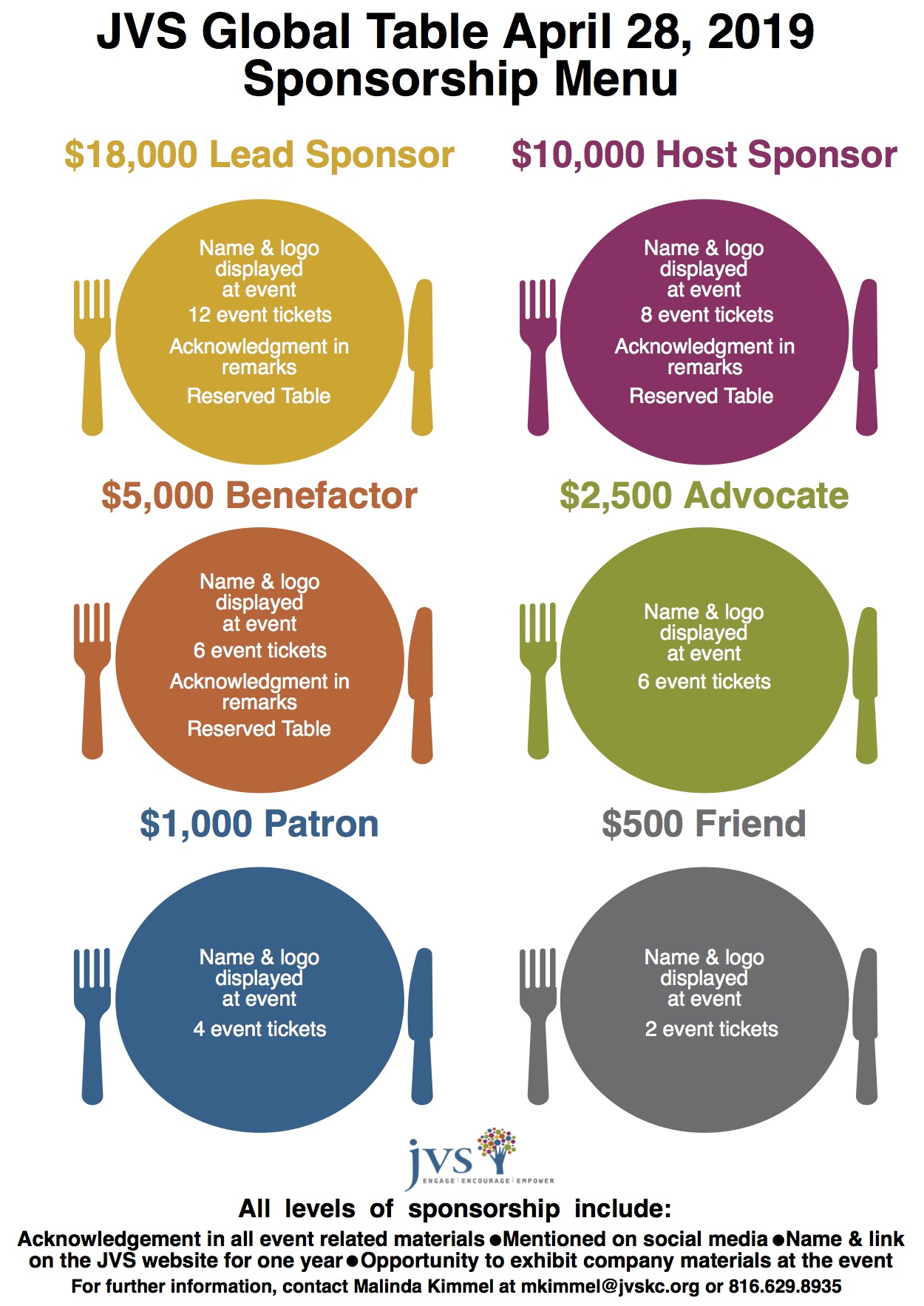 Thank You to our current sponsors:
Sponsorship
Lead $10,000+
Anonymous
Stan Bushman
$2,500-$4,999
Baldwin and Vernon, LLC
Leonard and Irene Bettinger Philanthropic Fund
Husch Blackwell
Lynn and Bill Intrater
Ann and Tom Isenberg
Price Family Foundation
Prier Products, Inc
Kelly and Dan Somberg
Gregory Woodhams
$1,000-$2,499
Anonymous
AssuredPartners, Inc.
CBIZ, Inc.
Paula and Cliff Cohen
Colliers International
Debbie Sosland-Edelman and Alan Edelman
Irene and Saul Ellis and Jim Ellis and Shelley Collins
Ewing Marion Kauffman Foundation
Finesse Soccer
Graceway Church
John and Jennifer Isenberg
Isle of Capri
Kansas City Blue Cross Blue Shield
Kansas City Public Schools
Regina and Bill Kort
Lowenstein Family Supporting Foundation
Kate McCaslin and Brady Poskin
Tracy Mandel McHugh and Michael McHugh
Nebraska Furniture Mart
Lynn and Joe Poskin
Irv Robinson*
Samuel U. Rodgers Health Center
Blanche and Neil Sosland
Shari Stimetz
Tension Envelope
$500-$999
Martha and Jerry Baird
Andrea and Robert Baran
Merilyn and Loren Berenbom
Burkhart Law Group
Marsha and Jack Campbell
Marilyn and Cal Cohen
Beth and Steve Cole
Congregation Beth Torah
Rita Cortes and Mary McLean
Robert Cutler
Dunn Family Foundation
Meggin and Martin Emert
Linda and Bruce Enright
Laura and Kevin Fitzpatrick
Sandi and Ed Fried
Martha Gershun and Don Goldman
Girson Family Foundation
Shirley and Barnett Helzberg
Cheryl Hightower and Mike Shopmaker
Rev. Dr. Robert Lee Hill
Jewish Community Center of Greater Kansas City
Keller Consulting
Rachel Krantz and Edward Goldstein
Kacy Levin and Rabbi Mark Levin
Lynne Melcher
Jennifer and Steven Paul
Polsinelli
Rosanne and Howard Rosen
Amy and Peter Shapiro
Hilary Cohen Singer and Jeremy Singer
Sheila and Ken Sonnenschein
Becki and Gary Stein and Alissa and Ryan Yamnitz
Truman Medical Center
Kathy and Don Wise
Community Partnership ($250)
Jewish Family Services
North Kansas City YMCA