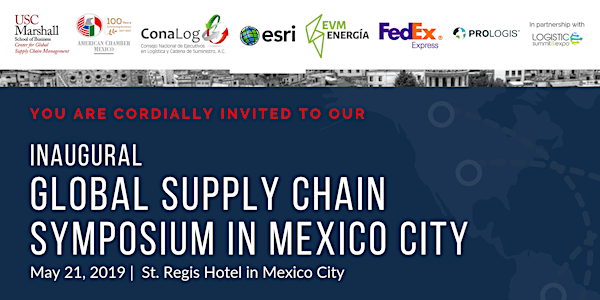 Global Supply Chain Symposium in Mexico City
Location
St. Regis Hotel, Mexico City
439 Avenida Paseo de la Reforma
Ciudad de México, CDMX 06500
Mexico
Sales Have Ended
Ticket sales have ended
Thank you for your payment to the USC Global Supply Chain Symposium in Mexico City
Description
Evento 100% bilingüe con traducción simultanea. This event will have real-time translation from English-Spanish and Spanish-English.
A center of excellence of the University of Southern California, the USC Marshall School of Business Center for Global Supply Chain Management exists to connect the world through Network, Education and Advanced Research in global supply chain management. As an industry leader in cultivating top business talent, and part of USC Marshall's renowned faculty and global network, the Center is one of the top thought leaders in the realm of global supply chain management. The Center's Masters in Global Supply Chain Management, ranked #1 in the United States, its annual Summit in Los Angeles and its series of international symposia are the Center's key educational activities.
The inaugural Mexico Symposium will bring together decision-makers and thought leaders to a one-day, invitation-only event. This event is a unique opportunity for business executives to connect and share insights on how to strategically manage supply chains in rapidly evolving local and global markets, under the auspices of a world-class academic institution.
A slate of Mexican business leaders and experts from the distinguished USC Marshall faculty, in collaboration with American Chamber/Mexico, will present on a series of thought-provoking panels and keynote presentations that will cover the most pressing trends in North American and global supply chain, from the perspective of Mexico. Topics include the new USMCA, Blockchain, Innovation and Disruption, Energy, Sustainability, Diversity, and Human Capital Development.
In partnership with the University of Southern California, the Global Supply Chain Symposium believes in the power of education and human capital. As such, your ticket revenue will go to funding student scholarships from Mexico to attend the USC Master's in Global Supply Chain Management program in Los Angeles, as a non-profit donation to a 501c3 in the US. A tax deductible receipt will be provided upon request via email to CENTER.GSCM@MARSHALL.USC.EDU or SYMPOSIUM.GSCM@MARSHALL.USC.EDU.
Past symposia in Los Angeles (http://globalsummit.uscsupplychain.com/) and India (https://indiasymposium.uscsupplychain.com/) have had very high-level speakers and sponsors, and we expect the same for the inaugural Mexican event.
Refunds will not be offered.
Aviso de privacidad de eventos: https://docs.google.com/document/d/1eTjeDZozJWlTdG-_D6F4fOYE3jpGgOS7b2HjusgIt00
Identidad y domicilio del responsable.
Los datos personales que usted nos proporcione serán tratados por el USC Center for Global Supply Chain Management (CGSCM), domiciliado en 1149 S Hill Street, Ste 950, Los Angeles, CA 90015.
Datos personales sujetos a tratamiento
CGSCM para cumplir con las finalidades señaladas en el presente Aviso recabará y tratará datos personales de identificación (incluyendo su imagen), datos personales laborales y datos personales de contacto. CGSCM no recabará ni tratará datos personales sensibles.
De manera adicional, le informamos que si usted ingresa a alguno de nuestros eventos podrá ser fotografiado y/o video-grabado. En este sentido, al ingresar a cualquiera de los eventos organizados por CGSCM y/o las marcas de los patrocinadores de CGSCM usted consciente que CGSCM utilice su imagen en una o varias fotografías y/o vídeos y/o demás materiales de apoyo que considere pertinentes para las finalidades que se detallarán a continuación.
Finalidades primarias
CGSCM tratará sus datos personales necesarios para las siguientes finalidades primarias: (i) Identificarle y registrarle como asistente al evento; (ii) contactarle para informarle sobre las principales noticias del evento y otros eventos; (iii) entregarle reconocimientos como participante del evento; y (iv) atender, y dar seguimiento a sus quejas, dudas y/o comentarios.
Finalidades secundarias
De manera adicional, si usted no se opone, CGSCM utilizará su información personal para las siguientes finalidades secundarias: envío, tanto físico como electrónico, de publicidad y comunicación con fines de mercadotecnia y tele-marketing, así como para invitarle a participar en encuestas y asistir a eventos. Asimismo, su imagen personal será utilizada para la elaboración de material informativo vía website, boletin de prensa, publicaciones institucionales y promocional para las campañas publicitarias de CGSCM.
En caso de que no desee que sus datos personales sean tratados para alguna o todas las finalidades adicionales, usted nos puede comunicar lo anterior al correo symposium.gscm@marshall.usc.edu.
Transferencias
CGSCM para cumplir la(s) finalidad(es) necesarias anteriormente descrita(s) u otras aquellas exigidas legalmente o por las autoridades competentes, sólo transferirá los datos necesarios en los casos legalmente previstos.
Derechos ARCO y/o revocación del consentimiento
Usted o su representante legal podrá ejercer cualquiera de los derechos de acceso, rectificación, cancelación u oposición (en lo sucesivo "derechos Arco"), así como revocar su consentimiento para el tratamiento de sus datos personales enviando un correo electrónico al Responsable de Protección de Datos de CGSCM a la dirección electrónica symposium.gscm@marshall.usc.edu.
Limitación y/o Divulgación de sus datos
Usted podrá limitar el uso o divulgación de sus datos personales enviando su solicitud a la dirección symposium.gscm@marshall.usc.edu. En caso de que su Solicitud sea procedente se le registrará en el listado de exclusión propio de CGSCM. Para mayor información favor de contactar a nuestro Responsable de Protección de Datos de CGSCM.