Description
Global Summit on Food and Nutrition
About
Introduction
We are what we eat. Food is what makes our body. By definition, any substance that is capable of being eaten or drunk and which nourishes the body by meeting the needs for energy and proper functioning is called food. Nutrient, on the other hand, is what is contained in food that lets it carry out the above mentioned functions of nourishment. The science that involves the study of nutrients required by the body for it to function optimally, maintaining the highest level of both physical and mental health is called Nutrition.

The Global Summit on Food and Nutrition, to be held in Paris, France on February 25th & 26th, 2019 will aim to multiply the understanding we have of the relation between Food and Nutrition and its consequences on public health in accordance with its theme surveying the composite relationship between diet and health.

"Nutrients are the nourishing substances in food that are essential for the growth, development and maintenance of body functions. Essentially meaning that if a nutrient is not present affects function and therefore human health decline. When nutrient intake does not regularly meet the nutrient needs dictated by the cell activity, the metabolic processes slow down or even stop."

- Perspectives in Nutrition, Wardlow and Insel.

Diet refers to our daily intake of food. Food, in sense of Webster's definition of medicine acts as the primary medicine which maintains good health and prevents disease. However, the present world scenario calls for discussions and deliberations about a healthy diet and its access to the human population which is battling a major crisis. According to the World Hunger Statistics, nearly 800 million people in the world do not have access to a proper diet, which roughly estimates to 1 in 9 people!

Living in a world with access to internet anytime anywhere, information is available at everyone's fingertips. However, a conference provides its delegates an ideal setting for a serendipitous rendezvous to discover what they did not know they needed to know. With tracks related to food habits, availability of food and nourishment, nutritional value and the importance of diet on health, Food Summit 2019 is dedicated to incite discussions that promote innovations and fresh perspectives to the existing situation. It welcomes professors, research scholars, dieticians, nutritionists, doctors, industrial professionals, students, social workers and groups to be a part of it as we deliberate on the fight to making healthy diet accessible to all.

Why to attend?

The Global Summit on Food and Nutrition is set to be among the World's leading Food and Nutrition Conference. The Conference will comprise of major sessions designed to offer comprehensive lectures that address the tracks. The benefits provided to the attendees are:

Certificates will be provided to all speakers, delegates and students
Opportunity to meet world's renowned at this event
Keynote forums by Prominent Physicians & Professors
Best platform for Global business and networking opportunities
Oral/Poster presentations by Young Researchers
Best poster award for students

Abstract Submissions

Food Summit 2019 invites the submission of abstracts of original work. Abstracts must be submitted on the understanding that they have not been presented elsewhere (except in the form of a thesis) and are not currently under consideration by another conference. The submitting speaker should ensure that the abstract publication has been approved by all other co-authors.

Modes of Presentation

Oral presentation
Poster presentation

Language

All abstracts must be written exclusively in English (including the title, abstract text, author names and affiliations).

Correspondence

Please provide the following:

Presenting author's contact details including full mailing address, office phone number, email address and fax number

Name(s) of presenting author and co-authors: first name(s) or initials of first name(s), family name (e.g. Jason Wong or J. Wong)

Affiliation details of all authors: Department, institution/hospital, city, state (if relevant), country.

Financial Assistance

As a non-funded organization, Conference Series LLC cannot give any attendee full waiver on Registration and/or Accommodation or provide any grants for travel. However, in special cases, a participant, especially from lower-income & lower-middle-income economies (World Bank Classification for 2019 fiscal year) may apply for financial assistance in writing to the Program Manager for consideration. The decision of a waiver is made by the Organizers based on the applicant's affiliation, abstract and experience. We recommend participants to provide a detailed and up-to-date biography while submission of abstract.

Conference Series LLC also issues a Letter of Acceptance on request to participants who require it to apply for financial assistance at their University/Institution.

VISA Application

We urge the participants to get in touch with the French Embassy in their country to know their requirements. Conference Series LLC will issue a Letter of Attendance to registered candidates if needed for VISA application. However, the Organizing Committee or Conference Series LLC will not be in correspondence with the Embassy/Consulate or the Ministry of Foreign Affairs in case the VISA application of a potential attendee is rejected.

Sessions and Tracks

Food Science

To simply put, food science is the study of food. It involves the study of the chemical, biological and physical nature of food. Food science also comprises evaluation of food processing, packaging and safety. Food Composition Databases exist, which lists details information sets on the nutritional value and components of a particular food, which is its carbohydrate, protein, fat, minerals, vitamins and fibre content. The properties of food are our concern and its make-up forms the core of the topics of discussion at Food Summit 2019.

Food Irradiation

A very recent development, food irradiation involves the use of ionizing radiations as treatment. It is said to be one of the most potent modes of ensuring food safety and additionally increases the shelf-life of food. The most important advantage of irradiation is that it kills all micro-organisms that would otherwise cause foodborne illnesses in humans, which is responsible for 5000 deaths globally each year, despite the high standards we have reached with respect to food safety. At Food Summit 2019, this special track aims to discuss the latest developments in this field.

Food & Eating Disorders

Irregularity in diet results in eating disorders. Commonly, there are two types of such disorders – anorexia & bulimia. While anorexia involves eating too less, bulimia is caused due to overeating. These disorders are effected upon by mental health, with fear of gaining weight resulting in anorexia. Bulimia on the other hand occurs to people who binge eats, mostly junk food. This too has mental implications as the affected individual has no control over themself to prevent overeating. Eating disorders result in poor health due to discrepancies in the diet. Anorexic people are severely under-weight while overeating causes obesity. Apart from eating disorders, unbalanced components in the diet also lead to cardiovascular diseases and diabetes. A person taking in high volumes of carbohydrates in the form of sugars in their diet can suffer from Diabetes. Excess cholesterol is deposited in the blood vessels, increasing the risk of vascular or cardiovascular diseases, which might even lead to heart attacks!

Food Biotechnology

This track deals with the use of biotechnology in food production and processing industry. Biotechnology has a long history of use in the food industry. For centuries, microbes have been used to manufacture bread, dairy products and alcohol through fermentation. The food biotechnology industry received a major boost with the advancements in the field of genetic engineering. Genetically Modified Organisms (GMOs) are now widely used around the world. Through genetic engineering techniques, the genetic makeup of the food composites can be modified to obtain desirable traits. However, it has been met by resistance from several sections of the society and questions are being asked about their viability and effects on human health. The Global Summit on Food and Nutrition invites researchers to present their findings and discuss the various applications of biotechnology in the food industry.

Single Cell Protein (SCP)

With an ever-increasing population, it is being predicted that agriculture will not be able to sustain the demand for food by as early as 2050. Single Cell Proteins (SCP) is one of the disruptive developments in modern food industry. As the name suggests, SCPs are single celled or unicellular microorganism cell mass, which is dried and used as protein supplements. It has a high nutritional value since its rich in vitamins and nutrients however high nucleic acid content makes it unsuitable as a replacement to food and is currently limited to use as supplements. Latest developments in the research on SCPs, their bright future prospects and uses are included in the Food Summit 2019 agenda.

Probiotics & Dietary Supplements

A dietary supplement is a product that supplements the food. It is generally consumed as a tablet or tonic, which contain nutrients, vitamins or any other essential substance that is useful to our body, oftentimes to simply increase the consumption of the same. Probiotics are among the most common dietary supplements. These are made of live bacteria and they improve digestion. Dietary supplements are gaining more popularity of late since they are rich in nutritive value and are often recommended by doctors to recovering patients.

Foodomics

A new discipline of study, foodomics incorporates the use of omics technologies to correlate the fields of food and nutrition. It involves high throughput analyses of data from genomics, transcriptomics, proteomics and metabolomics to improve the understanding of the effect of food on health and technology. Although research in this field is very limited currently due to slow progress in development, Food Summit 2019 invites the submission of work related to it since foodomics is the way to the future.

Nutrition and Physiology

Nutrients are broadly classified into two types – Macronutrients and Micronutrients. Macronutrients are those which are required by our body in large amounts (carbohydrates, proteins, lipids) while micronutrients are required in small amounts (vitamins and minerals). Macronutrients are responsible for structural development and energy requirement. Nutrition physiology is the study of the effect of the nutrients on the body's metabolism and how it functions.

Depending on requirements nutrition can be classified into various types like:

Clinical Nutrition: Nutrition of patients in health care.

Maternal Nutrition: Nutrition of mothers while they bear and nurture children.

Paediatric Nutrition: Nutrition of children so that they are exposed to all the required nutrients essential for healthy growth.

Sports Nutrition: Nutritional requirements of sportspersons, especially the quantity of food and fluids consumed by athletes to optimize their activity.

This track will also discuss the metabolism of the various nutrients and their nutritive value.

Nutrigenomics

A comparatively new branch, nutritional genomics or nutrigenomics amalgamate the concepts of nutrition and genomics to study their inter-relationships particularly with respect to disease. It encompasses the response of our body to food at a molecular level. Nutrigenomics also finds application in studying the inheritance of nutrition and diet related disorders.

Case Studies

Case Studies act as informative examples to people who might also face similar problems. Generally, case studies should detail a particular medical case, reporting the background of the patient. They should discuss investigations undertaken in order to determine a diagnosis or differentiate between possible diagnoses, and should indicate the type of treatment the patient underwent as a result. In one piece we can conclude that case studies are a useful and informative part of every doctor or physician's medical education, which actually encourage us to include this track in the Global Summit on Food and Nutrition which is going to be held at Paris, France.

Food Allergies

An unusual reaction by the immune system to certain food or components of food is called a food allergy. Common symptoms include itching, reddening, rashes, vomiting or even diarrhoea. Although any food can set off an allergic reaction, milk, eggs and nuts are the most common sources. People allergic to certain food must ensure that they compensate for the nutrients by consuming alternatives in their diet.

Nutrition and Healthcare

Nutrition education is any blend of instructional courses, in the midst of natural backings, intended to encourage voluntary reception of food choices and various nutrient and food related practices contributing to good health. This track calls for professionals in the healthcare sector to talk about the importance of nutrition in their sector and the importance of education about diet among their staff.

Food Consumption and Health Mapping Devices

With advancements in technology, several devices have come up that monitor our health. These devices are capable of tracking the daily intake of nutrients and provide the user a detailed report on its usage. Health mapping devices effectively help individuals to track their own consumption and health. At the Food Summit 2019, we encourage and invite those who are involved in this field of medical devices to come and share their research!
TENTATIVE PROGRAM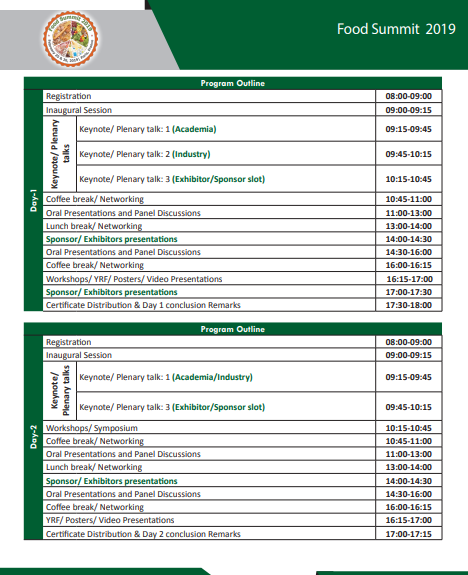 Please contact the event manager Marilyn (marilyn.b.turner(at)nyeventslist.com ) below for:
- Multiple participant discounts
- Price quotations or visa invitation letters
- Payment by alternate channels (PayPal, check, Western Union, wire transfers etc)
- Event sponsorship

NO REFUNDS ALLOWED ON REGISTRATIONS
Prices may go up any time. Service fees included in pricing.
-----------------------------------------------------------------
This event is brought to you by:
Conference Series - NewYorkEventsList
http://www.NyEventsList.com
http://www.BostonEventsList.com
http://www.SFBayEventsList.com
-----------------------------------------------------------------
VIO181214CRE