Description
This is a call for you to get your idea off the ground surrounded by like-minded women. Global Startup Weekend women is your chance to collaborate and get involved with a group of motivated individuals who are hell-bent on disrupting their industry of choice. The event is aimed at female participants, however, men are welcome to participate.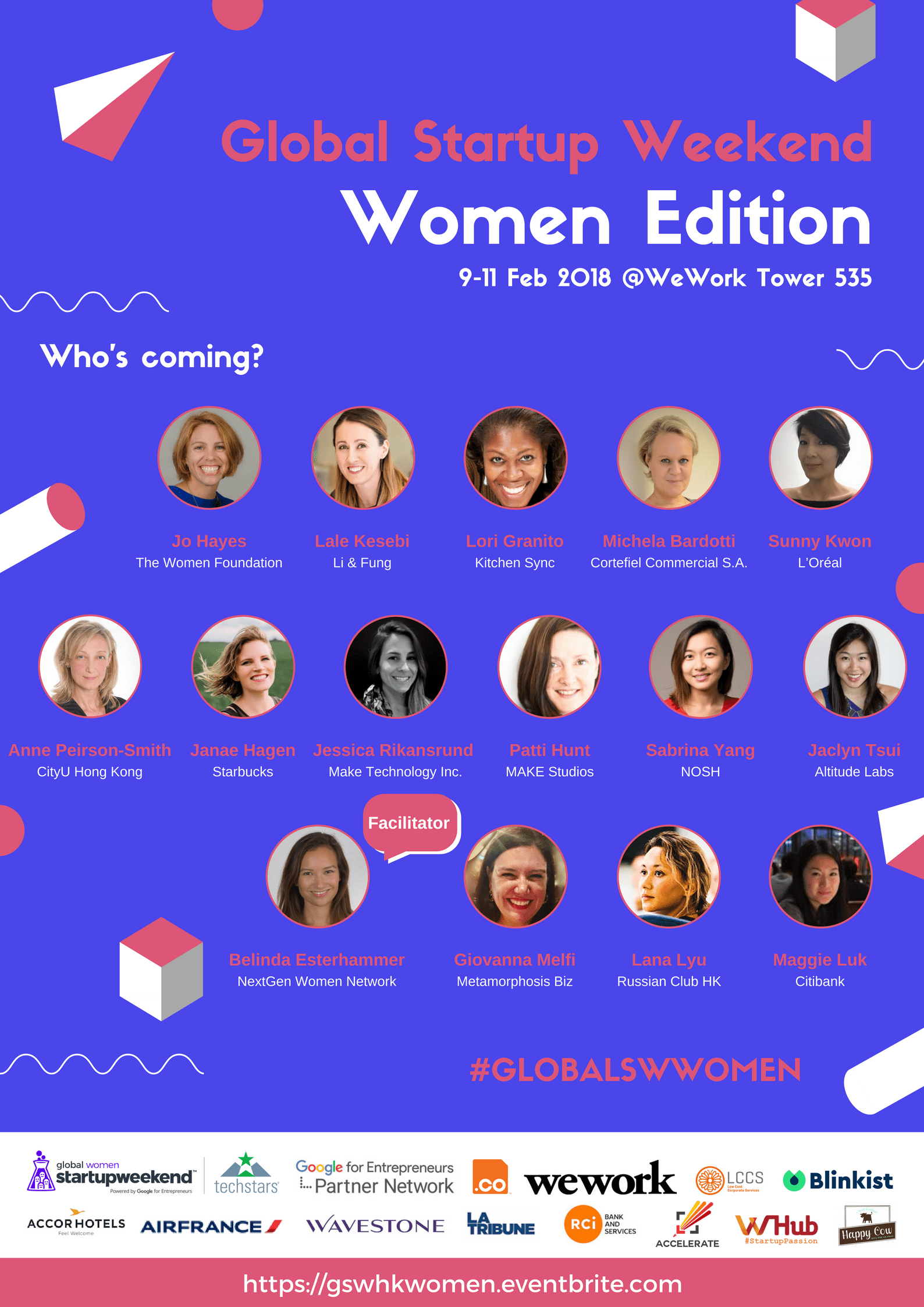 How does 54 hours sound like?
3 hours: Networking, 60 second idea pitching
3 hours: Dream team formation with marketers, designers and developers (or we call them hustlers, hipsters and hackers)
6 hours: Idea sharing and brainstorm
9 hours: Market research and idea validation
9 hours: Product prototyping
9 hours: Business model planning
3 hours: Presentation
12 hours: Team fighting, idea changing, business redirecting... eating, drinking, dancing and having lots of fun!
Oh, ya. You can take a nap at home :)
Or to be realistic, here's a suggested working schedule.
FRI 18:30 Door opens + Dinner | 20:00 Pitch time! | 20:30 Team formation | 21:00 Wrap-up
SAT 09:00 Breakfast | 12:00 User Research | 14:00 Coach Meetings | 15:00 Prototpying | 18:00 Dinner | 21:00 Wrap-up
SUN 09:00 Breakfast | 12:00 Lunch | 15:00 Pitch Practice | 17:00 Final Presentations | 19:00 Dinner | 19:30 Judging & Awards | 20:00 Go Home!
For all event details, please visit http://communities.techstars.com/events/12234 and Global Startup Weekend Women. Any questions, please email the team at belinda@nextgenwomen.network or hk.women@startupweekend.org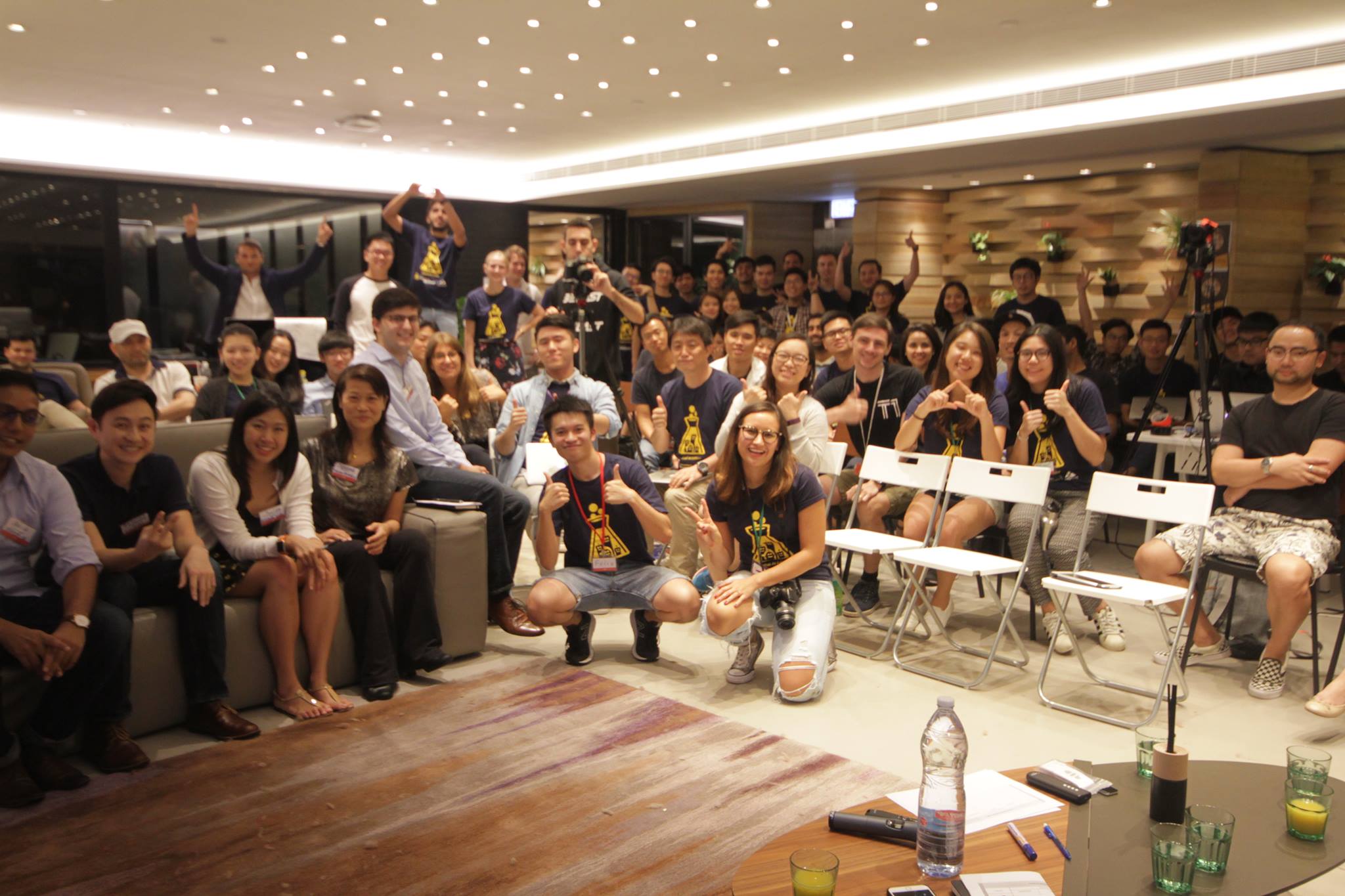 What is a Startup Weekend?
Startup Weekends are all about learning through the act of creating. This global grassroots movement of active and empowered community leaders and entrepreneurs from a variety of backgrounds are learning the basics of founding startups and launching successful ventures. Participants with varying specialties come together to share ideas, form teams and launch startups from the bottom up.

What's different about this event?
This Startup Weekend is designed to engage more female entrepreneurs and provide them with the necessary resources for long-term success. The weekend will be a focused on empowering women within our community to lend their voice to innovation. It will be one of over 200 Women's Startup Weekends happening around the globe, and the winners have an opportunities to be featured by Techstars Global Startup Weekend.


The innovation ecosystem has never been more exciting than it is right now.
Yet, women still don't fill enough important roles in tech. In Asia, only 31% of management roles are held by women. As tech lovers, women and entrepreneurs, it is our responsibility to grow female representation, in Hong Kong and around the world.
While we understand it takes a community of creative thinkers to help build an idea from concept through to execution, this event will be supporting women pitches only. In doing so, we ensure women are able to hone their creative and entrepreneurial talent in a safe environment that inspires risk-taking and innovation with the help of the broader community of men and women ready to share their expertise to champion change and fuel new ideas.

How does it work?
The concept is simple: women pitch their startup idea and receive feedback from their peers. Teams organically form around the top ideas followed by a 54-hour frenzy of business model creation, coding, designing, and market validation. The weekend culminates with presentations in front of local entrepreneurial leaders providing another opportunity for critical feedback before a final winning team is chosen.

Why should I participate?
Whether entrepreneurs find co-founders, meet someone new, or learn a skill far outside your usual 9-to-5 job, everyone is guaranteed to leave the event better prepared to navigate the chaotic but fun world of startups.

Don't wait another minute, buy your ticket today!

Still, have questions, feel free to reach to Belinda Esterhammer at belinda@nextgenwomen.network


Artwork Disclaimer: The Global Startup Weekend Women Hong Kong: Women Logo, is a derivative of "Startup Weekend Women's Edition Palermo 2016" by Luisa Di Martino, used under CC BY. "Startup Weekend Women's Edition Palermo 2016" is licensed under CC BY by Luisa Di Martino.
---
Techstars Startup Weekend Refund Policy: No refunds will be granted within 7 days of the event if food and drink have already been ordered. Apologies for any inconvenience this may cause. About
Techstars Startup Weekend: Techstars Startup Weekends are 54-hour events designed to provide superior experiential education for technical and non-technical entrepreneurs. Beginning with Friday night pitches and continuing through brainstorming, business plan development, and basic prototype creation, Techstars Startup Weekends culminate in Sunday night demos and presentations. Participants create working startups during the event and are able to collaborate with like-minded individuals outside of their daily networks. All teams hear talks by industry leaders and receive valuable feedback from local entrepreneurs.
The weekend is centered around action, innovation, and education. Whether you are looking for feedback on an idea, a co-founder, specific skill sets, or a team to help you execute, Techstars Startup Weekends are the perfect environment in which to test your idea and take the first steps towards launching your own startup. Terms of Participation Agreement: It is our job to provide you with an incredible networking and learning opportunity. Our intention is that you meet some amazing people that you might actually start a company with, build relationships with coaches, and learn from your peers. The event is intended to be a collaborative forum for sharing, learning, building, and having fun. As such, by registering as a participant, you acknowledge that any ideas shared by you or anyone else over the course of the event are contributions to the overall experience and community. If you as a participant are worried about someone stealing your ideas, please reconsider your participation in the event itself or simply refrain from sharing specifics about your idea. As a member of your startup community, you agree to be inclusive of any and all people and their ideas. You agree to act professionally, treat everyone with respect, and treat the event facilities with proper care. You agree that you are responsible for any accidents or damages that you cause. You also agree to not hold
Techstars Startup Weekend, your local volunteer team, or any of the event supporters liable for any loss, damage, injury, or any other unforeseeable incident. By Participating in the event, you grant
Techstars Startup Weekend permission to capture photo/video of the event. You can find the exact legal terms on our FAQ Page but to summarize, we want to share your success with the world.