Description
54 hours to develop startup ideas that will boost global sustainability!

What is Startup Weekend ?
Do you have an idea you'd like to pursue or a problem you'd like to solve but don't know where to start or who to start with? Startup Weekend is the place to look for a team, create a prototype of your idea, validate your business idea, and receive feedback from experienced entrepreneurs, all in one weekend. The last decade, we've organized more than 4,000 in over 150 countries, consolidating Startup Weekend as the biggest incubator for the world!
An event open for all ages, experience levels and backgrounds, of motivated people with ideas or willing to join other teams and improve the sustainability of their communities and the world. If you're looking for a team, co-founder, mentors or an idea to leave your mark in the world, Startup Weekend is the event for you.
This edition will be part of the Global Startup Weekend Sustainable Revolution, a global initiative led by volunteers in order to put sustainable development at the forefront of the world stage.
Here in Sacramento the Startup Weekend will take place on June 21-23. At the same time, more than 50 cities around the world will organize their own Startup Weekend on sustainability! After that, a final round online will be held where each local winner will pitch its idea in a one minute video. The 5 best projects elected by the public will get special prizes to help them launch their startups in real life!
Why a Startup Weekend on sustainability?
Because environmental sustainability is one of the biggest challenges humanity is facing, it's our duty to help entrepreneurs find the best solutions to overcome it.
The challenges of entrepreneurship in sustainability you can work in during this weekend are diverse:

Build eco-conceived products & reverse planned obsolescence
Upcycle
Substitute the disposable by the sustainable
Reduce food waste
Foster local production and local distribution
Build a sustainable agriculture and a sustainable food industry
Build highly energy efficient products and systems
Produce sustainable energy
(Re)Build sustainable buildings
Design resilient, smart and inclusive cities
Design Fintech for inclusive sustainable finance and markets
Build the future of sustainable transportation
Foster education on sustainability
Don't be shy -- join us to experience an exciting weekend full of all the highs and lows of the life as a startup founder. Even if you think you might be lacking some skills, your ideas and motivation are worth more than you think!
What do you need to bring?

Lots of energy! You'll pitch your own idea or listen to others, then vote on the most interesting ideas and form teams with diverse skill sets. You can come with friends, but you'll get the full experience if you participate in separate teams. Remember, it's all about the team.
Your idea should be something you have not previously worked on and needs to be related with sustainability.
Over the course of the weekend you'll be challenged to create a prototype of your MVP, or minimum viable product, that fits the needs of your target customer. You'll get feedback, iterate, build a viable business model and likely pivot your approach entirely!
Important: You cannot have worked previously on your idea.
How to participate?
Startup Weekend is a full weekend long experience.
Your ticket includes:

Hands-on chance to learn the process for going from concept to creation.
Opportunity to meet experienced, talented, and passionate entrepreneurs in your city.
7 full (and delicious) meals over the course of the weekend.
Benefits and discounts from our global partners.
One-on-one time with amazing mentors.
Focused time to learn and practice new skills to take back to your job or to take your own idea from concept to creation.
A new network of developers, designers, and entrepreneurs eager, like you, to change the world.
All the internet and coffee you can consume.
Time to present your final pitch to a select panel of judges and investors.
A LOT OF FUN!
This event is organized by volunteers, teams are coached by professional mentors, and all is possible with the support of great partners
For full event details including speakers, mentors, schedule and more, visit our Primary Event Page here.
Still have questions? Feel free to reach us at sacramentosus@startupweekend.org.
Don't wait any longer and join the Startup Weekend movement! No talk, all action!
* Be careful: participating in a Startup Weekend presents a risk of resigning on Monday morning to set up your Startup, live your dreams and make the world a better place!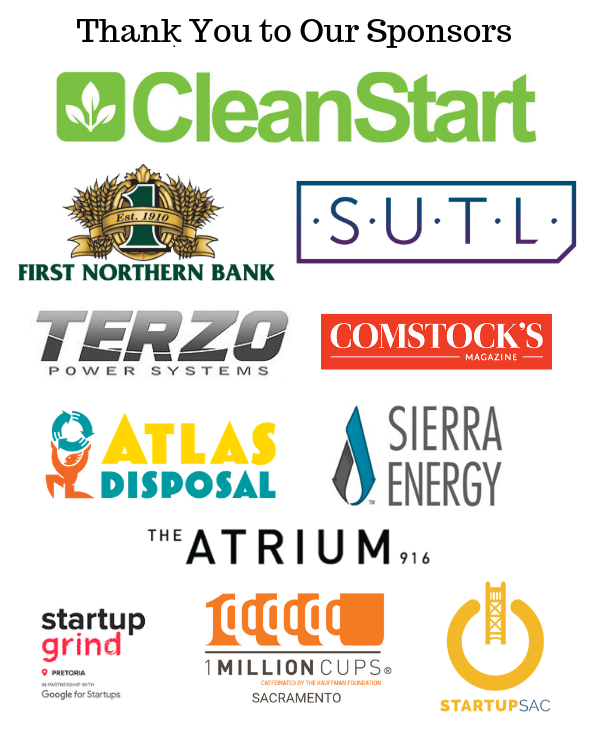 -------------
About Techstars Startup Weekend: Techstars Startup Weekends are 54-hour events designed to provide superior experiential education for technical and non-technical entrepreneurs. Beginning with Friday night pitches and continuing through brainstorming, business plan development, and basic prototype creation, Techstars Startup Weekends culminate in Sunday night demos and presentations. Participants create working startups during the event and are able to collaborate with like-minded individuals outside of their daily networks. All teams hear talks by industry leaders and receive valuable feedback from local entrepreneurs. The weekend is centered around action, innovation, and education. Whether you are looking for feedback on an idea, a co-founder, specific skill sets, or a team to help you execute, Techstars Startup Weekends are the perfect environment in which to test your idea and take the first steps towards launching your own startup.
Refund Policy: No refunds will be granted within 7 days of the event if food and drink have already been ordered. Apologies for any inconvenience this may cause.
Terms of Participation Agreement: It is our job to provide you with an incredible networking and learning opportunity. Our intention is that you meet some amazing people that you might actually start a company with, build relationships with coaches, and learn from your peers. The event is intended to be a collaborative forum for sharing, learning, building, and having fun. As such, by registering as a participant, you acknowledge that any ideas shared by you or anyone else over the course of the event are contributions to the overall experience and community. If you as a participant are worried about someone stealing your ideas, please reconsider your participation in the event itself or simply refrain from sharing specifics about your idea.
As a member of your startup community, you agree to be inclusive of any and all people and their ideas. You agree to act professionally, treat everyone with respect, and treat the event facilities with proper care. You agree that you are responsible for any accidents or damages that you cause. You also agree to not hold Techstars Startup Weekend, your local volunteer team, or any of the event supporters liable for any loss, damage, injury, or any other unforeseeable incident.
By Participating at the event, you grant Techstars Startup Weekend permission to capture photo/video of the event. You can find the exact legal terms on our FAQ Page but to summarize, we want to share your success with the world.
By submitting your information above you agree to the Techstars website's Privacy Policy, and you consent to receive email communication from Techstars and its programs about events and updates that may interest you.