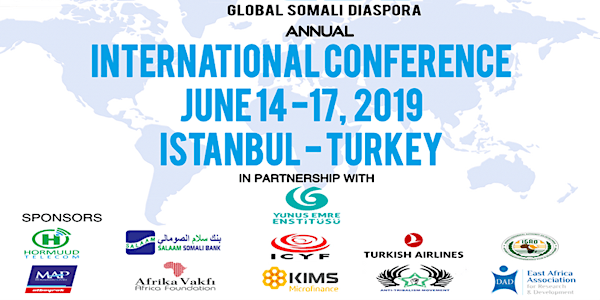 Global Somali Diaspora International Conference 2019
GSD is excited to present the largest International Conference in the heart of Istanbul coinciding with its 5th anniversary!
About this event
This year Global Somali Diaspora have partnered with Yunus Emre Institute to bring you the largest GSD International Conference. The conference is set to take place in the heart of Istanbul, its birth city, and will offer our guests a culturally inspiring experience!
This 3 day conference will bring together diverse members from international Somali networks including businesses, academics, politicians and many more. We will be exploring four key issues on:
1) Challenges facing Somali Youth in the Diaspora and Somalia
2) Environmental degradation
3) Peace-building and reconciliation
4) Business partnership between Somali and Turkish society
The conference will offer guests excellent opportunities for professional growth, knowledge exchange and enrichment, networking, and interacting with highly established, successful and internationally celebrated Somali experts in their respective fields.
The conference will open with the historical inauguration of the first Somali Cultutral exhibition in Istanbul. Our guests will receive free access to this event.
We have partnered with Turkish Airlines to offer participants from abroad a discount on flight ticket prices. A code will be issued to our admission ticket holders.
Tickets are limited!
Please contact our Conference Coordinator on contactus.gsd@gmail.com for any further information or queries.
We look forward to seeing you!
GSD Team
Public event
Please be advise that this is a public event and we will also be taking photographs and videos of activities during this event, for use in reports or to promote our work, such as through the GSD website. We will not include names or personal contact details. Please note that images on websites can be viewed throughout the world and not just in the United Kingdom where the UK law applies. You can ask the GSD to stop using your images at any time, in which case it will not be used in future publications but may continue to appear in publications already in circulation.
By purchasing this ticket you understand the above information and consent to it.