Guided meditation for global well-being and loving-kindness to all life on Earth, plus celebratory practices and conversation.
About this event
All are welcome to join us in meditation and celebration!
To celebrate this Solstice, Dr. Michelle Merrill will lead a guided meditation, interactive celebratory practices, and compassionate conversation. Our guided meditation will feature a message of global wellness, joy and loving-kindness for all life on Earth. We are invited to reconnect with the beauty and wonder of Nature. How do we welcome more love and joy for all our relations? What shall we leave behind, as we move into the next turning of our dance around the Sun? What beautiful possibilities beckon us toward the future?
Novasutras is collaborating with people and organizations around the world to save Earth's Three Green Hearts: Amazonia, Congo, and Sundaland. We are promoting efforts and organizations focused on climate, biodiversity, and the rights of indigenous peoples.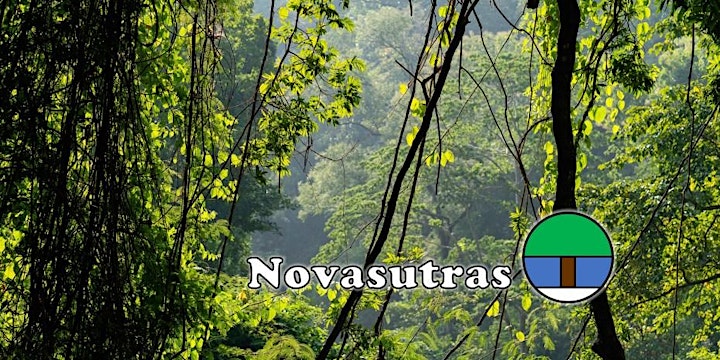 We come together at the Solstice to celebrate agaya - the deep, sacred beauty and complexity of life - and ubuntu - the connections between all things, binding us all together in the more-than-human world with reverence, joy, generosity, gratitude, and loving-kindness.
In our meditation, we will all focus our attention toward the place where the sun will be directly overhead, and shine our wishes for joy and interconnection from that point out into the world. The precise moment of this Solstice is June 21st 03:32 UTC / June 8:32pm Pacific, when the sun is overhead at the Tropic of Cancer (23° 26' North Latitude).
Before and after the meditation, there will be other interactive practices and opportunity for conversation (videos of previous celebrations below).
Please join us for this Octal Celebration to enhance personal and global well-being. Learn more at Novasutras.org.
Any donation is welcome!
Are you unable to donate at this time? If you cannot donate even $1, please register here instead.

Your registration includes a subscription to the Novasutras Newsletter (eight times per year), plus occasional emails about Novasutras events.
Wondering what to expect?
The videos below are examples of earlier Octal Celebration events.