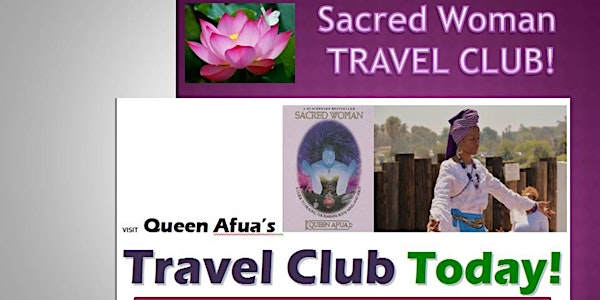 Global Sacred Woman- Queen Afua TRAVEL CLUB launch!
Description
TRAVEL the WORLD as a Sacred ROYAL Being! JOIN or Support the Global ­Sacred Woman TRAVEL!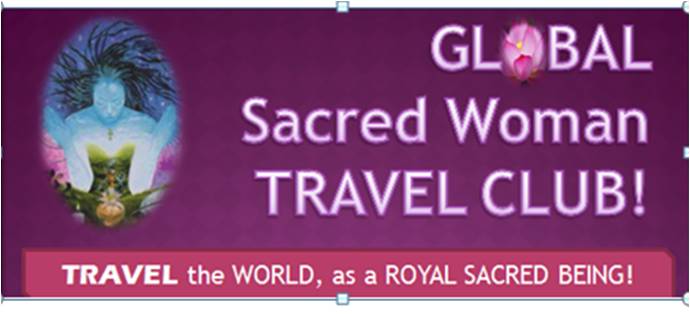 PURPOSE & MISSION of the GLOBAL SACRED WOMAN TRAVEL Club/Network
Travel is essential to our well being! Explore Mother Earth's WOMB & All her WONDERS! Queen Afua has partnered with Imani TRAVEL & incorporated a Travel Club as another funding component to the Global Sacred Woman Village. According to our Elder Travel Partner Dr. Leonard Jeffries, our Travel Club will provide a means of extracting our money from the $8--TRILLION per year & growing TRAVEL INDUSTRY & re-circulate it back into our Families, Communities & Institutions throughout our African Diaspora. We are building a GLOBAL WORLD of WELLNESS for all our Relations around this Whole Planet. In doing so, having the ability to ultilize a vast variety of Travel & Economic resources via our Licensed & Bonded host Travel agency, allows us to further maximize our efforts as well as extend those benefits and wealth of options to others. Please JOIN or Support us on this MISSION!
You can Learn more about the VISION FOR the GLOBAL SACRED WOMAN TRAVEL Club/Network with your inquiry to be a Member, or with the reguest to explore your Meshkenet (Business/Career) Options!


REGISTRATION OPTIONS- FIVE MAIN AREAS to CHOOSE FROM:
1) MEMBERSHIP- in our GLOBAL SACRED WOMAN TRAVEL NETWORK!
2) WHOLESALE CUSTOMER- of our TRAVEL &/or SHOPPING REWARDS CLUB!
3) RETAIL CUSTOMER- BOOK TRAVEL PRODUCTS &/or SERVICES !
4) TRAVEL &/or TAKE a TOUR & HEALING EXCURSION with QUEEN AFUA!
5) Explore MESHKENET OPTIONS as a TRAVEL AGENT &/or Business Owner, Partner or Affiliate, etc!
EXPLORE MORE DETAILS BELOW!!!
---
---
Please NOTE: Your REGISTRATION only gives us permission to send you MORE INFORMATION in your AREA(s) of INTEREST selected.


1) Info on BECOMING a GLOBAL SACRED WOMAN TRAVEL CLUB MEMBER!
LEARN MORE of our VISION & GET FIRST CLASS ACCESS to WORLD CLASS TRAVEL EXPERIENCES along your EMERALD PATH & GOLDEN JOURNIES!
SPECIAL PROMO! SIGN UP & BE ONE of our FIRST FIFTY -NEW FOUNDING - GLOBAL SACRED WOMAN TRAVEL CLUB MEMBERS who JOIN NOW thru Dec 31,2018 & you'll get a 3 day/2 night GET-AWAY STAY Certificate for TWO, plus other surprize Travel & Gemstone Gifts! REGISTER NOW for MORE INFO!
______________________________________________________________________________
2) FREE TEST DRIVE of BEING A GLOBAL SACRED WOMAN WHOLESALE TRAVEL CUSTOMER!
CLICK HERE or on image below to register for your FREE 30 DAY ACCESS to our WHOLESALE VACATION CLUB & SHOPPING Rewards BOOKING NINJA PORTAL, at NO COST to you! With your COMPLIMENTARY ACCESS TO OUR MEMBER BENEFITS, you'll receive some of the exclusive discounted rates on more than 400,000 hotels, resorts, cruises, rental cars and more, worldwide. This offer is availableto you for a limited time so REGISTER TODAY!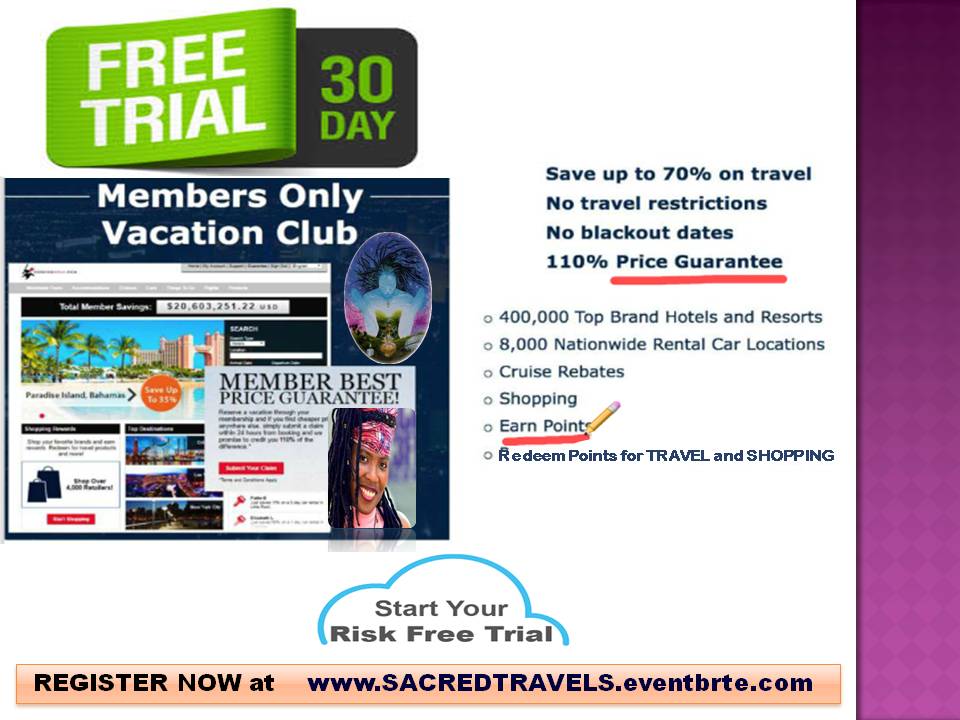 ________________________________________________________


3)
BECOME A GLOBAL SACRED WOMAN RETAIL TRAVEL
CUSTOMER!
CLICK to SEARCH or BOOK all your TRAVEL NEEDS with US!
Portions of the TRAVEL BOOKINGS & RESERVATIONS made through our ONLINE BOOKING PORTAL goes directly to the Queen Afua Wellness Institute and helps contributes funds to it's projects. Prices are comparable & at imes lower than anything you will find on the internet!
We also have a team of Certified Travel Agents availabe to assist with Specialized Travel needs &/ or Group Bookings CLICK & REGISTER NOW for MORE INFO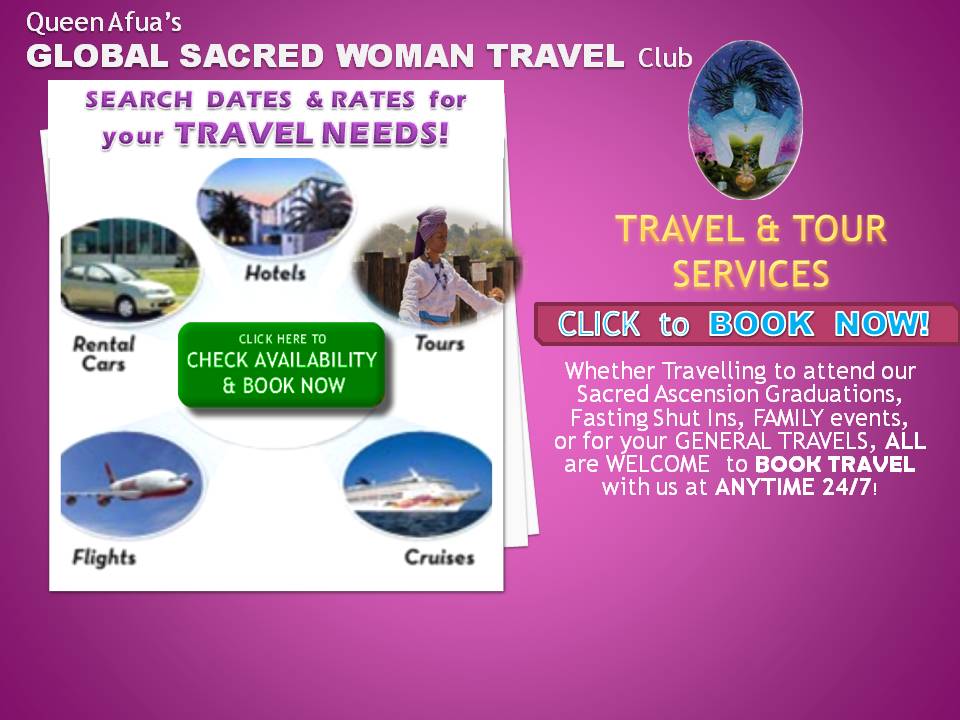 ________________________________________________________________________________
4) TRAVEL, EXPERIENCE or TAKE a SACRED HEALING TRIP or with QUEEN AFUA!
REGISTER to TAKE A SACRED TOUR or RETREAT! Queen Afua's HEALUNG RETREAT in North Carolina this Summer &/or Travel to Kemet (Egypt) with Queen Afua!
PLEASE NOTE: Travel Dates for this Kemet Trip are still being finalized, however, if interested this trip &/or other Global Sacred Tours, Retreats &/or International Healing Excursions with Queen Afua, please register, and you'll be contacted with updates when available!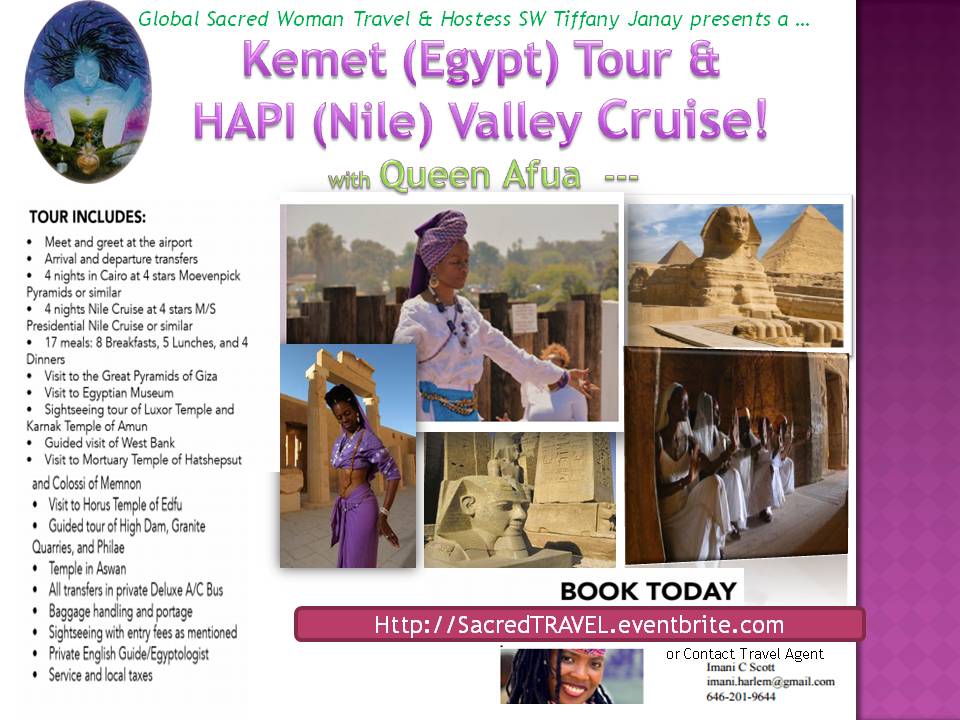 *******************************************************************************************************************************
*********************************************************************************************************************
CLICK HERE for More INFO &/or TICKETS to The Queen Afua Healing Experience! "OVERCOMING" If your Vagina could Speak...What will She SAY!
---
__________________________________________________________
5) REQUEST to EXPLORE YOUR MANY MESHKENET OPTIONS in TRAVEL & We'll help BIRTH your VISION! REGISTER to LEARN MORE
ARE YOU
INTERESTED
in
MESHKENET
(Sacred LIFE WORK) INCOME
OPPORTUNITIES &/or CAREERS in TRAVEL?!
BECOME a CERTIFED TRAVEL AGENT, DESTINATION TOUR SPECIALIST or just REFER CLIENTS to US!
WILL TRAIN, NO EXPERIENCE NEEDED!
ENTREPRENURIAL SOFT SKILLLS DEVELOPMENT & CERTIFICATIONS AVAILABLE!
WORK GLOBALLY FROM ANYWHERE with INTERNET!
EXPAND & ENHANCE your GLOBAL HEALING SERVICES & SACRED WORK!
EARN 75% TRAVEL COMMISSIONS & HIGHER!
EARN FREE TRIPS, REFERRAL BONUSES &/or other TRAVEL PERKS!

Access Travel Discounts via QAWI Travel Club!

Get AMAZING TAX BENEFITS!

Generate INCOME DAILY, WEEKLY, WONTHLY &/or RESIDUALLY!

SET YOUR OWN HOURS, P/T, F/T or Sparetime!
If THIS is YOU, POSITIONS & MANY OPTIONS are STILL AVAILABLE NOW! So GET MORE DETAILS!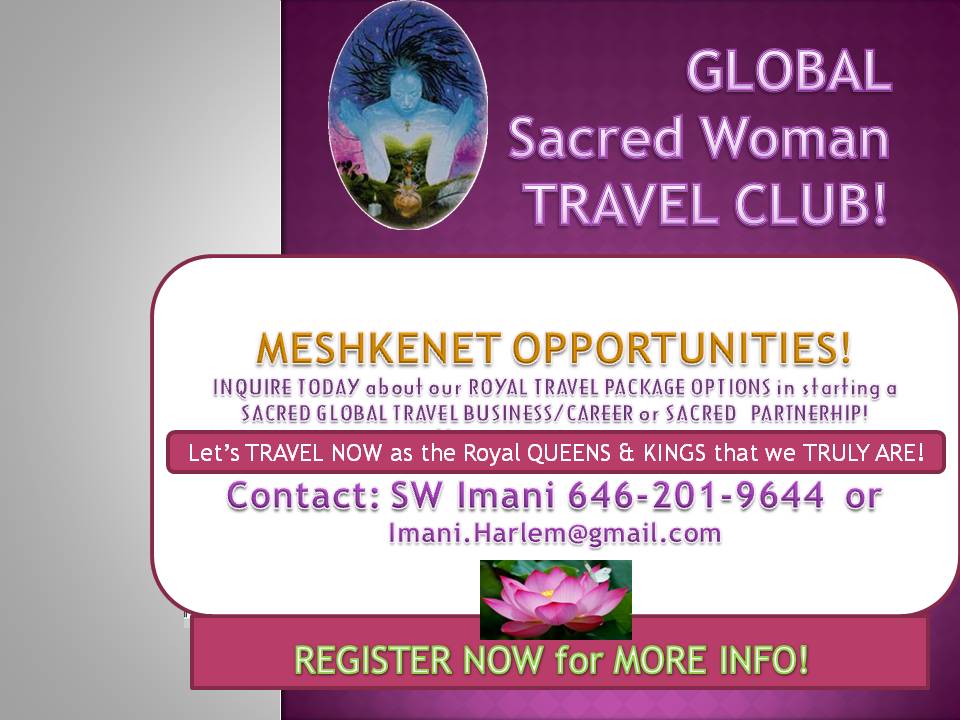 For More Info:
Sacred Woman Imani Scott- 347-746-9749 or email: AmazingTravelAgent@gmail.com
or
Global Sacred Woman Village
- 718-221-HEAL or
888-344-4325


Website: SEARCH or BOOK YOUR OWN Travel Http://GLOBALSacredWoman.paycationonline.com