A 3 -Day immersive conference on Pyramids, Sound and Vibration.
About this event
Why is this conference taking place?
The purpose of the 2021 3rd Global Pyramid Conference is to make the astounding mysteries associated with pyramids around the world available to the general public; increase popular awareness of these powerful monuments and explore the practical application of their eternal energies to everyday life. To do this, we have assembled world-class international experts in the field, with a minimum of a decade of personal experience, to share their latest discoveries about these amazing structures which continue to exert greater influences on our modern society than most people realize. It is generally assumed that pyramids were an entirely Egyptian affair. But, surprisingly, there are fundamentally similar buildings still being found all around the world. Our third Global Pyramid Conference will take a scientific look at the mysterious and historically unique Pyramid structures of the world.
Purpose and objectives for this conference:
To bring the vast knowledge of pyramids as an energy tool to the general public
To bring awareness that pyramids exist all over the world.
To explore the practical application of pyramids and their energies into everyday life
How is this conference different from other conferences:
3rd year conference in America whose primary focus is on pyramids
It is based on scientific evidence
Encompasses world-wide pyramids
All speakers have an extensive background in researching pyramids
2021 Conference title: "Pyramid Vibrations and Sound"
The Global Pyramid Conference October 2021 is motivated by the pressing need to inform as many people as possible about the rich body of knowledge regarding pyramids and the manner in which they have a positive influence they have on our lives. The best way to do this is to bring the pyramid scientists and the general public together.
Saturday Evening In-Person Reception at Gold Pyramid
37921 N Dilleys Road, Wadsworth, IL 60083
Live middle/near Eastern Music - Dinner - Vendors -Cash Bar
Fun filled environment $40 per person
*Bring your drum, rattle, dumbeg, tongue drum
PLEASE NOTE:
Tickets are nonrefundable but transferable no later than October 15, 2021 and must be sent in writing to info@pssmglobal.org.
STREAM LIVE THE EVENT, THE WHOLE WEEKEND FOR $99
Event hours:
Friday 1pm-7pm
*Saturday 9am-5pm
Saturday 6pm - 9pm In-Person Reception at Gold Pyramid
*Sunday 9am-4pm
* We will begin our day with flute meditation from 8:30am - 8:50am by award recipient Patriji.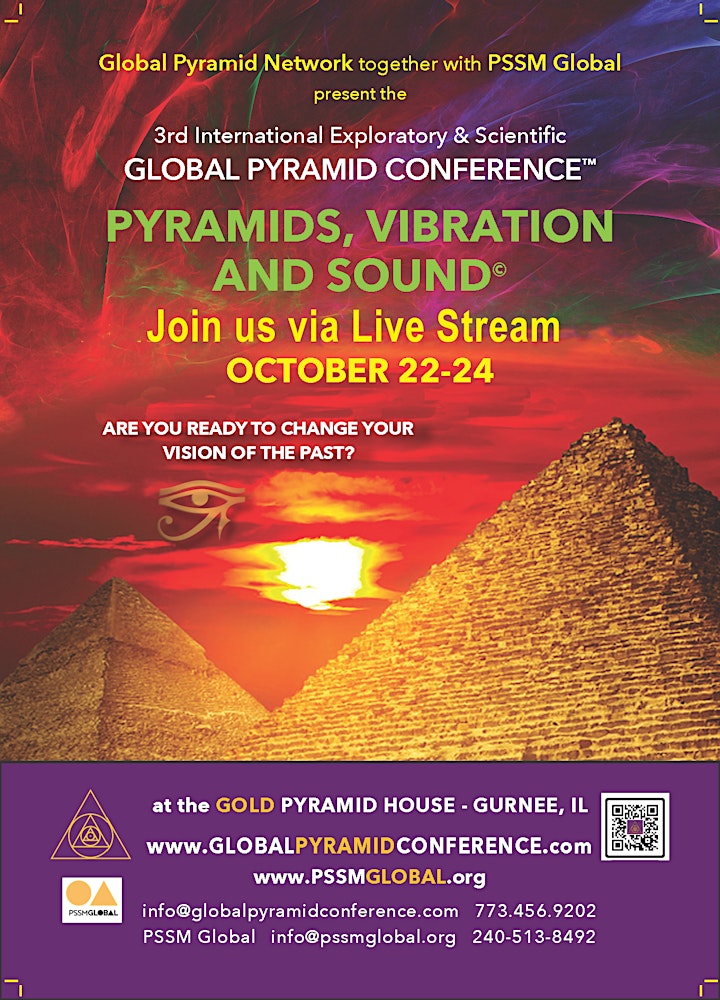 Date and time
Location
Refund policy
Organizer of Global Pyramid Conference
We are a not-for-profit, autonomous, non-religious and voluntary movement. Our goal is to work at the grassroots to promote the message of Meditation, Plant-Based Diet, Pyramid Energy and Spiritual Science to replicate the successful 'peace, compassion and harmony' model of PSSM, globally.