Global Product Management Talk on Twitter @ProdMgmtTalk

Monday, September 19, 2011 from 4:00 PM to 5:00 PM (PDT)
Event Details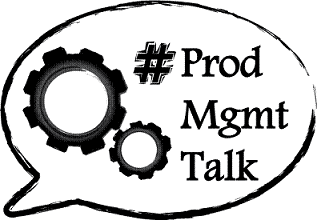 Global Product Management TalkTM is a weekly mini-product camp Socratic discussion (on Twitter) of pre-posted questions (on Facebook) with live audio of thought leader and co-hosts commenting (on Blogtalkradio). 
ProdMgmtTalk is a weekly virtual twitter discussion/gathering of people who identify as professional product managers AND those who are responsible for managing poducts from inception through launch, AND people with the title and/or in the department of "Product Manager, Product Marketing Manager, Product Management" AND people who develop products, are responsible for products, are concerned with the success of products and companies that produce products!
ProdMgmtTalk takes place on twitter by using the hashtag #ProdMgmtTalk within the twitter posting, and by searching for hashtag #ProdMgmtTalk to follow the twitter stream on Mondays 4:00-5:00 PM PDT. 
Between Events:
Website: #ProdMgmtTalk http://www.prodmgmttalk.com
Email us: prodmgmtmrktg@gmail.com
Read: http://paper.li/ProdMgmtTalk and Tweets.prodmgmttalk.com
Follow us on: Twitter: http://www.twitter.com/ProdMgmtTalk
Like us on: Facebook http://on.fb.me/fCZoLS
Make suggestions at: Uservoice http://bit.ly/fPIGob
Subscribe: Newsletter http://bit.ly/gHIWcO
LinkedIn group: http://linkd.in/hiD7qY
Listen: http://www.blogtalkradio.com/prodmgmttalk

Before Event:
FAQs: http://bit.ly/hbEgyt
RSVP: http://bit.ly/geAeGR
Speaker Calendar: http://bit.ly/gV5xsM
background info: http://bit.ly/eFAB6G
questions to ponder: http://on.fb.me/fFRi7b


During Event:
twebevent http://bit.ly/dTTbk8
tweetchat http://bit.ly/eC3D09
both automatically add #prodmgmttalk to your tweets to show up in twitter stream

After Event:
Blog your insights and read others http://bit.ly/eOFmB6
Twitter Transcripts & Lists http://bit.ly/qa0FKX
Sponsor US! http://bit.ly/eiyE8q
Speak! http://bit.ly/gQh7Vr
When & Where
http://tweetchat.com/room/prodmgmttalk
http://www.blogtalkradio.com/prodmgmttalk
San Francisco, 94706


Monday, September 19, 2011 from 4:00 PM to 5:00 PM (PDT)
Add to my calendar
Global Product Management Talk on Twitter @ProdMgmtTalk