Global Online Symposium on "The New Paradigm in Politics"
The Laszlo Institute of New Paradigm Research introducing the three-day online international symposium on "The New Paradigm in Politics".
About this event
The Symposium is ended.
Thanks for being a part of the New Paradigm in Politics global online symposium! We hope you enjoyed it as much as we did.
Join our mailing list to receive information about next events.
On behalf of Ervin Laszlo and all our colleagues at the Laszlo Institute of New Paradigm Research, we are pleased to extend to you a special invitation to join our upcoming three-day global online symposium on "The New Paradigm in Politics", scheduled for Friday, July 23, through Sunday, July 25, 2021.
The old, corrupt, and dysfunctional political order on planet Earth has reached the end of the line. To avoid universal disaster, our entire human family must now come together to establish a locally rooted, ecologically responsible, unlimitedly networked, and spiritually illumined global democracy worthy of the name. This is the defining task of our time. This is the next evolutionary leap in human consciousness and action that the "New Paradigm in Politics" online symposium proposes to serve. For this symposium, we have designed a sequence of lectures and conversations that we believe sets the stage for time timely emergence of just such a pattern.
On the first day, we will assess the world's current political situation, offer an in-depth consideration of the nature and requirements of the New Paradigm in Politics, and survey the import of the vast number of governmental, non-governmental, and citizen-led initiatives already working to bring it into being.
On day two, we review the most promising initiatives to strengthen participatory democracy, identify the traditional and the new scientific understandings that affirm our prior unity, explore the promise of the collective intelligence that develops, expands, and integrates our emerging networks, and outline a path to developing a citizen-led global consensus or constitution equal to the requirements of this time.
Our third and final day will take the form of a collectively led, fully participatory workshop in which we apply what we have learned to the critical task of designing a program to engage our entire human family in the creation of just such a constitutional consensus.
The entire symposium will be broadcast live every day from 8:00 a.m. till 1:30 pm Pacific Daylight Time (PDT). The sessions consist of a 1-hour moderated panel dialogue between the plenary speakers, followed by a 30 minutes Q&A with the online audience. The speaker will be visible together on screen through Zoom.
The Laszlo Institute researches, develops and communicates the essential aspects of the new way of thinking and acting we need at this critical time: the new paradigm.
Please consider a donation in your and our shared interest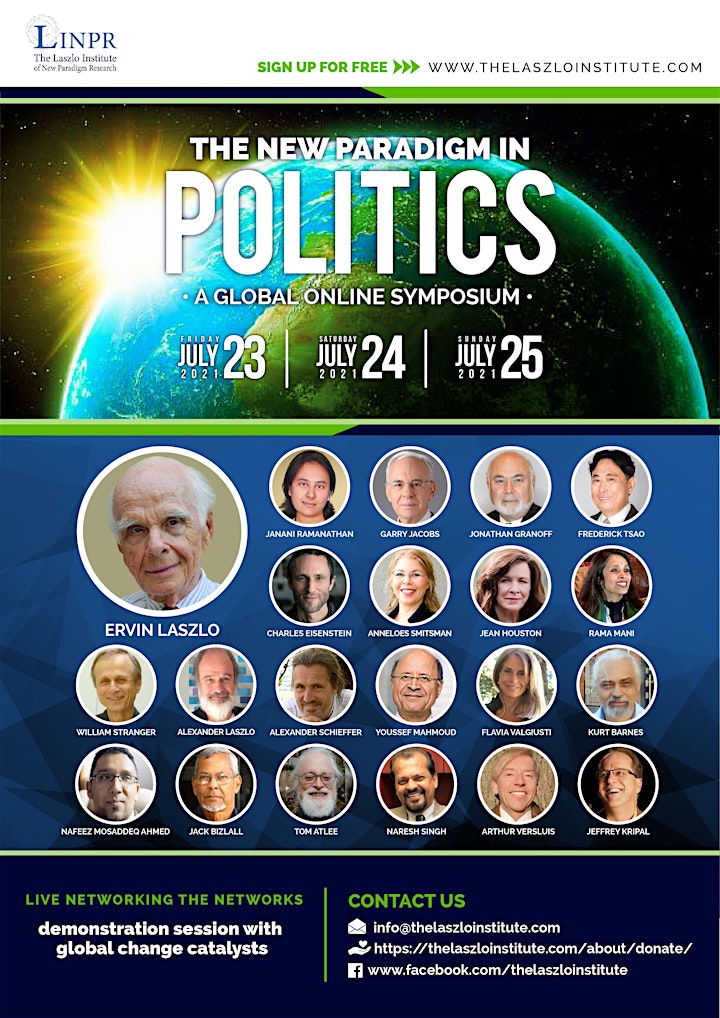 Organizer of Global Online Symposium on "The New Paradigm in Politics"