Description
The Global NOW Conference (GNC) is an inter-generational, inter-gender program component of the Women's Business Impact Forum (WBIF). The GNC serves as an intensive for entrepreneurs, entertainers, speakers, trainers, coaches, and authors seeking to expand their brand into the global marketplace. The GNC features top thought leaders in law, marketing, security, sales, branding, networking, strategic planning, insurance, finance, taxation, brand protection, management & operations, and much, much. more! Each time, the WBIF focuses on topics exclusive to the expansion-minded brand.

The 2018 event will be held October 4-7, in Huntsville, AL. This year's theme is "From Local to Global" and focused on preparing and positioning brands to compete in the global marketplace. This event is for entrepreneurs ready for growth; franchisees or MLM business owners; authors, speakers, coaches, and trainers seeking to build, position, and grow their brand. This year's event features: "Youth Entrepreneurs Rock", VIP Networking Mixer, meet and greet with top professionals, workshops, panel discussions, training, keynote speeches and much more.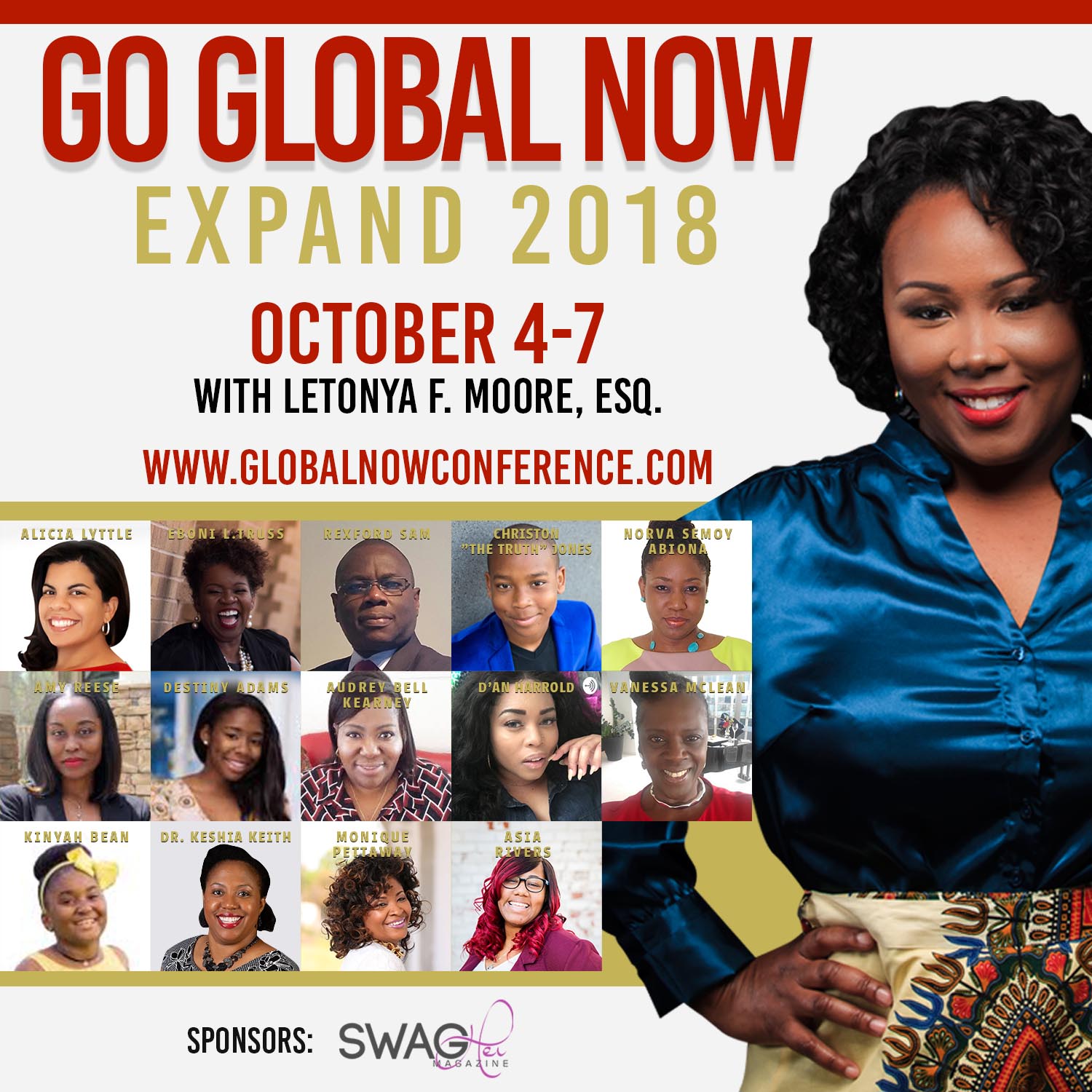 Itinerary
Thursday, October 4, 2018: B Chill Lemonade New Flavors Launch & YPD Announcement, featuring Kinyah Bean, CEO, B Chill Lemonade, LLC based in Memphis. (Time TBD)

Presentation & Panel Discussion: Lemons to Lemonade: How to BossUp & Succeed- Leto Lounge & Studio 3504 Stringfield Road, Huntsville, AL 35810
Suite 47 Travel Private VIP Reception (Private Venue)

Friday, October 5, 2018: Conference Kick-Off

Explore Huntsville City Highlight Tour
Theme: Your Mind & Your Money: Confirmed Speakers include: Talibah Bayles, TMB Tax & Financial Services, Birmingham AL, tax and financial professional, author & speaker; Mario C. Brown, founder Life Matters, Life Coaching Services
VIP Networking Mixer: Leto Lounge & Studio 3504 Stringfield Road, Huntsville, AL 35810



Saturday, October 6, 2018, 9am-4pm: Theme: Go Global Now: Confirmed speakers include: Speaker: Alicia Lyttle (Jamaica) CEO of Internet Income Jamaica but also of the Social Media company Pow Social.

Alicia is responsible for creating social media campaigns that have skyrocketed some businesses sales by over 1000%. Meet Alicia in Huntsville and learn success strategies for creating top-notch social media campaigns to build your bottom line.

Norva Semoy Abiona (Trinidad) is an award-winning international speaker and the Amazon #1 International bestselling book 'Time to Go!' She is the CEO and founder of Real Fulfilment International, which is the umbrella company for The Warrior Queen Movement. Known as "The Relationship Change Catalyst" Norva helps wives create the truly fulfilling life and the relationship they want and deserve. International Speakers' Institute for Women founder, Vanessa McLean (London); International Speaker & "Speak to Get Clients" coach, Eboni L. Truss; 11 year-old Amazon Bestselling Author & Certified Les Brown Speaker, Criston "The Truth" Jones, 2018 Legacy League Ambassador; Teen CEO, Destiny Adams, founder of Destiny Adams International, Amy Reese, Managing Partner, ARC Business Solutions; Audrey Bell Kearney, inventor, author, and entrepreneur; Christon "The Truth" Jones, 11 year old CEO, Return on Investments, LLC, Monique Pettaway, author | coach| speaker, Asia Rivers, BIZ Credit Coach, Dr. Keshia Keith, and more.
YOUTH TRACK 9am-12pm: "Youth Entrepreneurs Rock", featuring Kinyah Bean, CEO, B Chill Lemonade, LLC based in Memphis & Destiny Adams, Teaching Kids Coding, CEO, Destiny Adama, International; Julian Leonard, Toastmasters & Youth Motivational Speaker talking on "Master One Thing"; Beverly Jones Durr
Full Itinerary will be sent via email.
Full itinerary coming soon!
Speaker Sponsor opportunities available for select brands. The following are the speaker sponsor areas of expertise: Marketing; Branding; PR; Sales; Insurance; Business Operations; Investment/Advisory; Networking/Network Building, Money & Finance, Mindset Shift & Self Care. Want to be a speaker, click here to pitch?

All open speaker slots are speaker-sponsor with a required investment. Speaker Sponsors receive all access 3-day event pass; a designated speaker slot; vendor table to sell products and services and affiliate opportunity. The event takes place in Huntsville, AL October 4-7. All speakers must appear in person in Huntsville. Interested in being a speaker sponsor? Click here to send your pitch.

Host Hotel: Sheraton Four Points, Huntsville Airport: click here to reserve your room: https://www.starwoodmeeting.com/events/start.action?id=1806015504&key=31B3F32B
Legal

Opulence Enterprises, LLC will take photographs and some video at the Conference and utilize them in the Company's news or promotional material whether in print, electronic, or other media. By participating in the 2018 Conference you grant Opulence Enterprises, LLC the right to use your name, image, likeness, audio, video and photograph for such purposes.
Organizer of Global Now Conference
LeTonya is "The Global Brand Protector™"! She is an attorney entrepreneur who has dedicated her career to helping others succeed!  LeTonya is passionate about showing entrepreneurs and emerging thought leaders how to protect and position their brand to compete in the global marketplace.  Her areas of expertise include tax resolution, asset protection, intellectual property and more.  LeTonya is affectionately known as the Global Brand Protector after her recent expansion into the UK. She provides programming that educates and empowers clients on the latest in law and branding.