Description
Global Networking under the Grand Tetons
You are cordially invited to join Jackson Hole Real Estate Associates for our 2019 Global Networking Event in Jackson Hole, Wyoming, January 24 – 27, 2019. This multi-day conference will bring together real estate leaders from across the world to network and share ideas in the grandeur of one of the country's most iconic destinations.
Jackson Hole Real Estate Associates is pleased to extend this unique invitation, available to fellow members of Christie's International Real Estate's and Leading Real Estate Companies of the World's global networks. Hosted at the Jackson Hole Mountain Resort, the events will provide an unrivaled forum to share market insights and explore business opportunities in a world-class setting.
Agenda
Global affiliates of Christie's International Real Estate and Leading Real Estate Companies of the World will gather in Jackson Hole, Wyoming for the multi-day conference to network, discuss market trends, share ideas and best practices—and indulge in some of the world's best skiing and outdoor recreation. The conference will provide an unparalleled opportunity to build relationshis with the world's leading real estate professionals in a setting that only Jackson Hole can offer.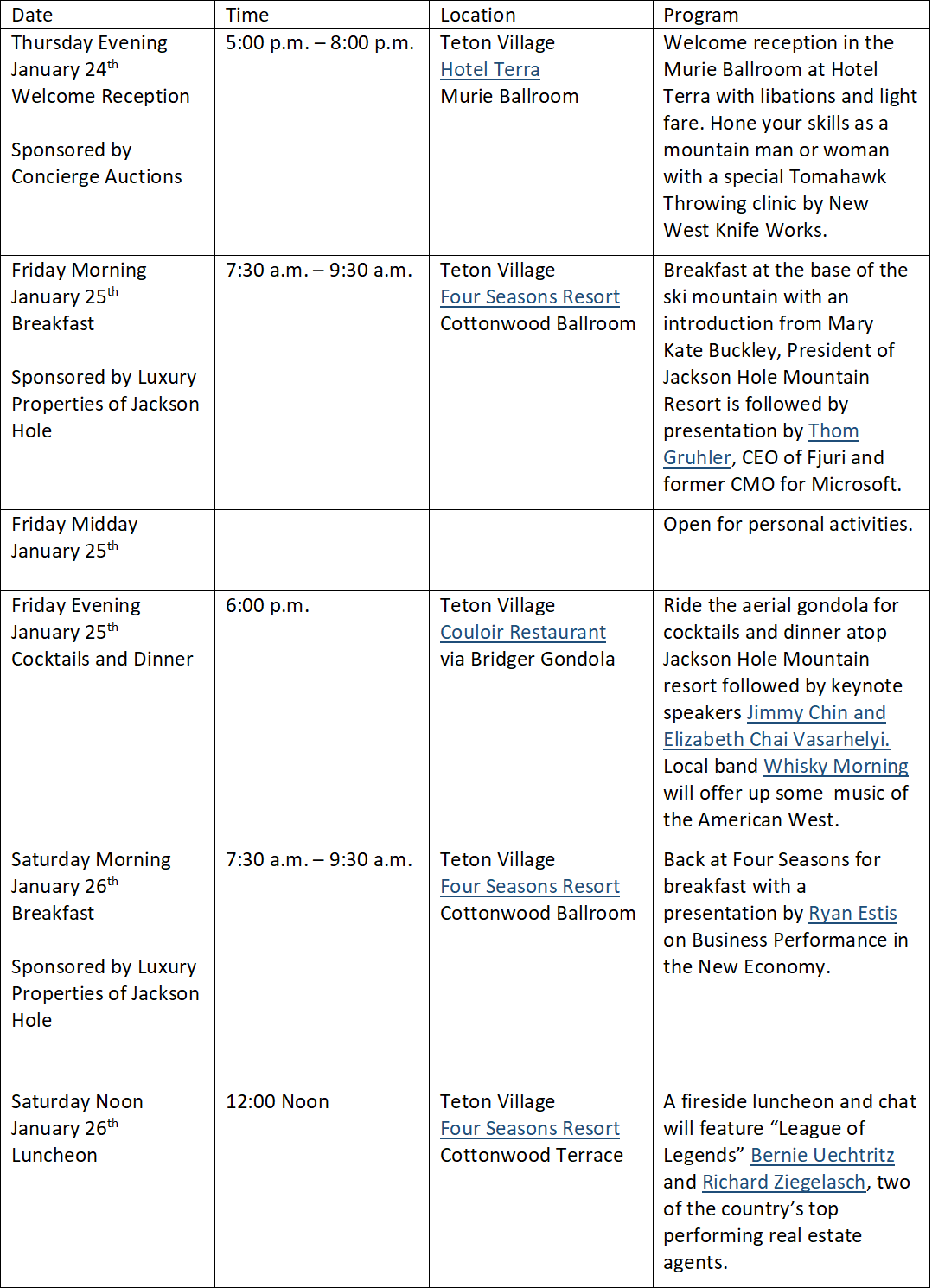 *The schedule allows for skiing and activities during the day Friday and Saturday.
Please plan to arrive for welcome drinks on Thursday, January 24, 5:00 – 7:00 pm.
Jimmy combines a career as a photographer, filmmaker and a professional climber and skier. Together with his wife, Chai Vasarhelyi, they are amongst the most sought-after and recognized adventure sports photographers and filmmakers working today. Chin was the first American to ski Mount Everest's South Pillar Route and the first climber to ascend Mount Meru's Shark Fin—a feat chronicled in Chin's film Meru, which won the Audience Choice award at the Sundance Film Festival. His latest film, Free Solo, takes an unflinching look at Alex Honnold's rope-free climb of the world's most famous rock wall, Yosemite National Park's El Capitan.
Celebrated as one of the generation's most influential independent filmmakers, Elizabeth Chai Vasarhelyi's work spans a wide range of subjects and has won numerous honors. Most recently, Vasarhelyi partnered with Jimmy Chin to direct Free Solo. Her debut film, A Normal Life, won Best Documentary at the Tribeca Film Festival in 2003. In addition to her feature-length films, Vasarhelyi's portfolio includes several short films for Netflix, the New York Times and ESPN. She has been featured in numerous publications, including, The New Yorker, the Wall Street Journal, Vogue and New York Magazine.
Drawing on research from today's top companies, Ryan Estis shares insight into what sets apart leading brands in the New Economy—and how business professionals can apply those lessons to unlock their full potential. For more than 15 years, Estis served as an ad agency executive and Fortune 500 chief strategy officer. Now, he shares his experience to help clients achieve breakthrough success in their respective fields. Named one of the "Best Keynote Speakers Ever Heard" by Meetings and Conventions Magazine, Estis offers actionable insight into how individuals and organizations can embrace change to improve performance and deliver growth.
Drawing on his wealth of experience at the forefront of modern marketing frontier, Thom Gruhler offers practical solutions to help leaders develop and achieve their goals. Prior to founding Fjuri, a marketing and consumer analytics firm, Gruhler led the Apps and Services Marketing Group at Microsoft, where he oversaw many of the company's flagship products and a cross-functional team of 400 employees. Earlier in his career, Gruhler served as Corporate Vice President and Global Chief Marketing Officer of Microsoft's Windows division. In 2008, he was inducted into the American Advertising Federation's prestigious Hall of Achievement for professionals under 40.
Join us for a fireside luncheon with two of the country's top-producing real estate brokers.
Richard Uechtritz, founder of Icon Global, is the top salesperson for all of Sotheby's International Realty, including the U.S., England, Australia, New Zealand, and the organization's more than 800 offices in over 85 countries. Uechtritz's worldwide marketing campaign facilitated the record-breaking sale of the W.T. Waggoner Ranch in Vernon, Texas, listed at $725 million dollars, in 2016.
One of New York City's leading real estate agents, Richard Ziegelasch has been at the forefront of the hottest markets for more than 30 years. With over 20 years of experience in the private banking sector, Ziegelasch has unique insight into market dynamics and the tools to drive success in complex deals.
Registration
Early Registration (Closes January 7): $1495.00 USD
Open Registration (Closes January 18): $1695.00 USD
Guest Ticket, Keynote Dinner, January 25: $400.00 USD
Registration includes exclusive access to all events and all meals noted in the itinerary, including Friday's keynote dinner. Additional tickets are available for purchase for guest to attend Friday's dinner.
Hotel accommodations and skiing are not included and must be book separately (more details below). Space is limited.

Cancelations prior to December 24 will receive a full refund. No refunds will be issued after December 24.
Getting Here
With direct flights from 12 cities, Jackson Hole is the most accessible resort destination in the Rockies.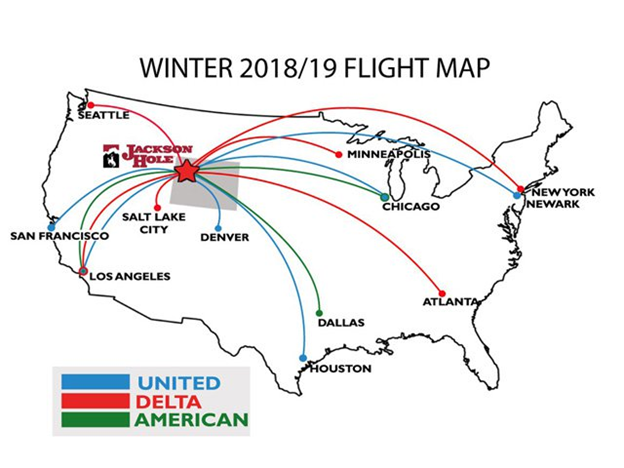 Situated entirely in Grand Teton National Park, the Jackson Hole Airport is located at the base of the Grand Teton mountain range. The airport provides first-class services to help ensure smooth travel, no matter where your point of origin. Visit www.JacksonHoleAirport.com for more information, including live flight status.
Ground Transportation
Jackson Hole Mountain Resort is an easy, and beautiful, 30-minute drive from the airport by private car, taxi, shuttle or rental. The public transit system (START) provides convenient and reliable travel between the Town of Jackson and Teton Village, and taxi and on-demand car services (Uber, Lyft) are abundant throughout the valley.
Accommodations
Jackson Hole Real Estate Associates is pleased to offer discounted lodging rates at the Four Season Jackson Hole and Hotel Terra.
Global Networking Event meetings will be held at the Four Seasons Resort, located in Teton Village. We encourage guests to stay in Teton Village, rather than the Town of Jackson, for the ease of access to the events and recreational activities.
Four Seasons Jackson Hole
Located at the base of Jackson Hole Mountain Resort and ski-in / ski-out accessible , the Four Seasons Resort offers five-star service sure to please even the most discerning visitors. A special group rate is available to guests of the Global Networking Event.
For reservations, please call: (307) 732-5000. Indicate your affiliation with the Jackson Hole Real Estate Associates for group pricing.
www.fourseasons.com/jacksonhole
Hotel Terra
Jackson Hole's premier eco-boutique, Hotel Terra offers tailored service to make your mountain retreat truly unforgettable. A special group rate is available to guests of the Global Networking Event, which is available for stays three days prior to and after the conference, subject to availability.
For reservations, please call: (866) 935-8938, and indicate your affiliation with the "Global Networking Event 2019" for group pricing. For online reservations, please use the following link for group pricing:
Hotel Terra Room Reservations - Global Networking Event 2019 - Jackson Hole Real Estate Associates
Activities
Ski the Country's Best Snow
Jackson Hole has consistently ranked as the country's top ski destination. The 2018-19 winter is shaping up to be no exception, with early reports showing one the deepest snow packs in several years. Use the following link link for discounted lift tickets at Jackson Hole Mountain Resort:
https://shop.jacksonhole.com/#/christies-group/p/christies-group-tickets12128
Additionally, event attendees will receive a 20% off regular rental prices and 10% off retail at JH Sports and Teton Village Sports. Both retailers are conveniently located only steps away from the hotels listed above. We recommend picking up ski gear before the welcome reception on Thursday. Attendees will need to present their group lift ticket upon checkout to receive the discounts.
For snow reports and more information about Jackson Hole Mountain Resort, please visit www.JacksonHole.com or call (307) 733-2292.
Nordic Skiing
Looking for a less vertical thrill? Jackson Hole Mountain Resort offers miles of groomed cross-country ski trails that traverse the base of the Grand Tetons. If you are looking to get off the beaten path, Grand Teton National Park has a wealth of trails with unfettered access into the wilderness. Nordic ski rental packages are available at JH Sports, Teton Village Sports and most outdoor retailers.
Guided Snowmobile Tours
Experience Yellowstone and Grand Teton National Parks in winter with a breathtaking, guided snowmobile tour by Scenic Safari. See Old Faithful, the area's majestic landscapes and wildlife like never before. Snow-coaches and luxury van tours also available.
Elk Refuge Sleigh Ride
For more than a century the National Elk Refuge has fed local elk populations to help support the herds during the long winters. Get up close and personal with these amazing animals with a guided sleigh ride through the winter sanctuary, which can feed upwards of 7,000 elk each season. Bundle up; the sleighs are open carriage and can get chilly.


Miscellaneous
Dress code at all events is mountain casual: ski clothes are allowed at the breakfast meetings, and warm weather clothes welcomed at the receptions and dinner. In Jackson Hole, the last of the Old West, boots and jeans are always encouraged.


Have Questions?
Please feel free to contact Jackson Hole Real Estate Associates with any questions, big or small. Our team is standing by to assist with every stage of your planning.
(307) 733-6060 | marketing@jhrea.com
Date
Time
Location
Program
Thursday Evening January 24th
Welcome Reception
Sponsored by Concierge Auctions
5:00 p.m. – 8:00 p.m.
Teton Village
Murie Ballroom
Welcome reception in the Murie Ballroom at Hotel Terra with libations and light fare. Hone your skills as a mountain man or woman with a special Tomahawk Throwing clinic by New West Knife Works.
Friday Morning
January 25th
Breakfast
Sponsored by Luxury Properties of Jackson Hole
7:30 a.m. – 9:30 a.m.
Teton Village
Four Seasons Resort Cottonwood Ballroom
Breakfast at the base of the ski mountain with an introduction from Mary Kate Buckley, President of Jackson Hole Mountain Resort is followed by presentation by Thom Gruhler, CEO of Fjuri and former CMO for Microsoft.
Friday Midday
January 25th
Open for personal activities.
Friday Evening
January 25th
Cocktails and Dinner
6:00 p.m.
Teton Village
via Bridger Gondola
Ride the aerial gondola for cocktails and dinner atop Jackson Hole Mountain resort followed by keynote speakers Jimmy Chin and Elizabeth Chai Vasarhelyi. Local band Whisky Morning will offer up some music of the American West.
Saturday Morning
January 26th
Breakfast
Sponsored by Luxury Properties of Jackson Hole
7:30 a.m. – 9:30 a.m.
Teton Village
Cottonwood Ballroom
Back at Four Seasons for breakfast with a presentation by Ryan Estis on Business Performance in the New Economy.
Saturday Noon
January 26th
Luncheon
12:00 Noon
Teton Village
Cottonwood Terrace
A fireside luncheon and chat will feature "League of Legends" Bernie Uechtritz and Richard Ziegelasch, two of the country's top performing real estate agents.
Saturday Evening
January 26th
Cocktail reception
5:00 p.m. – 7:00 p.m.
Downtown Jackson -
Jackson Hole Real Estate Associates
Main Office – 80 W. Broadway
A cocktail reception at the office of Jackson Hole Real Estate Associates including live music, libations and local flair and fun.