Description
LQ Schedule
Thursday
5:30pm – Registration Opens
6:00 - 6:45pm – Reception with Drinks, Food, and Snacks
7:00 - 7:15pm – Open Summit - Worship
7:15 - 8:50pm – LQ: Transformation through Modeling with Keith Johnson
9:00 - 9:45pm – LQ: The Leader as a Change Agent with John P. Kelly
Friday
8:30 - 9am – Worship & Prayer
9:00 - 10:30am – LQ: Turnaround Leadership Mandates with Keith Johnson
10:30 - 10:45am – Break
10:45 - 11:45 – LQ: The Leader as a Strategist with John P. Kelly
12:00 - 1:00pm – Lunch Break
1:15 - 2:15pm – LQ: Good to Greatness with Keith Johnson & John Polis
2:15 - 2:30pm – Break
2:30 - 3:30pm – Hour of Power Leadership Roundtable
4:00 - 5:00pm – LQ: The Force of Increase with Paul Crites
Saturday
8:15 - 8:30am – Prayer, Worship, and Prophetic Ministry
8:30 - 9:45am – FQ: Increasing Your Financial Intelligence with Keith Johnson
9:45 - 10:00am – Break
10:00 - 11:00am – Hour of Power Leadership Roundtable
11:15 - 12:30 – The Power to Create Wealth with John P. Kelly
12:30 – Closing by Keith Johnson
2014 LQ Camp for Senior Pastors, Ministry Leaders, and Business Owners
It's 5 speakers...3 days...and 1 unforgettable event packed with more useful, effective, actionable information in a couple of days than most people get in a lifetime.
What you will receive at the LQ Camp:
Five Internationally recognized leadership experts.

Simple yet effective tactics, strategies, and insights proven to exponentially drive numerical growth and financial increase in virtually any church or business anywhere in the world.

Networking with dozens of other "like minded" and "growth-oriented" church leaders and business owners.

Specific and actionable plans you can implement the minute you get back to the office.

The opportunity to see how your church or company rates against the best in the world.

Leadership Roundtables. This special panel of leadership experts will share their "most important leadership lessons and success secrets."

Your five-star accommodations have ocean views of the Clearwater Beach. This first class atmosphere will inspire you to dream big about your future.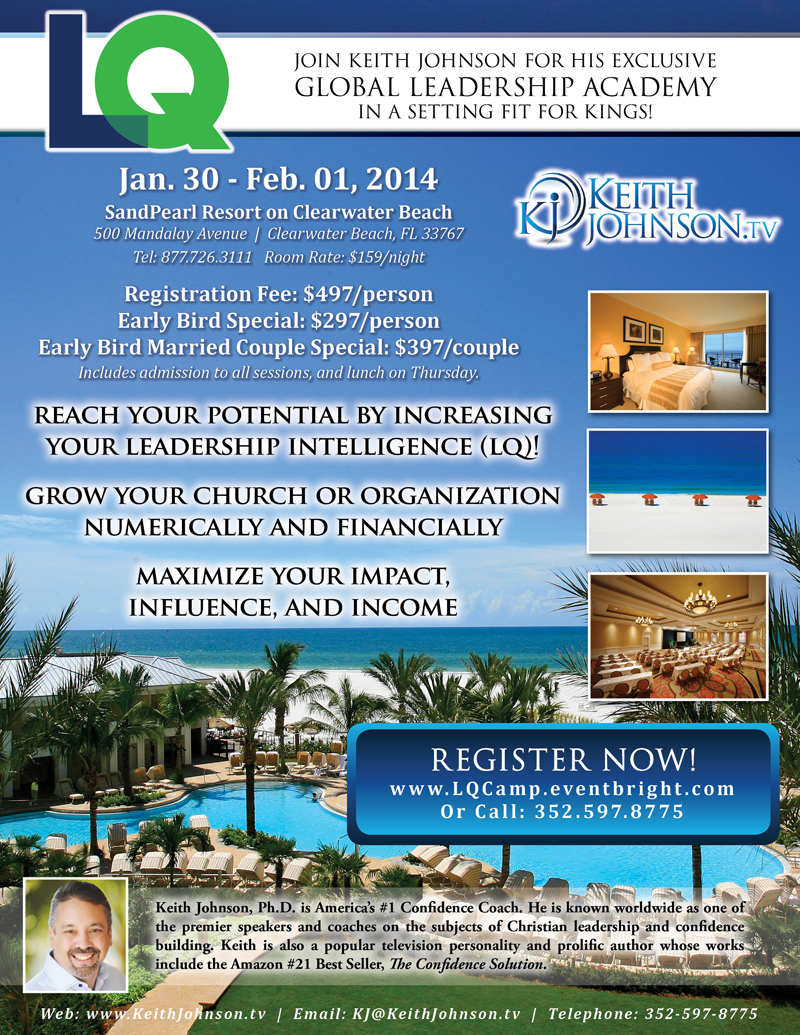 The LQ Global Camp
This is your year to grow your leadership intelligence so you can maximize your IMPACT, INFLUENCE and INCOME!
Register as soon as possible! Limited to only 70 people.
When: January 30 - February 1, 2014
Registration Begins at 5:30 PM
Meet and Greet Begins at 6 PM
First session begins at 7 PM on January 30 - Final session ends at 2 PM on Febuary 1.
Where: SandPearl Resort, Clearwater Beach, Florida.
Room Rates: $159 per night.
Group Name is KEITH JOHNSON INTERNATIONAL Group Reservation Code: 1401KE
For reservations call: 877-726-3111 or 727-674-4111
Reservation Deadline is January 10, 2014
20 minutes from the Tampa International Airport.
Book shuttle from Tampa Airport: https://www.supershuttle.com/default.aspx?GC=MVDED
Investment: $397
Early Registration Cost: $297 per person
Includes lunch on FRIDAY.
Dress Code: The Johnson's will be dressed in their traditional Florida attire. Keith: Dress pants or jeans and a Tommy Bahamma shirt or one of his tradmark untucked Robert Gram dress shirts. Bonnie: Dress pants or capries with a silk blouse or one of her cotton shirts with bling bling all over it.
Sorry No Refunds Once Your Spot is Reserved.
Organizer of Global LQ Camp with Keith Johnson & Friends
Keith Johnson is known as one of the premier speakers on the subjects of Christian leadership, confidence building, and strategic planning. For the past 21 years, his messages, books, and leadership coaching has helped some of the largest and most prestigious churches in the world to experience spiritual, numerical, and financial growth.
Keith's biblically based success and leadership principles have now influenced both the church and secular markets. His newest book, The Confidence Solution—Reinvent Yourself, Explode Your Business, Skyrocket Your Income became a best seller by reaching #21 in Amazon's motivation and business category. He is a frequent television guest appearing on popular shows and stations such as New York's PIX 11, Fox Business News, The Tom Sullivan Show, CBS, ABC, and many others. He has been recognized by Women's Worldmagazine as one of America's "Ultimate Experts," which is the most read women's magazine in the world.
Keith Johnson, PhD, is a dedicated lifelong learner. He earned a Master's of Christian Leadership and a Doctor of Philosophy in Theology from Christian Life University. He is the founder of Destiny College International, an accredited college specializing in graduate training for pastors and business leaders. He is a certified speaker, trainer, and coach for the John Maxwell team.
Today, he has trained over 347,000 Christian leaders, he travels worldwide in response to invitations, and he is the author of five books that share his success secrets.