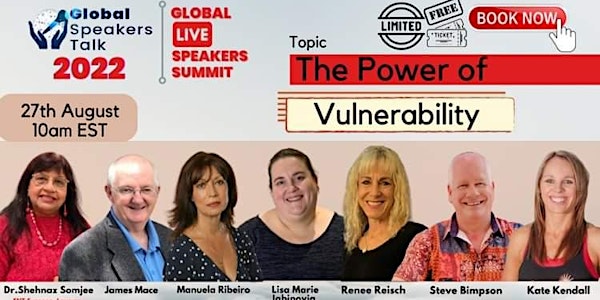 Global Live Speakers Summit On The Power of Vulnerability!
Our coming Global Live Speakers Summit on The Power Of Vulnerability is really worth attending. And it makes you believe that we are enough
About this event
"When we were children, we used to think that when we were grown-up we would no longer be vulnerable. But to grow up is to accept vulnerability… To be alive is to be vulnerable." - "--Madeleine L'Engle".
Think about the vulnerability it takes to share your ideas with the world, not knowing how your work will be perceived.
You might be appreciated, laughed at or downright skewered.
Some of us don't experience vulnerability. Many people say that they simply "don't do vulnerability."
But, actually, everyone does have a vulnerability. Life is vulnerable. Being vulnerable isn't the choice we have to make.
Rather, the choice is how we respond when the elements of vulnerability greet us: uncertainty, risk and emotional exposure.
However, our coming Global Live Speakers Summit on The Power Of Vulnerability is really worth attending.
👇This summit will help you ;
👉to believe that we are enough as we are
👉Surround ourselves with friends and people that allow us our vulnerability, and are prepared to show theirs
👉Preparedness to have courageous conversations when it isn't being practised with someone we work with, are related to, or know well
👉To let ourselves be really seen for all our warmth and generosity, as well as out anxieties
This is a once-in-a-lifetime opportunity to learn from amazing teachers/mentors/ coaches and experiences trainers.
1. Kate Kendall - Holistic Health Coach
2. Steve Bimpson - Founder of Just Think Big.
3. Renee Reisch - Transformational Mindset Coach
4. James Mace - Founder of James Mace Coaching
5. Manuela Ribeiro - Life Coach
6. Shehnaz Somjee - ENT Surgeon and Lawyer
7. Lisa Marie - Mentor/ Tutor and / Global Speaker and Host of the Summit.
Go, go, go!
Here are the details:
Saturday, 27th August 2022
USA - 10:00am - 12:00pm
UK - 3:00 PM - 5:00 PM
India - 7:30 PM - 8:30 PM
Attend online live on your computer or mobile phone.
Please save the zoom link of the summit ;
Join Zoom Meetinghttps://us02web.zoom.us/j/87410261385?pwd=VzJtb1pGTTJscHAwekNqK2FZWWY2UT09Meeting ID: 874 1026 1385Passcode: 425055
About us ;
Please visit our website www.globalspeakerstalk.com
Follow us on ;
We hope you're able to join us!
We are so excited to bring you this powerhouse of speakers to help you take your 2023 to a whole new level.
Cheers.