Global Lessons Exchange - Inclusive Social Media Evaluation Report

Wednesday, May 16, 2012 from 9:30 AM to 11:00 AM (CDT)
Event Details
On Wednesday, the live login for slides, chat will be: http://instantpresenter.com/edemocracy4
You can test your system now. We've had better experience using IE and Chrome over Firefox with this system.
If you have trouble logging into the web system, here are the PowerPoint slides for download or on SlideShare.
Here is the e-mail sent to attendees with call-in information:
We look forward to our in-depth exchange on Wednesday on the Inclusive Social Media evaluation we've shared. To date, the full PDF has been download over 850 times.

We look forward to your questions, comments, and comparative experiences.

As those who read the full evaluation will find out, this important work is complex and nuanced. Therefore, our goal with this many to many conversation is to go in deep and have a rich exchange.

Time Reminder - Promptly:

9:30 - 11:00 AM - CENTRAL US - Wednesday, May 16 

That's 10:30 AM Eastern, 7:30 AM Pacific, 3:30 PM UK, and 4:30 PM Western Europe. That is 14:30 UTC to convert locally.

Login and call-in well before the start time.


Web Login - Visual Only:

    http://instantpresenter.com/edemocracy4

We will open the web conference room 30 minutes in advance so you can test your system. 

We recommend IE or Chrome over Firefox with this tool. You can test your system in advance. Only the telephone audio connection is required. 

The live audio will not be web-only accessible. It will be recorded for open online sharing after the event.


Telephone Audio - Primary:

    +1 218 339 2409 
  
    Attendee Access Code: 1643434 

Please DO NOT introduce yourself right when you join despite the systems encouragement.

Non-US participants: A cheaper option for those outside the U.S. is using Skype Out to call the number.

Secondary Telephone Back-up Option:

This options costs us extra, but some telephone carriers (particularly overseas) may block calling the "free" teleconferencing 218 number above.

Look up numbers:   
Global Local Access Numbers - Scroll down
U.S. Local Access Numbers

Secondary Access Code: 8887300 

Those who chose the free will donation option (thank you!) are invited to use the Toll Free options linked from those pages just above. There is no toll-free option for the primary audio system.


Questions:

If you would like to send in questions in advance, please send them to: 

team@e-democracy.org with "ISM Question" in the subject


Tweeters

We will co-opt the #edem hashtag during the call. Add #digitalinclusion if it fits too.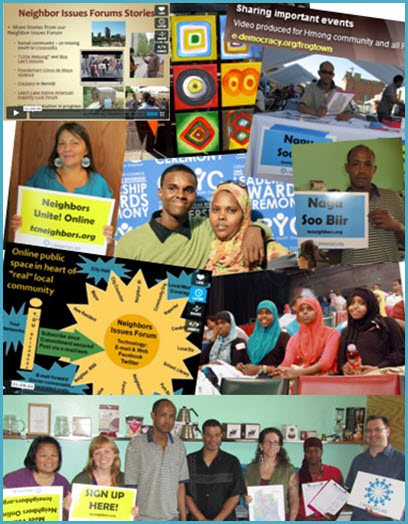 (See related blog post and executive summary.)
SPACE IS LIMITED
Join us for a in-depth two-way exchange on the lessons from E-Democracy's Inclusive Social Media effort to support online neighborhood participation in lower income, highly diverse, high immigrant neighborhoods. The call is led by E-Democracy.org.
This online event is free. Donations to support further outreach are appreciated.

"Tune in" details will be e-mailed to participants.
A brief overview of the evaluation report by lead author Anne Carroll will be followed by an extended opportunity for questions and discussion.
The 2010-2011 Inclusive Social Media effort received funding from the Ford Foundation. The participatory evaluation is extremely in-depth and filled with new lessons and knowledge useful to any online engagement initiative seeking to raise ALL voices not just those who already show up.
In 2012-2014, E-Democracy has announced Knight Foundation funding for a major expansion in St. Paul with the Inclusive Community Engagement Online initiative that seeks 10,000 participants reflecting the great diversity of the city.
Participants are asked to:
You may also want to:
Based on registration interest, we will be using either an international teleconference service or a webinar service. Details will be e-mailed to registrants.
Online Event Co-Sponsors
These groups have agreed to help promote this online event hosted by E-Democracy.org. Thank you.
Attendee List
Sort by:

Date

|

First Name

|

Last Name
Organizer
E-Democracy.org leads the Inclusive Community Engagement Online initiative.