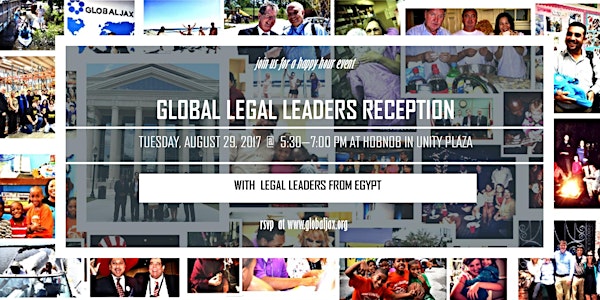 Global Legal Leaders Reception
When and where
Location
HOBNOB 220 Riverside Avenue Jacksonville, FL 32202
Description
Join GlobalJax and Global Legal Leaders from Egypt
For a Happy Hour Reception at HOBNOB in Unity Plaza
Attendees will receive complimentary appetizers and one cocktail and will have a chance to network with local judges, lawyers and hear from global legal leaders promoting judicial reform in Egypt.
Members of GlobalJax, Jacksonville Bar Association, Jacksonville Women Lawyers Association, Jacksonville Asian Bar Association and the Trial Lawyers Association get in for just $15. Future members are $20.
Sponsors VIP time begins at 5:00 pm. General entry at 5:30 pm.
Sponsorships start at $250.
Space in limited so sign up early.
This event is hosted in partnership with HOBNOB, Jacksonville Bar Association, Jacksonville Women Lawyers Association, the Jacksonville Asian Bar Asociation and the American Board of Trial Lawyers.
At GlobalJax, we believe that through connecting with the world, each one of us has the ability to help solve tough global challenges while developing the next generation of leaders. GlobalJax, is the only nonprofit in Northeast Florida working with community leaders in over 180 countries on human development projects that include Promoting Democracy and Human Rights, Improving Healthcare, Expanding Access to Education, Growing Trade, Engaging an Active Civil Society, and Combatting Violent Extremism. Get connected at www.globaljax.org.
While You are Here...
The work we do has never been more important — whether it's because of ongoing conflict or "news" that tells just part of the story - now more than ever, we need connection, conversation, and global perspective.
Click here to learn more or to support GlobalJax's efforts.