Global Leaders Scholarship Fund Kick-off and Sustainability Conversation
About this Event
Utah Council for Citizen Diplomacy is thrilled to announce a brand new program called the Global Leaders Scholarship Fund. Join us for events throughout the day on August 12 to learn all about the fund, how to apply, and what kinds of causes you could engage in as recipient of this unique and exciting opportunity!
Please register for the rest of the events by going to the following links:
12:00PM: Introduction and Climate Change conversation (Register right here on this page!)
2:00 PM: Black Lives Matter and Global Social Justice
4:00 PM: Women's Rights and Gender Equality
6:00 PM: Health Systems and Pandemics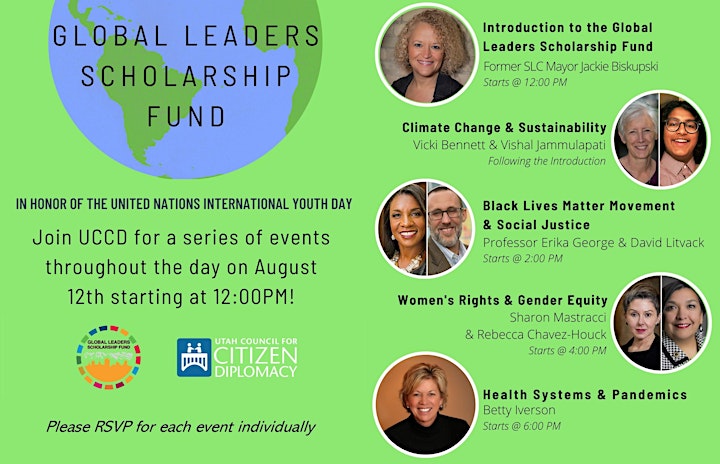 About this event:
Join us online at 12 PM on August 12 to hear directly from scholarship co-founder, former Salt Lake City Mayor Jackie Biskupski, as she discusses the scholarship details and answers questions.
Following an introduction to the Scholarship Fund, Vishal Jammulapati and Vicki Bennett will join us to discuss climate change and sustainability and all of the opportunities and challenges facing our world. They'll dive into all the ways you could engage in our scholarship fund to help be a part of the global solutions.
ZOOM information: REQUIRED to attend event
Registration is limited to 95 spots and is required to get the video link.
Register here and we will send the ZOOM Video Conferencing link the morning of the lecture.
This will be a lecture-style event, open for Q and A at the end.
About the speakers:
Former Salt Lake City Mayor Jackie Biskupski: While I was Mayor of Salt Lake City I partnered with Utah Valley University's Baldomero Lago to bring the United Nations Civil Society Conference to SLC. I brought together a group of community leaders and we flew out to the 67th UN Civil Society Conference to make our pitch to UN leaders. We were successful in our effort. I worked with Chris Redgrave of Zion's Bank to raise all funds for the conference and we made a commitment to donors that if funds remained we would set up a scholarship fund to keep local youth connected to international experiences. (full bio coming soon!)
Vicki Bennett: I have led Salt Lake City's award-winning Salt Lake City Green program for eighteen years. With the help of a dedicated staff, there have been significant accomplishments in reducing carbon emissions; increasing waste diversion; creating citizen outreach programs to improve air quality; revising ordinances to improve community sustainability and resiliency; and researching and implementing food policies to increase local food security.
The breadth of my work can be seen at our Salt Lake City Green website; www.slcgreen.com, with goals detailed in our Climate Positive 2040 plan. From environmental health to community services, I oversee one of the most ambitious and broad reaching sustainability agendas in the country.
Vishal Jammulapati : A rising senior at West High School in Salt Lake City, Utah. He Co-Founded and Co-Authored the Global Youth Climate Action Declaration (GYCAD) during the 2019 UN Climate Summit and worked to organize global GYCAD consultations to gather feedback and revise the document towards the end of 2019.. He currently leads digital development and outreach for the GYCAD. He is heading up the GYCAD Core Team's planning efforts for the Localizing Climate Action Conference (LCAC) and hopes that the conference, slated for late September, acts as a catalyst to get the GYCAD directly into the hands of youth and local governments.
Vishal was the youngest member on the Planning Committee for the 68th annual United Nations Civil Society Conference in Salt Lake City in 2019, organized community-based activities prior to the conference, organized a workshop on local homelessness, and worked with the Youth Sub-Planning Committee to draft and finalize the Youth Climate Compact (YCC) outcome document presented at the closing plenary. He hopes to further the conference's themes of sustainability, diversity of thought, and inclusion through his work on the LCAC and within his local community. Vishal is president of his high school's MUN team and loves learning languages, baking, and managing his food blog in his spare time.
About the Global Leaders Scholarship:
To continue the legacy of the United Nations 68th Civil Society Conference that was hosted right here in Salt Lake City in 2019, Finance Chair Chris Redgrave and Salt Lake City Mayor Jackie Biskupski allocated funds in support of youth as global leaders and established the Global Leaders Scholarship Fund.
The Global Leaders Scholarship Fund will support youth, who do not have the financial means, with an opportunity to engage in national and international conferences, summits, events, and other opportunities that support global leadership initiatives nationally and globally.
Click here to learn more about the Global Leaders Scholarship