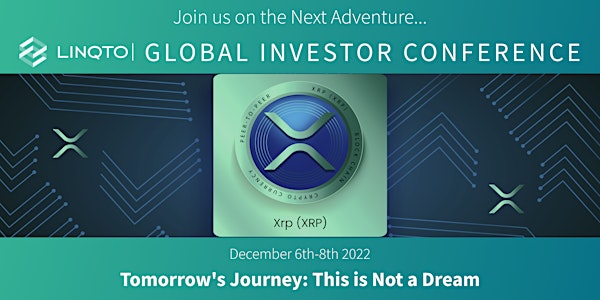 Global Investor Conference - Tomorrow's Journey: This is Not a Dream
Tomorrow's Journey: This is Not a Dream
About this event
Day 1: 8:15 AM - 1:45 PM PST
Day 2: 8:00 AM - 6:15 PM PST
Day 3: 8:15 AM - 5:35 PM PST
'Survival of the fittest' is a misquotation that lives on and on and on attributed wrongly to Charles Darwin's natural selection theory. In fact, the quote should actually read 'It is not the strongest of the species that survives, not the most intelligent that survives. It is the one that is most adaptable to change'. Adaptability then is key, not strength. Ok. And how does that work in tomorrow's environment; a decentralized world that will simultaneously house digital assets, web 3, blockchain, DeFi, the metaverse, NFTs. It's already here, well, in bits and pieces, as we lug ourselves from platform to platform, diving into Web 3. How do companies adapt to that? How do we make sense of it all, when there's so much to have to make sense of in an intangible environment that lurks on the horizon? Who are the winners? It's clear you have to adapt to survive, but how do you thrive in a world that is no longer a dream.
During the last few years and at our past Global Investor Conferences, we've talked about digital transformation and the rise of different digital assets, but in December 2022 GIC we'll be addressing everything that hasn't happened yet but are anxiously waiting for, because we know there's a large space for those that adapt to thrive.
It's a chance to hear from those who've not only seen change but have played a big part in driving this constant transformation and are now ready for what's coming next. What are the predictions for next year? Will predictions come from people with experience and knowledge or from data-fuelled predictive algorithms? But most importantly, what should we know to be able to embrace change and adapt to a future that's happening faster than expected?
Our next GIC is happening virtually on the 6th - 8th of December. Across these three days we will dissect concepts with brilliant minds, sift through entangled concepts and have in-depth conversations that are immersive, enjoyable, informative and extremely important. Please sign up, bring the potency of a curious perspective and find out how the brightest and best are building the future.
Become a Linqto user today at linqto.com to join the event for free. For more information about the event, go to globalinvestorconference.com
We'll be posting the agenda in the coming days.
If you have any questions, email us at GIC@linqto.com