Don't miss the next Global Investor Conference brought to you by Linqto
About this event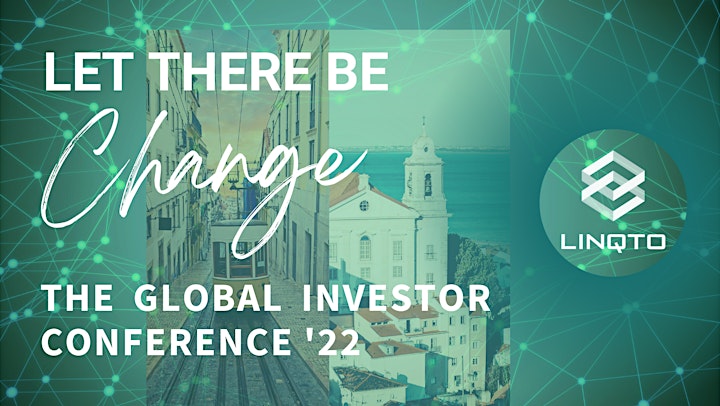 15 Panels
50+ Industry Experts
1200+ Registrations
North America, South America, Europe, Middle East, and APAC regions
One-of-a-kind global free virtual event
On May 18th, 2022, the Global Investor Conference (GIC) will take place in Lisbon as well as virtually! We've always been a virtual event, pandemic or not, but the people have spoken and we listened and we've decided 2022's GIC will see us finally all meet in person, in captivating Lisbon!
COVID-19 has transformed nearly every aspect of our world. However, as it ravaged the world it also accelerated the digital transformation of nearly everything. It's shed light on fragile supply chains, untrustworthy information, and radically new customer needs. As companies, entrepreneurs and investors have had to adjust to these realities, the most successful, are those that embrace change. But what is the change and how big is it?
This is an unknown future and it looks like we'll have to figure it out while sprinting a marathon, because there's an incredible amount of information that is overwhelming us all. That's what GIC is here for, to sift through the noise, listen to and talk with the experts, have in-depth conversations with those on the inside track, so we can pre-empt and make informed investment decisions.
So, what is this new future on the horizon? Crypto has seen the fastest rate of adoption of any technology in human history. The internet back in 1997, when it had 150m users, was growing at 63% a year. Today tracks circa 150m users in crypto and it's growing at 113% a year. That's a ridiculous growth pace and it's only accelerating. The last year alone has seen the rise of DeFi, NFTs, DAOs, CBDCs, stablecoins, in a way that none of us could have expected. This is an unprecedented opportunity seeing as this entire asset class is on pace to go up 100x in value by the end of the decade. The digital asset system seems to be the life raft everyone is jumping on. No doubt, there will be sell off's, blow-ups. etc, but the point is, the game has changed and we need to know about it.
We'll be diving into the bubbling facets of this world; how the metaverse is everywhere and nowhere; how musicians are renouncing streaming to sell their songs as NFTs; how architects are creating masterpieces in virtual worlds; how gamers are making a new kind of living; and how online structures are being built that will supercharge the next era of the Internet. The crisis has sparked a wave of innovation – it seems Plato was right: necessity is indeed the mother of invention. Many of these concepts are about offering pragmatic elegantly engineered solutions to real-world issues and we'll be dissecting them all so that we're all equipped with the knowledge to own a stake in these future systems.
How It Works:
We'll be hearing from the world's best speakers in on-stage panel discussions, Q&As, roundtables, and masterclasses about the world of investing and technology. We'll also be hosting dinners in and around the event in Lisbon at world-class venues so you can connect in person in the incredibly lively, cobbled city that is Lisbon. A place so beautiful you can't believe people are using it to live in! Of course, for those that sadly cannot attend we will be live streaming the panels as per usual.
Will you sit back and watch the world change around you or will you be the one to spearhead the change?
T&C's: The ticket also covers all accommodation and food in Lisbon. You have to be a Linqto member to take part!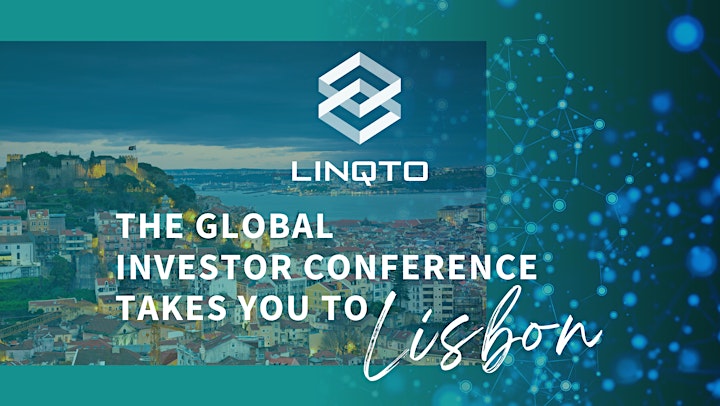 Topics to be covered at May's Conference:
Generative AI
Hyperautomation
The democratization of technology
NFTs
Metaverse
Gaming
Social tokens
Investing
Crypto
Solana
CBDCs
DeFi
*Topics Subject to change
#money #macro #metaverse #crypto #bitcoin #ethereum #solana #decentralised #CBDC
North America & Europe
Pacific Standard Time Zone
May 15 - May 20: 8:00 AM to 6:00 PM
Australia & Asia-Pacific
Australian Eastern Standard Time Zone
May 16 - May 21: 1:00 AM to 11:00 AM
Registration open now.
Visit the full conference website here.
May's Conference will feature 19 panels and over 50 speakers. Check back regularly for additional details on finalized panel descriptions.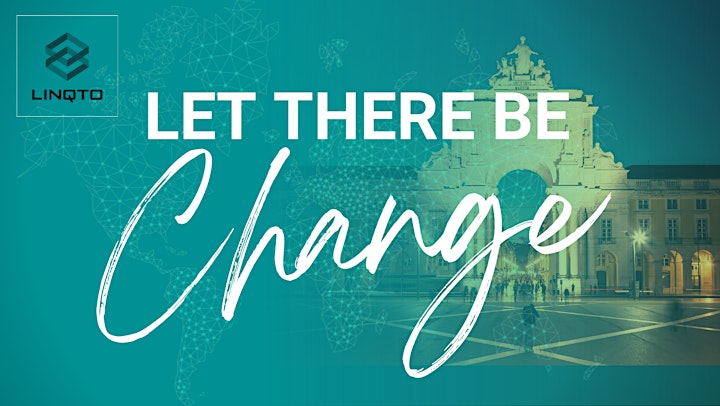 Linqto - Become User to Attend
The Linqto Global Investor Conference is a complimentary event for Linqto Users.
If you do not have a Linqto Account yet you can still register for the conference and create your account before the conference date. There is no charge to become a Linqto User or commitment to purchase anything.
Linqto - Private Investing Made Simple
Linqto's platform is helping to democratize access to private markets. Linqto enables accredited investors to invest in pre-IPO unicorn companies in a matter of minutes using our App or web browser. We invite you to register on the Linqto website. You can download our free app on your Apple or Android device.
Organizer of Global Investor Conference: Lisbon, May 2022
Linqto is doing for unicorns what Coinbase did for crypto and Robinhood did for public securities. We do this by shrinking the time and costs of a currently manual process using technology and by pre-packaging product so it is immediately available to the investor.
One must validate accredited investor status to purchase unregistered securities. Of the 45+ million people that qualify for accredited investor status globally, only 2% are invested in private securities.
Linqto is democratizing the sale of unicorn shares by opening the market to the other 44M+ accredited investors. Using advanced technology and sophisticated product packaging, Linqto can offer private equity in the most popular private companies in an attractive, affordable and secure process on their mobile phones.