Global Investing Made Simple (Kuala Lumpur) 15 March 2020
Description
Why attend GLOBAL INVESTING MADE SIMPLE?
Hard-working Malaysians are in a financial conundrum...
The cost of living is rising rapidly.
The Ringgit has devalued significantly.
Property is becoming unaffordable.
The economy is sluggish.
Wages and salaries are not rising fast enough.
Large corporations and businesses are slashing cost by reduction of workforce.
Is there a solution?
The solution is to start getting your money working for you; instead of just working for money.
But seriously, to get into investing without any financial education can result in disaster!
You don't want to risk your hard-earned money and the financial security of your family!
That's why we created this free training, to help you get your investment foundations right...and to create a risk-free financial plan to grow your wealth.
Your Trainer - Kathlyn Toh
Kathlyn was born and raised Kuala Lumpur, Malaysia. She has been trading and investing in the stock market since 1993.
Her comprehensive and genuine training style has helped Beyond Insights win the 'Most Preferred Financial Educator' at InvestFair for the past 3 consecutive years.
She has shared the stage at many top events with well-known leaders such as Mary Buffet, Nick Vujicic and Richard Duncan, to name a few. In addition, she has been featured in many local publications as listed below. Kathlyn was also nominated by Women's Weekly Magazine as one of Malaysia's Great Women of Our Time in Finance & Commerce Category in 2013.
What Will You Learn
Get insights to the 4 Step Formula that has made Kathlyn Toh successful in the stock market:
Earn a return better than the average stock and property market, consistently - because you know how to manage your own funds.
Multiply your return by 3 to 5 times using leverage, safely.
Protect your income even during bad times.
Why you can achieve your financial goals sooner through investing or trading.
Get Your Tickets - This event has a limited capacity of 200 only.
VIP Tickets
Seminar Session
Priority Registration
Reserved Front Row Seats
Group Q&A with Kathlyn
Special Door Gift
BONUS: RM300 voucher for 1st-time Enrollment in any Beyond Insights program
Standard Tickets
Seminar Session
Standard Registration
Free Seating
Beyond Insights speakers and courses has been featured on media and events regularly but this event is the public event with the most comprehensive content and training.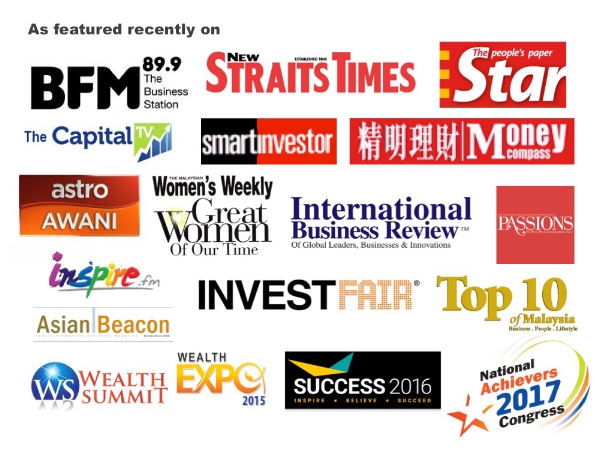 FAQs About the Event
What are my transportation/parking options for getting to and from the event?
Please refer to this page for the details.
What can I bring into the event?
Please bring a pen and notepad if you need to. You will be given a workbook and there will be some calculation exercise.
How can I contact the organizer with any questions?
Please contact +603 7490 2111 or email us at support@beyondinsights.net
What's the refund policy?
There is no refund for tickets purchased, however, you may transfer it to another person by writing to us prior to the event.