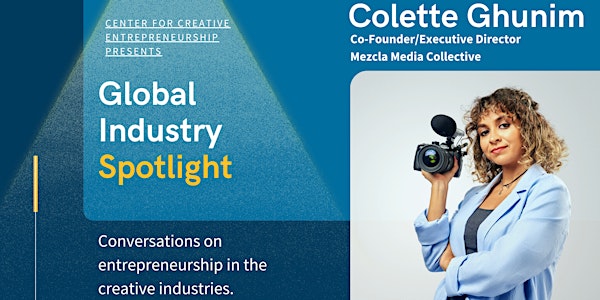 Global Industry Spotlight - Colette Ghunim
Global Industry Spotlight is a conversational series focused on providing resources and insight for the creative entrepreneur.
About this event
As a documentary filmmaker and nonprofit co-founder, Colette Ghunim's passion lies at the cross section of social impact and visual storytelling. Her first documentary, The People's Girls, received over 2 million views and Best Short Documentary at the Arab Film Festival for its bold spotlight on street harassment in Egypt. As part of the Hulu/Kartemquin Accelerator Program and funded by Latino Public Broadcasting, she is directing Traces of Home, her first feature-length film documenting her journey back to Mexico and Palestine to locate her parents' original homes, which they were forced to leave decades ago. Colette's work has been highlighted on international outlets such as Huffington Post, Al Jazeera, Univision, and TEDx. She is also the co-founder of Mezcla Media Collective, a nonprofit organization that lifts up nearly 700 women and non-binary filmmakers of color in Chicago.