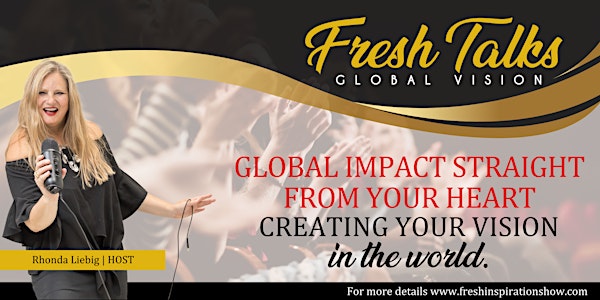 Global Impact Straight From Your Heart - Creating Your Vision in the World
Global Impact Straight from Your Heart - Creating Vision in the World
About this event
Fresh Talks - Global Vision is an on-line virtual event that will hand you supporting tools for your health, business, spiritual and lifestyle. This show creates a three to four hour journey that is motivating with a unique approach as Fresh Talks - Global vision believes that you can live in every day of Mindset Transformation Entertainment (TM) so that you live at a higher frequency and/or level to create a world of no more blaming, shaming or feeling afraid. That's our global commitment to you through our movement #Speakerlockingarms.
This is how we do it...
Fresh Talks brings motivational speakers from all over the world to share their global movement and leaving you with lifelong tools to discover your how to's into your life healing, motivation and #truth living just by learning basic tools from every new expert that enters this global platform, fresh Talks - Global Vision. Fresh Talks global movement is #speakerlockingarms as this is represented in each monthly theme throughout the year. You will get to experience expert talks that are from 10 to 17 minutes that are personal visions -driven ideas elevating them to the experts, global vision.
Grab your complimentary digital ticket and enjoy your front row seat for Mindset Transformation Entertainment (™) directly from your social device as we go LIVE in our private group in Facebook so that you can post comments and be ALL IN with your comments and claiming your fabulous breakthroughs throughout showtime and even after the digital LIVE show..
Once you grab your digital ticket(s) Rhonda Liebig founder and host will send you a personalized email welcoming you into the community and guiding you into your next steps so that you can enjoy your journey with Fresh Talks.
Click and get your ticket and this event will keep getting updated as we get closer to the virtual LIVE date of the show. Rhonda Liebig will also be sending you personalized emails to keep you up to date on Fresh Talks details such as the speakers that are being added for your mindset transformation entertainment (TM), the schedule of the show and also some playful ideas to showcase the vibe that is building along the way before showtime as we start right at 8AM pacific/ 11AM eastern.
Speakers will be added below here and the name of their talk along with the detailed schedule... more information to come
8AM Pacific - Opening Ceremony
more details to come...