Global Impact Soirée / Soirée de l'impact mondial
Actions and Detail Panel
Global Impact Soirée / Soirée de l'impact mondial
Tue, May 9, 2017, 6:30 PM – 11:00 PM EDT
Description
CELEBRATE CANADA'S INTERNATIONAL CONTRIBUTIONS
On the occasion of Canada's 150th, the Canadian Council for International Co-operation (CCIC) is pleased to invite you to the Global Impact Soirée, an inspiring social event to highlight the achievements of our colleagues, community, and country.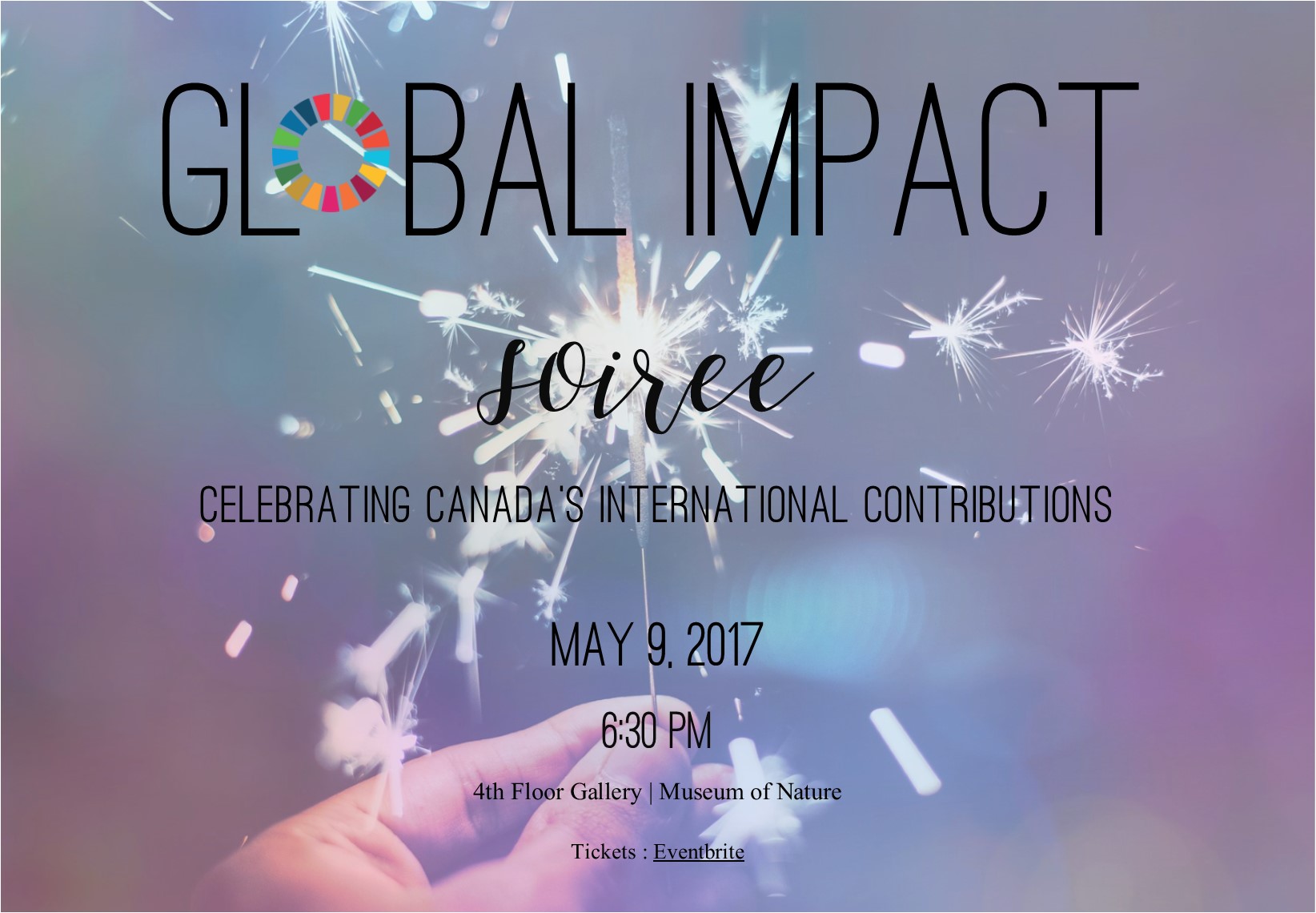 The Global Impact Soirée is a unique opportunity for leaders from the Canadian global cooperation sector, including civil society, government, academia, industry, and the international community, to come together to mark Canada's leadership on the global stage.
What can you expect? A soirée like no other!
Don't miss this opportunity to:
Take a tour through Zaatari refugee camp, by viewing "Clouds Over Sidra" through immersive VR technology

Connect with influential leaders from NGOs, government, industry, and academia

Be inspired by special keynote speakers

Look back at a photography exhibit from Global Affairs Canada

Dance to beats by DJ Goldilocks (Climate Action Network)

Indulge in gourmet bites & fancy cocktails
Celebrate Canada's global impact, while keeping eyes on the road ahead, as we move together towards building a fairer, more sustainable, and safer world.
Attire: Cocktail / Formal attire
Your ticket includes gourmet food & one drink ticket. Tickets are limited.
__________________
CÉLÉBRER LA CONTRIBUTION INTERNATIONALE DU CANADA
Pour le 150e du Canada, le Conseil canadien pour la coopération internationale a le plaisir de vous inviter à la Soirée de l'impact mondial, un événement social et inspirant pour soulinger les réalisations de nos collègues, de notre communauté et de notre pays.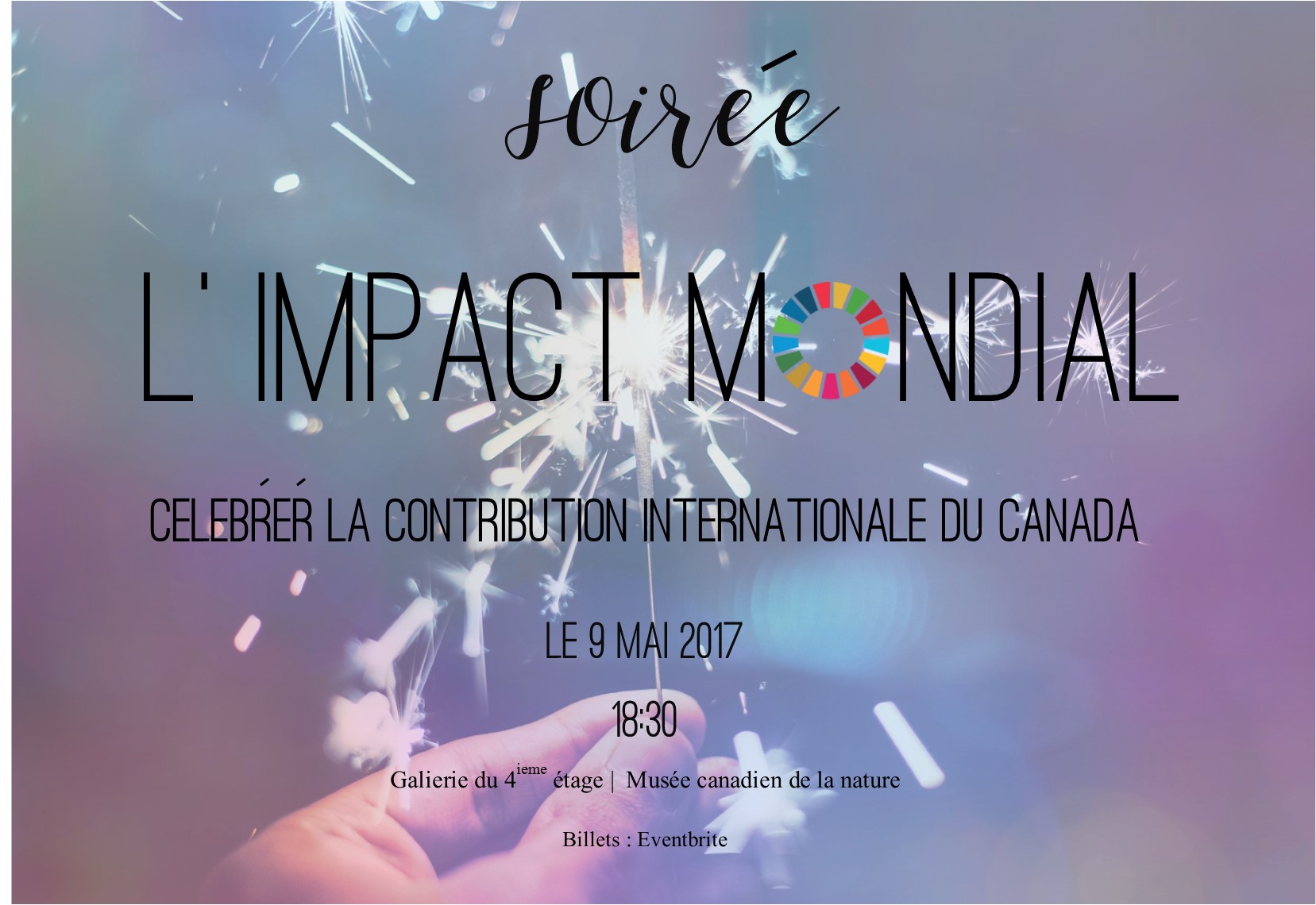 La Soirée de l'impact mondial est une occasion unique pour le secteur de la coopération internationale au Canada, incluant la société civile, le gouvernement, le milieu académique, le milieu des affaires et la communauté internationale, de se rassembler pour souligner le leadership du Canada sur la scène mondiale.
À quoi peut-on s'attendre? À une soirée mémorable!
Ne manquez pas cette occasion de/d' :
Réseauter avec des leaders d'influence dans les milieux des ONG, du gouvernement, des affaires et le milieu académique

Être inspiré par des présentations de conférenciers

Regarder avec une exposition photographique de affaire mondiale Canada

Soulinger les 15 principales contributions internationales du Canada

Dancer au rythme de DJ Goldilocks (Réseau action climat)

Se régaler de bouchées et de cocktails
Célébrez l'impact mondial du Canada, tout en regardant vers l'avenir. Ensemble, nous œuvrons pour un monde plus juste, plus durable et plus sûr.
Tenue vestimentaire : cocktail / tenue de soirée
Votre billet comprend de la nourriture gastronomique et une boisson. Le nombre de billets est limité.
Date and Time
Location
Canadian Museum of Nature / Musée canadien de la nature
240 McLeod Street
Ottawa, ON K2P 2R1
Canada