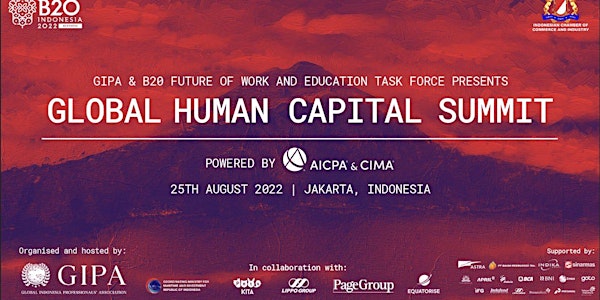 Global Human Capital Summit 2022
A B20 side event organized by GIPA, in collaboration with B20, KADIN and Partners.
About this event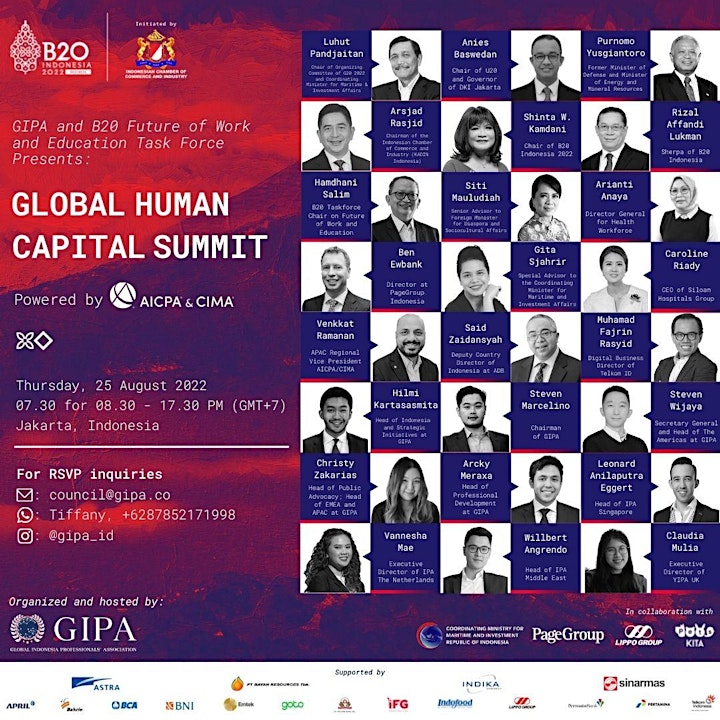 (Global Human Capital Summit is a hybrid event with both online and in person attendance, this is the registration for non RSVP online guest)
Indonesia is poised to become a top five economy by 2050. However, Indonesia is experiencing an underdeveloped talent pipeline and shortage of Indonesian global leaders. The talent gap is also widening. By 2030, Indonesia is projected to have a shortage of 3.8m skilled talents with higher education degrees, and subsequently may lose out on approximately USD 440 billion over the next decade.
The Global Human Capital (GHC) Summit is a B20 side event that brings together global business leaders, senior government representatives and 20+ overseas professional hubs across The Americas, EMEA and APAC to accelerate the aim of redoubling Indonesia's digital, green and health talents.
The Summit will be structured around:
The importance of human capital to develop Indonesia's digital, green and health sectors
The capability building required in developing industry-leading talents
How Indonesia can expedite the development and mobility of human capital to address the talent gap
About Global Indonesia Professionals' Association (GIPA)
GIPA represents Indonesian professionals and executives abroad across G20 and ASEAN in eight key industry groups. As a global secretariat, GIPA seeks to empower a global alliance of overseas professional hubs to advance Indonesia's economic diplomacy and human capital development.