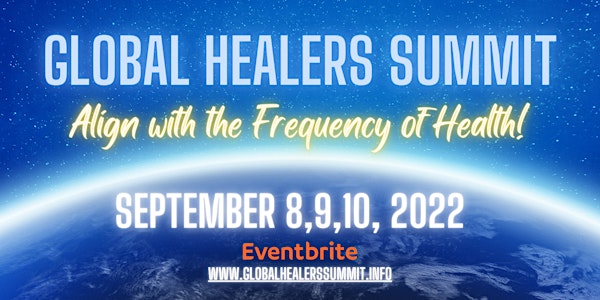 Global Healers Summit 2022
Align with the frequency of health! Join with master healers, speakers and teachers from around the globe to learn and practice!
Refund Policy
Contact the organizer to request a refund.
Eventbrite's fee is nonrefundable.
About this event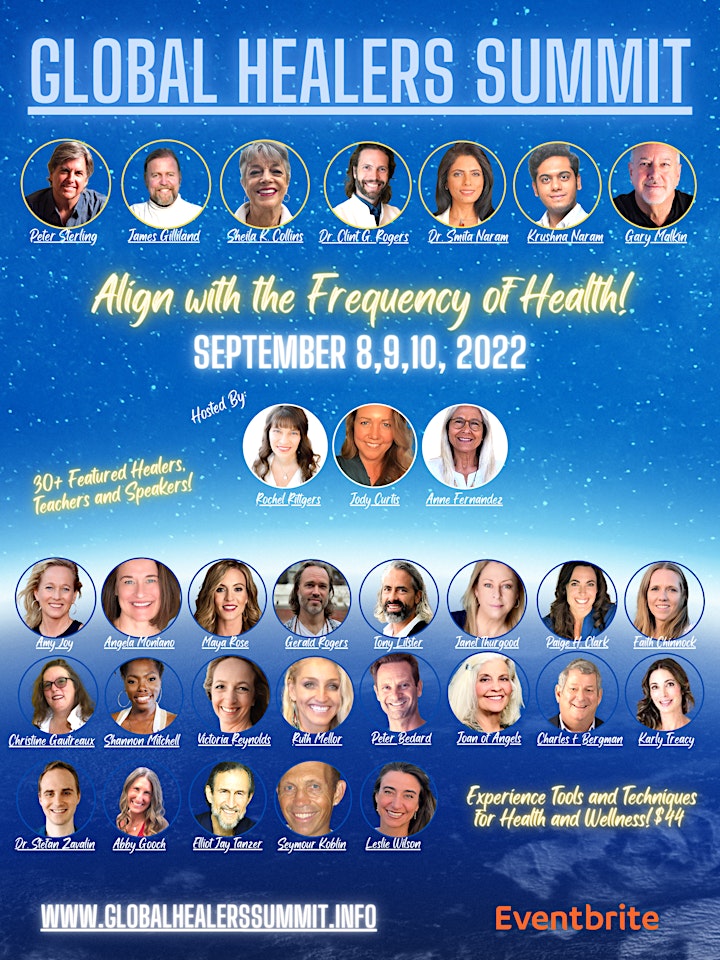 Health is Wealth! And it includes many facets…emotional, physical, mental, energetic and more. The frequency of feeling GOOD!
Have you been searching for the just the right information to help you and your loved ones have vibrant health and radiant energy?
Join with like-minded community from around the world for over 30 powerful presentations from Master healers/teachers/speakers gathering for a variety of experiences to help you align with the frequency of health.
We are so excited to share these amazing people and their unique gifts and tools and techniques for living a happy and healthy life.
Only $44 for 3 full days of experiences with a like-minded and like-hearted online community from around the globe. Recordings will be made available after the event.
Have you been feeling the chaos and pain of the world lately and wondering how you can help yourself and others? Join the GLOBAL HEALERS SUMMIT!
UNITE with others around the world and align yourself with the frequency of health during 3 days of virtual meditation, prayer, and practice led by MASTER HEALERS and TEACHERS on 9/8, 9/9 and 9/10/2022 from 8 AM-3 PM PDT.
JOIN with a community of like-minded and like-hearted individuals from around the world sharing different healing modalities and ideas that can work for YOU and those you love!
When you register for the summit, you will gain access to the private Global Healers Community Facebook group and invitations to virtual community events as well as access to all three days of presentations on Zoom.
LEARN from over 30 expert Healers and speakers from around the globe during the week of 9/8/22 as they teach tools, techniques, and modalities, that will empower you to heal yourself and others. Dr. Smita Naram, and Krushna Naram with Ancient Secret Solutions from the Siddha Veda Lineage for Health and Wellness, Award-winning Author (Ancient Secrets of a Master Healer) Doctor Clint G. Rogers sharing about Ancient Secrets to Becoming the Best YOU, 7 time emmy award winning producer Gary Malkin and Founder of Wisdom of the World Wellness, Legendary Coach and speaker Gerald Rogers and FEMintuition Expert Allison Maya Rose Rogers, Musical Genius and world reknowned harpist Peter Sterling, Mentor and Coach Amy Joy, Guided Intuitive and healer Joan of Angels, Global Prayer Practitioner and founder of ReThink Prayer, Angela C. Montano, Liminal Somatics Coach Faith Chinnock, and so many more to be announced...
Hosted by Healers and Teachers Rochel Rittgers, Jody Curtis and Anne Fernandez who will also be presenting their offerings.
Some of the presentations include:
Sound Healing and the Power of Music, Ayurveda and Siddha Veda (The ancient Sciences of Health and Success), The Freedom from Fear Formula, Ancient Secrets that will Transform Your Life, Awakening Divine Feminine, Overcoming Fear, Breathing Your Way to Health, Manifest Your Destiny: The 3 R's to Unleashing Your Emotional Freedom, 7 Principles of Conscious Creation, 8 Dimensions of Wellness, "Is Prayer Medicine?", Weaving Healing Webs of Connection, Choosing Intuitively–Reframing Commitments, Feng Shui Secrets, Healing the Heart's Light, We are Multi-dimensional Beings, Our Physical Position and Its Influence on Ease and Energy in the Body, Finding the Stillpoint for Self-Care & Community Care, The Art of Grieving: How Art and Art-Making Helps Us Live Our Best Lives Now, Loving Depression, A Users Guide to Stepping Out of the Shadows, It's time for Freedom- Importance of Energetically Releasing Trauma From The Body, Clearing Unseen Negative Influences, and much more!
We will have live guided meditations to activate the healing powers within, and then together we will send that love and light out to the world.
We look forward to joining with you for our global impact of love and healing. Proceeds will go toward future events and recordings will be made available after the event.
We hope you enjoy the SUMMIT!