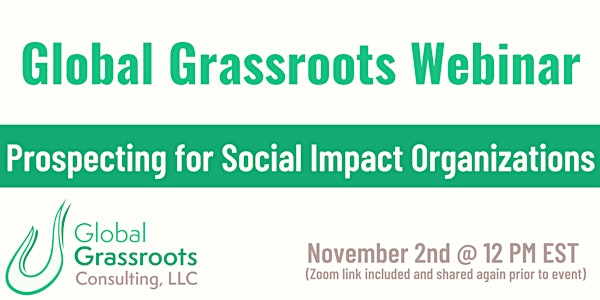 Global Grassroots Webinar - Prospecting for Social Impact Orgs
Global Grassroots Consulting presents its first webinar: Prospecting for social impact organizations.
Date and time
Tuesday, November 2, 2021 · 9 - 10am PDT
About this event
In this webinar, our CEO, Ian Shepardson, will present on the topic of Prospecting for Social Impact Organizations. Prospecting and outreach are not specific to for profit companies. They are tools used to increase awareness and funding efforts with potential partners. Social impact organizations also need to be able to conduct outreach to key stakeholders in an effort to raise funding and promote their brand. Global Grassroots Consulting works with impact orgs to establish, conduct and maintain an outreach program built on the values of professional relationships.
Join our webinar to hear Ian's insights for social impact leaders to identify their target prospects, build a prospecting list and conduct outreach to key stakeholders.