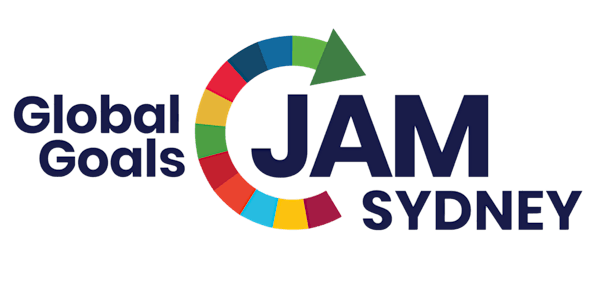 Global Goals Jam Sydney 2020
Want to be a part of designing solutions to the United Nations 17 sustainable goals? Join us in Sydneys 2nd Global Hackathon.
Refund Policy
Contact the organizer to request a refund.
Eventbrite's fee is nonrefundable.
About this event
Want to be a part of designing solutions to the United Nations 17 sustainable goals? Join us in a Global Hackathon, where over 70 cities around the world come together to tackle sustainability!
To collaborate, we need to engage in a way that goes beyond talking, towards making and creating, in a space for people from all backgrounds who bring in their local knowledge, ensuring a bottom-up, grassroots approach.This is why we started the Jam: a 2 day event to engage makers and designers to contribute to the Sustainable Development Goals by creating short-term interventions with long-term impact. More than an event, it is a network of cities and organisations that are excited to engage their local communities to create real impact for the Global Goals.
The Global Goals Jam will be presented in a video at the UN Climate Week in New York.
We want to create real impact, going beyond the Jam. Best ideas could join an incubator and/or internal innovation programs of our corporate partners. There will also the ability to launch subsequent initiatives post event involving the community, non-for-profit and corporate leveraging the Communiteer Platform
CHALLENGES
The Sustainable Development Goals (UN SDGs) that the Sydney Jam will tackle includes:
GOAL #1 TBC
GOAL #2 TBC
Participants will join teams and choose one of the above to solve for.
AGENDA
Day 1 Friday 18 September - Kick-Off & Team Set-Up
Location: TBC
5:00 - 5:30 Welcome and registration
5:30 - 6:15 Global Goals Jam Presentation & Inspirational talk by:
TBC
6:15 - 7:00 Team building / Select Challenge
Day 2 Saturday 19 September - Sprints
Location: TBC
9:00 - 12:30 Sprint #1 Explore it!
12:30 - 13:30 Lunch
13:30 - 15:00 Sprint #2 Respond to it!
15:15 - 15:30 Break/Energizer
15:30 - 17:00 Sprint #3 Make it!
Day 3 Sunday 20 September
Location: TBC
9:00 - 10:30 Sprint #3 Make it! (cont)
10:30 - 12:00 Sprint #4 Share it!
12:00 - 14:00 Final touch - Pitch preparation (Lunch served)
14:00 - 16:00 Pitch to Jury Panel
Decision Makers from TBC will be on the panel.
16:00 Close
(optional - informal drinks in a local pub post event)
We are a volunteer group organising the event. Any proceedings will be donated to a charity involved in solving for the SDGs.
No prior hackathon experience is required. No coding experience necessary, just a drive to find creative solutions to some of our most pressing problems