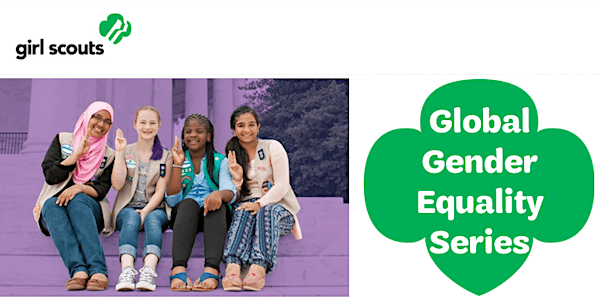 Global Gender Equality Series - An Online Event
Join us for a special online series for Senior and Ambassador level Girl Scouts.
Refund Policy
Contact the organizer to request a refund.
About this event
Have you ever found yourself wondering how you can make the world a better place? Do you want to raise awareness and learn how to advocate on behalf of gender equality? This series is a wonderful place to start.
Fourteen Girl Scouts from across the country devised a six-part virtual series covering the most pressing issues facing girls today. Topics include: Girls' Access to Education, Girls in Leadership, Girls in STEM, and Gender-Based Violence. You'll learn about what's happening around the world and how we can make a difference here in the United States.
Each year, Girl Scouts of all levels can earn the Girl Scout Global Action award. This award connects the WAGGGS sisterhood by helping girls work together to make a difference on issues that affect girls and women all over the world. It's an official national award, so you can wear it on the front of your vest or sash, just like a badge.
This series has a $25 registration fee and will be held weekly on Tuesday evenings from 4:00-6:00 p.m. EDT. Upon registration you will receive a confirmation email with details of the activities and what you will earn.
Dates of the events:
Six consecutive Tuesdays: June 30, July 7, July 14 , July 21, July 28, August 4
Open to registered Senior and Ambassador Girl Scouts.
Girl Scout participants will:
Experience girl-led content, planned and executed by fourteen Girl Scouts from all over the USA; meet other Girl Scout sisters; and join in lively discussion and activities with their new Girl Scout friends!
Earn the 2020 Global Action Award, and receive your award by mail, included in cost of registration.
Progress toward badges: Senior – Women's Health, Ambassador- Public Policy.
Progress toward Journeys: Senior – Girltopia or Mission Sisterhood, Ambassador – Your Voice, Your World
Gain a deeper understanding of issues addressed by the Commission on the Status of Women, and take a deep dive into the 17 Sustainable Development Goals identified by the United Nations:
Access To Education: For girls in some parts of the world, education opportunities can be especially limited. Only 66 percent of countries have achieved gender parity in primary education. In our session, participants will discuss how to make that change.
Gender-Based Violence: Globally, an adolescent girl dies every 10 minutes as a direct result of violence. Girls around the world are targets of gender-based violence, which impacts their physical, emotional, and mental well-being throughout their lives. During this group session, we will discuss how we can help to change the drastic violence that affects girls every day.
STEM (Science, Technology, Engineering, and Math): Only 30 percent of all female students select STEM-related fields in higher education. In this group session, girls will participate in STEM (Science, Technology, Engineering, and Math)-related activities that will educate them about the importance of universal STEM skills and to empower them to discover opportunities in STEM-related fields.
Leadership: Globally only 24.5 percent of parliamentarians are female. In this group session, girls will discuss historical female leaders and explore the barriers girls and women face reaching decision making roles. Each girl will then utilize her newly developed skills to become an influential girl leader within their own community.
Girls will work together to complete a Take Action project that will help to make their communities, and the world, a better place! (Check with your council and see if your participation in a Take Action project can be applied toward Journey or Highest Award requirements)
Parents please note: As a part of the registration process, you will be asked to grant your daughter/ward's participation in conversations which could include sensitive issues. Please read this information thoroughly so that you can make an informed decision on registration.