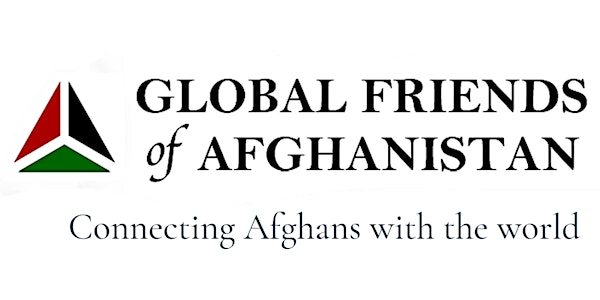 Global Friends of Afghanistan 1st Annual Conference
Global Friends of Afghanistan's 1st Annual Conference, 1 Sep 2022, with & at Georgetown University: Evacuation | Resettlement | HumanRights
When and where
Location
Georgetown University McDonough School of Business 3700 O St NW Washington, DC 20057
About this event
Conference Goal, Objectives and Resources
*Georgetown University Covid protocols are in place, please see details below.
*RSVP and ticket required to attend.
(Dress Code: This is a working conference; Suit and Tie not required. No polo shirts. Sport coat or equivalent for panelists.)
Please visit the GFA Conference Website for the detailed agenda, schedule, and most up to date information.
https://www.globalfriendsofafghanistan.org/annual-conference
Conference Goal: Provide a collaborative forum for Afghans and their allies to reflect on the past year and identify opportunities to educate and engage policymakers, humanitarians, veterans, and the public on actions that can be taken to support and assist Afghans today and going forward.
Program Summary:
One-day conference.
0730 Check in, 0830 Start
Opening Keynote: Richard Bennett – United Nations Special Rapporteur on the situation of human rights in Afghanistan
Three morning panels: 1. Evacuation 2. Resettlement 3. Current Afghanistan Issues moderated with Q&A
Lunch on campus
After lunch, various working groups to share ideas and develop solutions to critical topics for Afghans inside and outside Afghanistan.
Closing remarks
Evening Reception ~530pm
Objectives:
Objective 1: Acknowledge the grassroots efforts critical to the successful evacuation of Afghans last summer and identify opportunities to replicate and direct that energy toward renewed efforts to assist the Afghan people.
Objective 2: Inform stakeholders about the current state of Afghan resettlement and the ongoing challenges faced by those still in Afghanistan.
Objective 3: Motivate attendees to support new and continued efforts toward Afghan evacuation and resettlement and improving conditions within Afghanistan.
Objective 4: Mobilize attendees to develop and act on concrete proposals to address key challenges over the next twelve months and report back at next year's conference.

Instructions for Visiting Georgetown University
Georgetown University looks forward to your upcoming visit.
To help protect the health and safety of the Georgetown community, including our guests, all visitors ages 12 and older to University-owned or operated buildings must be up to date on COVID-19 vaccination (i.e., primary series and, when eligible, an additional dose), or attest to having a medical or religious exemption from being vaccinated.
Please follow the steps below that are required before your visit.
Step #1: Anytime between now and the day before your visit, please submit documentation showing you are up to date on COVID-19 vaccination with a vaccine authorized for emergency use or granted approval by the U.S. Food and Drug Administration (FDA) or the World Health Organization (WHO). Acceptable proof of vaccination includes, but is not limited to:
CDC COVID-19 Vaccine Card
WHO Vaccine Booklet
Documentation provided by a healthcare organization or country
Note: If you are not up to date on COVID-19 vaccination but attest to having an appropriate medical or religious reason for not being vaccinated, you will be able to indicate this as part of Step #1 and proceed with the process required to visit our campus. You will be required to submit to the University proof of a negative PCR test taken within 48 hours prior to your arrival time on our campus when you submit your health attestation on the day of the event.
Step #2: Assuming successful completion of Step 1, you will receive a short health attestation form via email on the morning of the event date (for multiday events, you will receive this email on the FIRST DAY of the event ONLY, regardless which day you are attending). Please complete this form, attesting that you are symptom free before coming to campus. If you indicate any symptoms consistent with COVID-19, you will not be permitted to visit a Georgetown-owned or managed campus or building until you are symptom free.
Click Here to Complete Step #1: https://gucovid.force.com/visitor/s/?event=VE4411
Your event or meeting host will be able to monitor your progress on Step #1 above, and they may contact you if they see if you have not yet completed this step ahead of your scheduled time on campus. While event hosts are not provided information about your COVID-19 vaccination or your religious or medical exemption from vaccination, they are notified of the outcome of any COVID-19 test required by the University in connection with a claimed exemption and whether you have reported having COVID-19 symptoms or being in close contact with anyone who has tested positive.