Refund policy
Contact the organizer to request a refund.
Eventbrite's fee is nonrefundable.
A personal and collective journey into the emerging future | June 22 -23, 2022 | Pay what you can tickets from $20- $325
About this event
Pay-what-you-can tickets from $20 - $325 (Watch the live stream of the event for free)
"As systems fail and collapse what we are left with is basically each other."
- Otto Scharmer
Looking at the world right now, on the one hand, we see an acceleration of crisis and disruption.
On the other hand, as our systems collapse, we see communities, projects, and movements of regeneration, renewal, and healing coming to life like never before.
How do we hold these two realities effectively and authentically at the same time?
How do we sense into what is real and emerging? Not only for ourselves, but for each other, and the wider global community as a whole?
How do we move through overwhelm and despair and into supporting the future wanting to be born?
We invite you to join us for a two-day online / offline event designed around the U-process. Together we will:
Connect deeply as a global community,
Sense into our planetary situation,
Celebrate and learn from living examples of societal transformation
Notice the seeds of change wanting to emerge
Cluster around shared intentions for nurturing these seeds and
Actualize next steps.
Inspiration • Connection • Sense-making • Resonance • Collective Action
This Year's Speakers:

You can click through here to learn more about this year's lineup of speakers, presenters, and facilitators.
Our Annual Gathering Sensing Into the Emerging
Come together, feel together, act together.
The Global Forum for Transforming Society & Self is an annual event hosted by the Presencing Institute, helping our wider global community see and sense itself through a showcasing and exploration of many different initiatives, labs, programs, and communities that make up our global ecosystem.
The global forum is a gathering of change makers, systems thinkers, and awareness practitioners, dedicated to creating a better world for future generations. Using presencing practices, global live sessions, and an expanding Audio Garden - we will be reconnecting to our deeper sources of inspiration in this moment of global disruption.
Initiatives for radical, regional, and global regeneration are vital to the societal transformations we know are needed and possible. As a community, we'll be surfacing, nurturing, and celebrating these initiatives and the co-creative partnerships that make them possible. Join us!
Ticket Options
There are multiple ways to join this year's Global Forum
Tune In For Free
Register with your email and watch the livestream of the two global live sessions by joining our email list and experience a currated selection of this year's Audio Garden.
Live stream access to both live sessions.
experience a curated selection of this year's Audio Garden.
Access to the event archived and full Audio Garden for one week after the event.
Donate to Join as a Global Participant
Suggested minimum donation of $20.00
Join the interactive zoom sessions of the live sessions with breakouts
full access to the Audio Garden
Online community portal for discussion and networking.
Those able to donate $125.00 or more:
Enjoy access to event archives and full Audio Garden for up to one month after the event.
Those able to donate $200.00 or more:
Enjoy lifetime access to event archives and full Audio Garden.
Me to We ticket
$325.00 - In addition to all of the above, contribute to P.I.'s mission of democratizing access to the methods and tools for systems transformation. This ticket includes:
Interactive Access to the live sessions.
Full access to the Audio Garden
Lifetime access to the event archives and Audio Garden.
Support access to the event for those unable to contribute monetarily.
Archive Access Only
$75.00 - If you're not able to attend the events on June 22 & 23,:
Enjoy lifetime access to the to the archive of the live sessions as well as the Audio Garden so that you can still participate in this collective sense-making and explore both what emerges during the event but also the conversations that emerge afterward.
All ticket options will have access to an expanding calendar of community-hosted sessions running from June 23 until Sept 7th where the ecosystem of regional communities, language groups, topical hubs and prototype teams will be continuing to crystalize and co-evolve what emerges through the two-day U-journey of the Global Forum.
Global Forum 2022 Schedule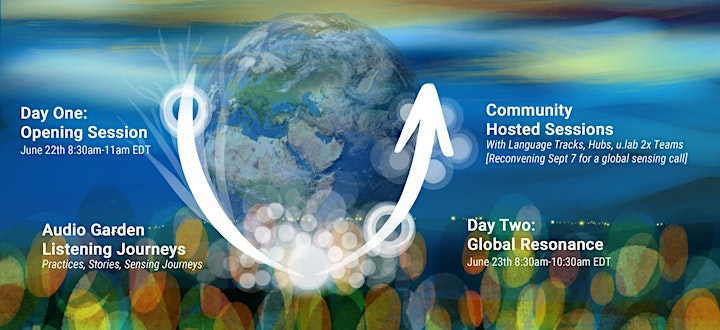 Day One - Wednesday, June 22nd
OPENING SESSION - Co-initation and Sensing Into this Global Moment
Live interactive global Zoom Session | 8:30-11:30am EDT
Otto Scharmer and Antoinette Klatzky will weave and hold the session as well as reveal some exciting next phases for the Presencing Institute and the future of Awareness-Based Systems Change.
Living Examples: Transformative Leadership in Action Hear from Pauline Tamesis, UN Resident Coordinator in Cambodia, who is showing where awareness-based systems change can take us at scale within the United Nations system, and from Mercedes Bidart, a social entrepreneur helping build just economies at the grassroots level in Colombia.
Vision 2049 Helmy Abouleish and his family have spent decades building the SEKEM Initiative in Egypt, which has pioneered sustainability in agriculture and other sectors. Businesswoman and philanthropist Cherie Nursalim brings an environmental and social focus to a range of corporations and institutions, and founded United in Diversity. Melanie Goodchild, whose work brings together Indigenous knowledge with systems thinking, will tie together a community reflection on Helmy and Cherie's vision with an embodiment practice.
AUDIO GARDEN - YOUR PERSONAL LISTENING JOURNEY
Self-paced, offline experience
We have created new possibilities for connecting as a global community of sense-makers by curating a diverse selection of 10-20 min audio experiences, designed to help us each sense into our own unique place, in our own time, while also connecting to the larger whole of this planetary moment. Choose your own path through a selection of audio artifacts: Sensing Journeys, Stories, Practices as well as Essentials from the Presencing Institute archive.
Day Two - Thursday, June 23rd
GLOBAL RESONANCE SESSION - COMING BACK TOGETHER
Live interactive global Zoom Session | 8:30-10:30am EDT
The Global Resonance session on Day Two of the forum will cap participants' solo experience with the audio garden. We will come back together and share our experiences of the garden as a community: what came up? As we sense into the collective, what are the seeds that are emerging?
Building Regional Action Confidence We will turn to the Asia-Pacific region to hear from a team that has been practicing building action confidence: Dr. Ben Chan (Singapore), Frans Sugiarta (Indonesia) and Katie Stubley (Australia), joined by Dieter van den Broeck from Commonland, will talk about their cross-sector, cross-cultural, bottom-up approach to addressing institutional failure.
Collective Resonance and the Emerging Future To close our time together, after an awareness practice led by Arawana Hayashi, we'll learn more about u.school – a new infrastructure for transformative learning and leadership. Teams of changemakers from u.lab 2x will share their projects from the past six months: how are they addressing systems change where they are? And finally we will hear from one another in a collective resonance exercise, to sense what has been ignited in our two days together, with the support of Etan Pavavalung's art as well as John Stubley's practice of generative poetics.
U.LAB 2X PROTOTYPEE SHOWCASE
Live interactive session | 12:00pm - 1:15pm EDT
You're invited to this "village experience" zoom session. You will join different breakout spaces to learn from and give feedback to prototype teams who have recently through a U-journey. These teams have been through the u.lab 2x journey to develop solutions to the most pressing challenges in their region or sector. You'll have the opportunity to connect with teams in government, education, ecology, innovation, and entrepreneurial spaces. How has the U-process shaped, informed, or event TRANSFORMED their original prototype idea? What unique insights can you offer to their iteration from your perspective, experience, or curiosity? Your listening, observations, and participation in this session is a direct nurturing of the seeds of the emerging future we know is possible.
COMMUNITY-ORGANIZED SESSIONS
Regional & Topical Sessions | Program forthcoming
To crystallize what's emerged from the global resonance session, language tracks and hubs are facilitating their own sessions - activating locally what we have been experiencing together as a global community. These community sessions can be added to the calendar by those interested in hosting them through the rest of June, July, and August.
What is the Audio Garden?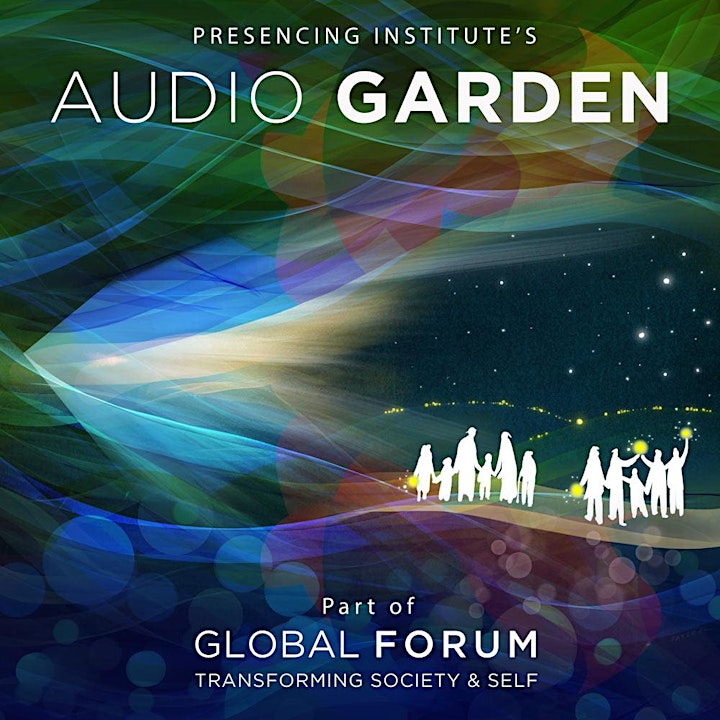 An innovation in global sensing, storytelling, and cultivating shared awareness.
The Audio Garden emerged a new prototype for global sense-making, resonance, and personal reflection: allowing us to step away from our computers and journey out into our local context while connecting with the global Presencing community.
Made up of audio pieces contributed by Presencing Institute senior faculty, global thought leaders, our various regional communities, and change-makers around the world - the audio garden consists of stories, practices, sensing journeys, and sound scapes.
Step away from your desk and put in your headphones, for a guided sensing process that draws on the wisdom of our global community to help you take deeper root where you are.
The Global Forum is designed for us each to have solo time to explore offerings in the Audio Garden after an opening global session. Then we will come together as a global community for a final live session and then in our local hubs to crystallize the learning that emerges.