Description
The 2018 International Beef and Sheep network series of workshops, meetings, farm visits and conference takes place in Galway, from June 14-20 inclusive.
On Monday, June 18, a full day is dedicated to the Global Forum, the main event in the week long series of activities which is open to the public. International and Irish policy analysts and decision makers will present on the future for beef and sheep production from a trade, marketing, competitiveness, sustainability and productivity perspective.
This is the 16th annual conference and it is the first time this international conference will take place in Ireland. The network of participants comprises of over 30 countries internationally, with representatives from as far afield as Australia, Argentina, Brazil, China and the USA attending – as well as representatives from most European countries.
Confirmed speakers include:
Koen Dillen (European Commission) Michael Maloney (Director Quality Assurance, Bord Bia) Scott Tolmie (Meat and Livestock Australia) Catherine Moreddu (OECD, Paris ) Brendan Dunford (Manager Burren Programme) Lesley Mitchell (Forum for the future), Sven Anders (Professor, University of Alberta), Joe Healy (President, Irish farmers Association (IFA), Torsten Hemme (Chairman, IFCN Dairy). Claus Deblitz, Thunen Institute and Ernesto Reyes will both present on agri benchmark.
Prof Gerry Boyle, Director, Teagasc will officiially open the event and a number of Teagasc collegaues will also present on the day (Catherine Egan, Kevin Kilcline, Trevor Donnellan, Kevin Hanrahan).
The conference is jointly organised by the Irish agri benchmark partner TEAGASC and the agri benchmark headquarters.
Registration is free. Please register by Wednesday 13th June.
Useful links for additional information:
https://www.teagasc.ie/news--events/news/2018/agri-benchmark-beefsheep.php
https://www.teagasc.ie/news--events/national-events/events/the-annual-global-forum-c.php
http://www.agribenchmark.org/beef-and-sheep/conferences/2018-ireland.html
https://www.agriland.ie/farming-news/international-agri-benchmark-conference-comes-to-galway/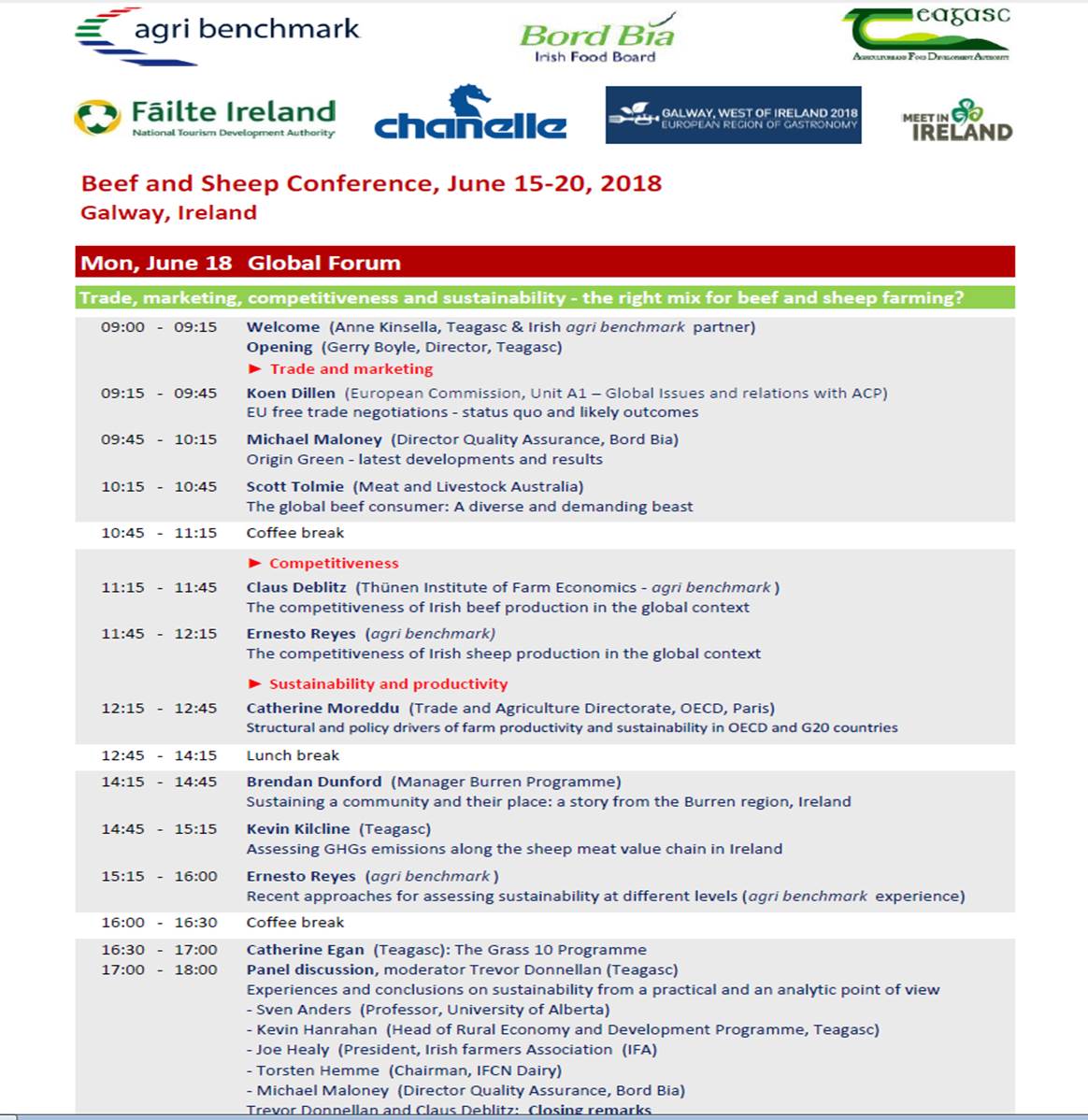 Additional information; Please contact Anne Kinsella