Global Finance's Sixth Annual Transaction Processing Awards Ceremony 2017
Description
Global Finance's Sixth Annual Transaction Processing Awards Ceremony 2017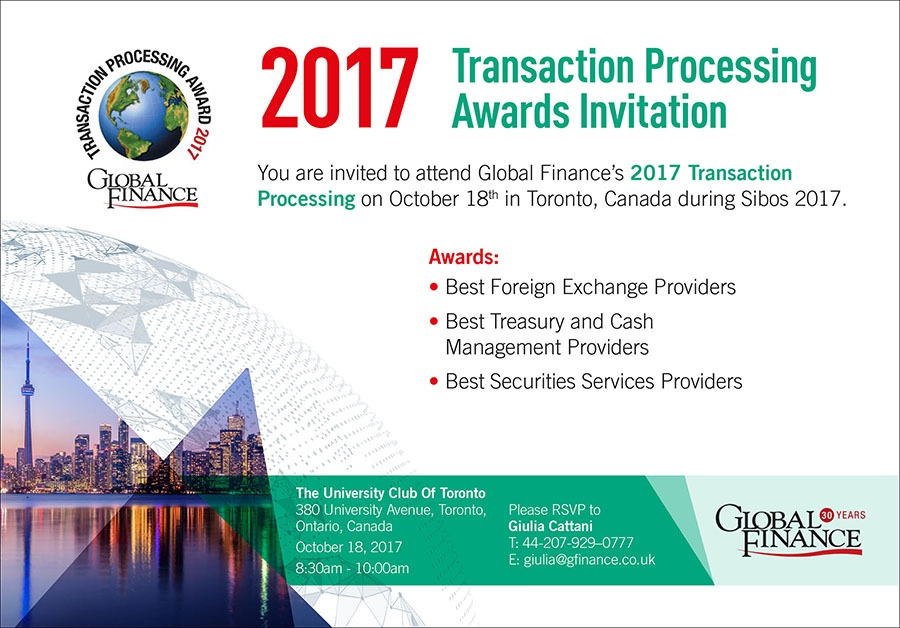 Congratulations. A short while ago, the editors of Global Finance selected your organization as a Global Finance 2017 Award Winner.
We now cordially invite you to join us for the Sixth Annual Global Finance Transaction Processing Awards Ceremony, being held on the morning of October 18th at the University Club of Toronto, during Sibos 2017.
We hope you will can make it!
Please see the ceremony schedule below for more details.
---
Global Finance's Sixth Annual Transaction Processing Awards Ceremony 2017
Ceremony Schedule
­­­­­­­­­­­­­­­­­
8:30-9:00am
Light Breakfast
9:00-10:00 am
Best Security Services Providers
Best Foreign Exchange Providers
Best Treasury & Cash Management Providers
__________________________
For additional event information or queries, please contact:
Giulia Cattani
Email: giulia@gfinance.co.uk
Tel: 44-207-929-0777