Description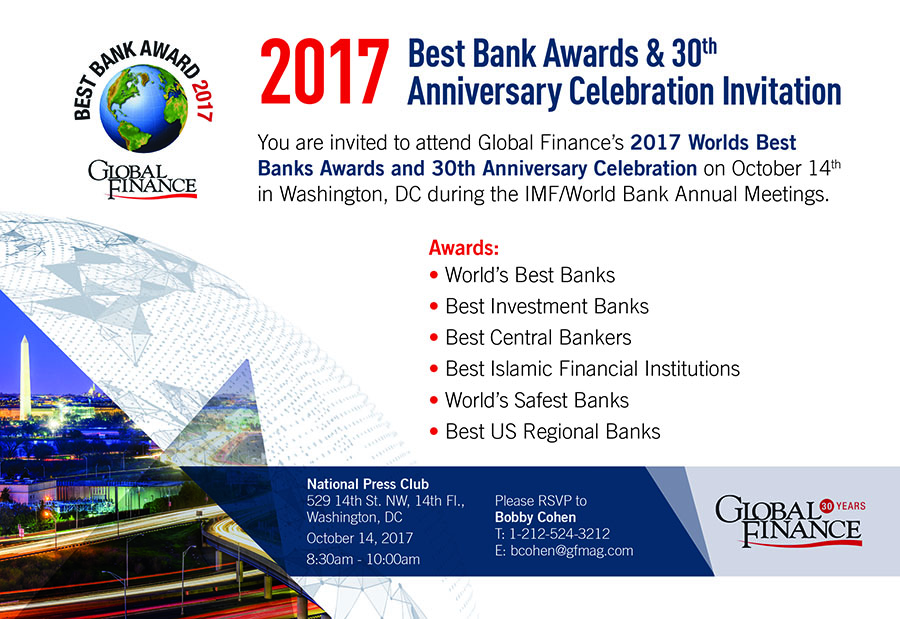 Global Finance's 19th Annual Best Bank Awards Ceremony 2017
Congratulations. A short while ago, the editors of Global Finance selected your organization as a Global Finance 2017 Award Winner.
We now cordially invite you to join us for the 19th Annual Best Bank Awards Ceremony 2017 on the morning of October 14th at the National Press Club in Washington, DC during the annual meetings of the IMF and World Bank.
We hope you will be able to join us for this event to accept your award.
Please see the ceremony schedule below for more details.
__________________________
Global Finance's 19th Annual Best Bank Awards Ceremony 2017
Ceremony Schedule
­­­­­­­­­­­­­­­­­
8:30-9:00am
Light Breakfast
9:00-10:00 am
Best Central Bankers
Best Islamic Financial Institutions
Best Investment Banks
World's Safest Banks
World's Safest Emerging Markets Banks
Best Banks – Developed and Emerging Markets
Best US Regional Banks
Best Global Banks
---
In 2016, attendee titles included:
Central Bank Governor
Chairman
President & CEO
Chief Executive Officer
Chief Financial Officer
Chief Business Officer
Executive Director
Managing Partner
Group Managing Director, Member of the Supervisory Board
General Manager
Director
Managing Director
Vice-Chairman of the Board of Directors
---
For additional event information, please contact:
Bobby Cohen
Email: bcohen@gfmag.com | Tel: +1-212-524-3212