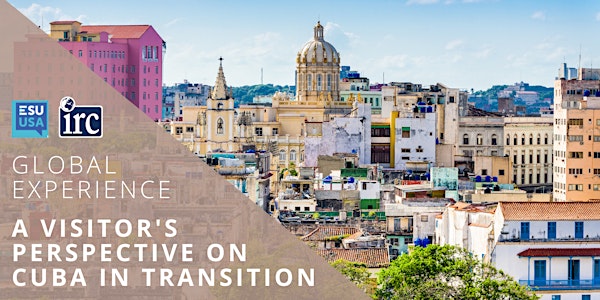 Global Experience: Cuba in Transition from a Visitor's Perspective
Presented in partnership with the English Speaking Union - Kansas City Branch.
About this event
Cuba sits a mere 90 miles off the U.S. coast, but few from the mainland have had the opportunity to immerse themselves in the nuances of Cuba's history, culture, and relationship with the U.S. Join Ben Martin, board member of IRC organizational member The English-Speaking Union, Kansas City Branch, as he reflects on observations and lessons he gleaned from his 2016 visit to this Caribbean nation in transition.
About the Speaker
Ben Martin taught and directed speech and theatre in Missouri high schools for 34 years before retiring in the spring of 2010 from the Lee's Summit School District. He served many years on the Boards of Speech and Theatre Association of Missouri (President 1987), Missouri State Thespians and the national board of the Educational Theatre Association. Martin is an active advocate for arts education programs, and served as Executive Director for the Missouri Alliance for Arts Education until he re-retired in July, 2020. He continues as the State Advocacy Captain for Americans for the Arts.
He still feeds his theatre addiction through the Summit Theatre Group, a community theatre he co-founded in 2011 and by writing and directing innovative street theatre and online productions in Lee's Summit. Cellular 'Cenes, his first script, was recognized as the top Promotional Event in 2013 by Missouri Main Streets.
Ben and his wife, Roxanne, have been involved in the English-Speaking Union ever since 1998 when he was honored to receive an ESU scholarship to study at the International Globe Center in London, England. They are committed to the idea that travel broadens the mind and allows one to be a more discerning and educated citizen. They led student tours over a dozen times to London, Dublin, New York and Paris. Among their many additional adventures have been trips to central Europe, the Mediterranean, the Panama Canal, almost all 50 states, 23 National Parks and Alaska—both in the summer and winter. They have ridden on a dogsled, sat for an hour in a traffic jam on the Mojave Desert with no air conditioning, survived an emergency landing at KCI, visited 5 different volcanoes and sailed through a tropical storm on the Queen Mary 2. And, of course, one of their favorite adventures was the location in today's talk—Cuba.
Ben does not claim to be an expert on all-things-Cuban, but his experience there was a unique and eye-opening time. He hopes that in the very near future you might also be able to enjoy a trip to our closest, but most difficult to reach, neighbor.
Organizer of Global Experience: Cuba in Transition from a Visitor's Perspective
Our Mission & Vision
The International Relations Council (IRC) brings a global perspective to our community through strategic partnerships with businesses, universities, community organizations, and K-12 schools. We bring world leaders and dignitaries to the metro region, host forums for high-school students to interact with and learn from foreign-policy experts, and create opportunities for area business leaders to strengthen relationships abroad. We believe that by promoting global awareness and understanding, we support and strengthen our community.