Description
Technology is constantly shaking the status quo, keeping senior leadership alert as companies rise and fall overnight. While running to meet the short-term profit objectives senior leaders are expected to be visionaries and a source of inspiration for the mixed generations to ensure sustainable growth. So what's the solution? How can you take advantage of the arising opportunities and keep on the tide of this dynamic race? And in doing so, how do we make sure we find time for staying healthy and sane?

While we might not have all the answers, we will do our best to uncover these topics during the upcoming event. Learn, discuss, and network in an exclusive setting with a select audience of top executives, powered by talks from our experts.

For more information about the tour please visit the website.
ABOUT SPEAKERS: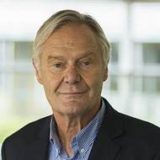 Robert Wood
Robert Wood (Bob) is the Professor at the Australian Graduate School of Management. He completed his PhD at the University of Washington and was a post-doctoral fellow at Stanford University Psychology Department. Bob is Fellow several international academies.
He is internationally recognized for his research on human adaptability, unconscious bias, ethical leadership and diversity. His research has won many awards. His research has won various awards including, most recently, the 2016 Jay Forester award for best publication in system dynamics over the previous 5 years (with Shayne Gary) and the 2016 Georgia Babladelis award, for the best paper published in Psychology of Women Quarterly (with Victor Sojo and Anna Genat). Bob has been awarded a Research Fellowship in the Institute of Advanced Studies, Durham University, for 2018.
Bob's prior roles include Founder and Director, Centre for Ethical Leadership, University of Melbourne; Founder and Director, Accelerated Learning Laboratory, UNSW and University of Melbourne; Co-Founder and Head, Society for Organization Behaviour, Australia. He is a currently a Director and owner of two companies marketing research based products.