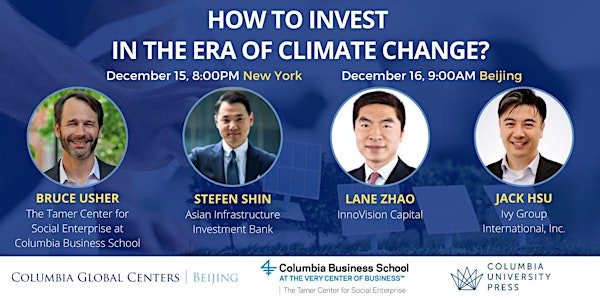 Global ESG Trends to Watch——How to Invest in the Era of Climate Change?
Join us to learn about insider insight and opinions on practical and actionable measures and plans for investors.
About this event
Time: December 16, 2022, 9:00AM (Beijing) | December 15, 2022, 8:00PM (New York)
Event Language: English
Columbia Global Centers | Beijing, in partnership with the Tamer Center for Social Enterprise at Columbia Business School and Columbia University Press, invite scholars and veteran investors to bring in insider insight and exchange opinions on practical and actionable measures and plans for investors that will potentially alter the course of climate change.
Description
In recent years, ESG investment is becoming a new trend in global asset allocation and receiving more and more attention from capital market participants. It is an investment concept that considers economic, environmental, and social benefits which establishes an important criterion for investors to measure the ability and quality of business development.
Some consensus has been reached——careful examination of climate solutions will offer investors a new and necessary lens on the future for their financial benefit and the greater good, for some companies and institutions, however, ESG investing is still a concept and strategy in question and flux. Is it possible for ESG practices to generate real value for companies when they are making social contributions?
Speakers
Bruce Usher is a Professor of Professional Practice and the Elizabeth B. Strickler '86 and Mark T. Gallogly '86 Faculty Director of the Tamer Center for Social Enterprise at Columbia Business School. The Tamer Center educates leaders to use business knowledge, entrepreneurial skills, and management tools to address social and environmental challenges and has grown into one of the largest centers at Columbia Business School. Professor Usher teaches on the intersection of finance, social and environmental issues, and is a recipient of the Singhvi Prize for Scholarship in the Classroom, the Lear Award, and the Dean's Award for Teaching Excellence.
Stefen Shin
Stefen Shin is currently the manager of the Banking Department of the Investment Operations Region 2 at the Asian Infrastructure Investment Bank. Before this role, he held positions at China Financial Futures Exchange in Shanghai, and leading global investment banks, including UBS, Lehman Brothers, Merrill Lynch, and JPM. He also has taught at several leading academic institutions, most recently at the Central University of Finance and Economics in Beijing. He began his career on Wall Street with JPMorgan and holds a Bachelor of Science degree from Fu Foundation School of Engineering and Applied Science at Columbia University.
Lane Zhao
Lane Zhao founded InnoVision Capital (known as the "Firm"), in 2016. Mr. Zhao sits on the Firm's investment committee and is responsible for sourcing proprietary investment opportunities and overseeing the execution of new investments and exits as well as the Firm itself. Mr. Zhao also acts as the primary partner where he serves as the head of portfolio companies' management committees, in addition to serving on their boards, and leads the close monitoring of their operational and financial performance. InnoVision Capital focuses on investing in industry-leading businesses in the most promising future growth sectors in China/Asia, primarily green energy/climate impact and ESG/sustainability, as well as supply chain sustainability.
Jack Hsu, CBS '98, Founder and CEO of Ivy Group International, Inc., an educational company based in Beijing investing and operating K-12 schools. Previously, Mr. Hsu was a founding partner at MMG Partners, a global management consulting firm headquartered in New York. Before founding MMG Partners, Mr. Hsu was a consultant at Mitchell Madison Group in the securities practice where he served clients that included bulge bracket banks and exchanges. One of Jack's early endeavors was with the startup technology company Scopus Technology which went public on NASDAQ in 1994.