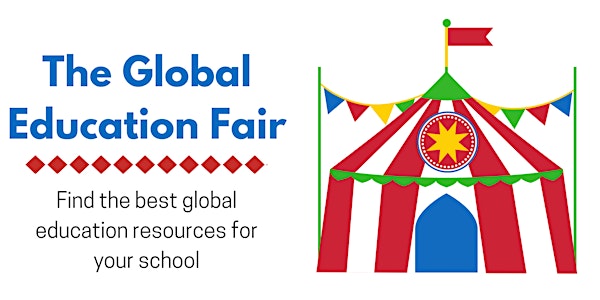 Global Education Fair Registration for Attendees
Refund Policy
Refunds up to 1 day before event
Description
Looking to take your school global? Come find out about tools, services, projects and programs related to globally connected teaching and learning! Check out the work of leading global educators, companies and nonprofit organizations at the Global Education Fair, a free, virtual meet and greet for educators and school districts. This online event is designed to increase opportunities for collaboration around the globe while supporting initiatives that focus on cultural awareness, global citizenship, and equity and diversity in education.

Free registration is required to attend

Free for premier partners, sponsors, and educators from non-profit schools to promote and exhibit projects
---
How can educators, nonprofits, and for-profit organizations connect with other educators and schools during the Global Education Fair?
Participating organizations have programs, products, and services that tie directly to the development of global competencies in students and teachers and are seeking to share information with educators. Presenting organizations will demonstrate how they can help bring the world to classrooms and schools in our informal Global Education Fair exhibit hall. Individual educators can also promote specific projects if they are seeking participants. The public is invited to visit our virtual exhibit hall and gather information from our exhibitors.
Here is how it works:
Presenting organizations, companies, teachers, and consultants produce a short video overview of their project or organization. This will be housed in a gallery on the Global Education Fair website prior to the event as a way for interested individuals to preview participating groups. Videos should be kept under 10 minutes and do not need to be heavily produced.
Participating organizations will be also be given a virtual exhibition space (essentially a webinar room) to use for the three hour fair.
Then, on the day of the Global Education Fair during designated hours, registered attendees will drop into our virtual exhibits to informally learn more about participating global education organizations and to ask questions of representatives from participating organizations.
Event Directions
Global Education Fair Instructions
Register on Eventbrite: http://bit.ly/springGEFattendees
Look at your email confirmation from Eventbrite as it contains the link to our virtual exhibit hall. If you registered before Monday, check the email that we sent on Monday through Eventbrite. It also contains the link to the exhibit hall.
Visit the virtual exhibit hall all week. Watch videos, follow exhibitors on social media, and decide which exhibitors you would like to meet on Friday during our live hours from 2-5 PM EDT (GMT-5). Alternatively, email our exhibitors for more information.
Come back to this same virtual exhibit hall on Friday, and there will be links available that will take you into virtual rooms where you can meet and interact with our exhibitors. They are very excited to meet you and share their work with you. This is a great networking opportunity, so please make sure to stop by on Friday!
Follow all the action by searching for the hashtag #globaled18 and following us on Twitter at @GlobalEdCon.
Questions? Email Lucy Gray at

lucy@globaledevents.com

. We also have a live chat on the front page of

http://globaledfair.org

.