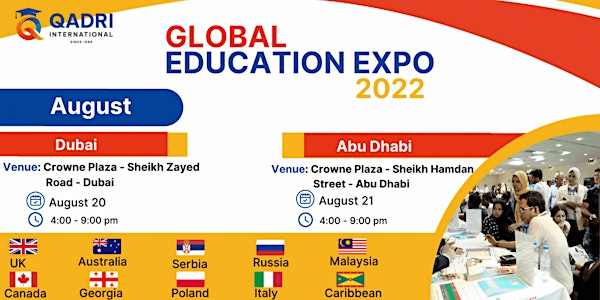 Global Education EXPO Aug 2022 Dubai!
Global Education Expo August 2022 A golden opportunity to meet the Deans, Admissions Officers, and Directors of Universities face to face.
When and where
Location
Crowne Plaza Crowne Plaza Sheikh Zayed Road Dubai, Dubai United Arab Emirates
About this event
Dear Student!
Greetings from Qadri International Education Consultancy.
We are delighted to announce that the annual Global Education Expo will be held right here in the United Arab Emirates. Our world-class education expo will be hosted in Dubai and Abu Dhabi!
With exciting opportunities, it is no ordinary event, it is your best chance to pursue your career goals. You will have the opportunity to meet Deans, Directors, Admission Officers, and recruitment teams of world-renowned Universities during this expo, to learn more about your higher education options. It is possible to find out more about your chosen course at different universities with the assistance of these university officials. Furthermore, they can provide detailed information about internships on campus, work placements, the structure of courses, entry requirements, accreditations, recognition etc., to help you make the right decision. Next, the participating universities will offer information on a variety of scholarships and funding opportunities, this is a great way to assess your budget and find ways to finance your degree. Finally, by participating in this expo, you will be able to make a bold statement towards your higher education and make an informed decision that is right for you.
Our partnership with the most prestigious universities around the world means that officials of these institutions from UK, Canada, Australia, Poland, Italy, Hungary, Georgia, Russia, Serbia, Malaysia, Caribbean, and several others will be in attendance.
The events will fall in between the days of August 20th and 21st.
Dubai
Date: 20-08-22
Time: 4:00 pm to 9:00 pm
Venue: Crowne Plaza Dubai
Abu Dhabi
Date: 21-08-22
Time: 4:00 pm to 9:00 pm
Venue: Crowne Plaza Abu Dhabi
Students from all fields can apply for Fall 2022 as well as the Spring 2023 intake at these universities, including medicine, dentistry, engineering, business, computing, art & design, law and many more courses. A few institutions offer admission to eligible candidates on the spot!
We invite you to take advantage of this excellent opportunity by clicking on the registration links above and filling out the necessary information. A QR code will be sent upon your confirmation which you will need to show at the entrance to gain entry.
Please feel free to contact for any queries at +971-4-3351390 or Dr Qadri's cell at +971-507682055 or via email at info@qadri-international.com