Join our Video Dance Party, hear the music you used to love, explore the classics, and help plant thousands of trees!
About this Event
There's no charge for this event, simply RSVP to get the link, get access to cool stuff, and—just by registering—you'll support our work planting trees!
Join our global Earth Day celebration and reconnect with your favorite retro '70s, '80s, and '90s dance music videos. Our friend DJNoirTech has believers, and will play that funky music. We'll rock the casbah during a 12-hour music and dance marathon while sowing the seeds of trees! We look forward to seeing you, and your friends, in our virtual boogie wonderland.
Here are the top reasons to RSVP for this event:
It's free! We'll send out the event link right away with each new order.
Request your favorite songs/videos in advance.
Send in your own 'greetings from' photo in advance, and it will be included in the program...vogue photos of all dancing queens are welcome, so look sharp!
Receive special online coupon codes from the awesome participating companies listed below;
Best part: one tree will be planted for each registration!
What We'll Be Doing
We will stream one step beyond from our DJ's Twitch.tv channel - that's where we meet - and will sample his extensive library of glam rock, disco, old school funk, new wave, dark wave, top 40, Brit-pop, synth, Madchester, mod revival, indie, and other genres. We'll start at 3PM Eastern US time and go for 12 straight hours to accommodate all requests. There's no limit to the number of people who can participate, so please help spread the word to your gang of forty or more.
Who We Are
ForestPlanet, Inc. is an organization that supports reforestation projects all over the world, because we just can't get enough trees. More information on our policy of trees and how we plan to fixx the planet is below.
Join us and turn your blue Monday kool green!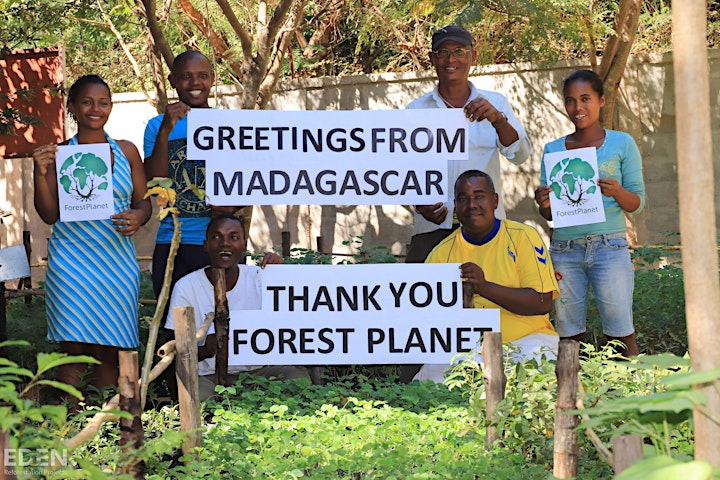 Many thanks to our supporting businesses!
Chene Bleu Chene Bleu is an ecologically sustainable award-winning winery in the South of France. They support biodiversity by using bees to stimulate the growth of cover crops, which results in stronger soils and superior wines. All RSVPs will receive a 20% discount code.
Zoho Influence Businesses are strongest when we collaborate and share knowledge. To that end, Zoho Influence gathers wisdom and advice from Zoho users, staff, and expert analysts from around the world who provide thought leadership on various topics including remote work, privacy and data security, and more.
Hytch Rewards is an incentive, ride tracking app that promotes the habits of safer, greener, smarter mobility. Through partnership with ForestPlanet, Hytch users can plant trees whenever they track their trips. Download the app today and help save the planet one trip at a time!
Kuppo The Kuppo is a portable 100% plastic-free, recyclable, and reusable cup designed to replace single-use plastic. One tree is planted for each Kuppo sold. All RSVPs will receive a 15% discount code.
911Honey This family-owned business maintains bee hives and offers up a variety of quality products. Each online order plants a tree, all event RSVPs receive a 10%-off discount code (US only).
Groove2Fit Challenge A full body, low impact resistance band online workout that will get you grooving and moving. One tree is planted for each sign-up! All RSVPs receive a 20% discount code.
We gratefully acknowledge additional support from Ecoprint, the DC Breeze, Max & Steven's, Neighborhood Sun, AutoBeGreen, and the Tampa Bay Cannons.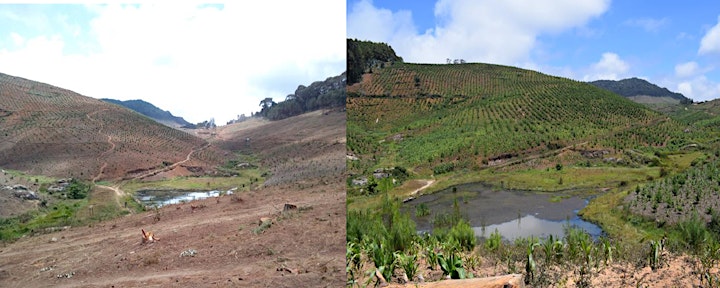 About ForestPlanet:
ForestPlanet plants trees where they will have the greatest benefit to the region's soil and habitat, the global environment, and local communities...since this is (our only) planet Earth. Please see our recent blog post to learn more: Healthy Trees, Healthy Environment, Healthy People.
We want this event to raise enough funds to plant 50,000+ trees around the world, which will rapidly:
Stabilize soils and make them more productive
Help the land retain rainwater
Provide income and food security to local populations
Provide habitat for the region's wildlife
For example, the photos above, taken three years apart in Tanzania, illustrate the amazing transformation power of a properly executed reforestation project. The trees stabilize the soil, reduce rainwater runoff, and generally make it possible to intercrop highly nutritious red hot chili peppers. MUCH more work like this needs to be done in regions of the world desperately seeking revitalization, so your support of our event is appreciated!