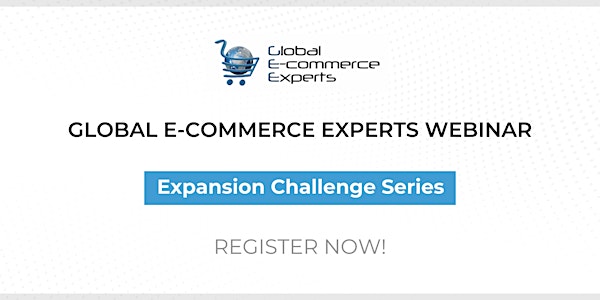 Global E-commerce Experts Expansion Challenge Series!
Are you looking to expand into EU/UK marketplaces? Join us to find out how you can expand into new markets in JUST 14 days!
About this event
Are you a eCommerce business owner but failing to successfully expand your business into EU/UK marketplaces?
Do you sell on amazon but fail to stand out from the crowd to become the next category giant?
Or, are your fulfilment capabilities limiting your ability to generate more sales?
Our aim is to make something that may seem daunting for you and your business, easy by guiding you step-by-step through your expansion success!
So, who are Global E-commerce Experts?
Like most good businesses Global E-commerce Experts was conceived in response to a perceived gap in the marketplace. We observed that whilst many eCommerce sellers in the US really wanted to expand into the EU they were put off by the potential issues and hurdles that needed to be overcome in order to establish themselves there.
We are a one-stop-shop destination for any eCommerce Seller providing a total end to end solution, offering; VAT and Tax services, 3PL Storage and Fulfilment via our Warehouse (UK&NL) and eCommerce Account Management services...just to mention a few.
The team at Global E-Commerce Experts is comprised of a diverse group of specialists with experience in various elements of business development and expansion strategies. With our extensive knowledge, we want to guide eCommerce business owners, like you, on your expansion journey!
Why should you attend this webinar series?
The purpose of this webinar series is to take you through every step of the pathway, providing you with the knowledge and tools to launch your products in EU/UK marketplaces and scale-up in just TWO weeks! If you require any of the services shown below or need some guidance about a certain aspect of your expansion pathway, then this is the webinar for you!
On that note, we would love to invite you to join us every Thursday 5-6pm (BST) to present to you the secrets to a successful eCommerce businesses...
...We look forward to guiding you on your expansion journey!
NOTE: PLEASE FOLLOW THE LINK BELOW TO RECEIVE WEBINAR ZOOM LINK
Please find the schedule below:
Week 1- Intro GEE
Week 2 - Feasibility Study
Week 3- Product compliance reports
Week 4- Listing and Translations featuring Omar Angri from MarginBusiness
Week 5- Responsible person
Week 6- VAT
Week 7- Choosing a platform
Week 8- Payments featuring Tom Meek from Payoneer
Week 9- Shipping and customs
Week 10- 3pl (Fulfilment, Storage, Returns & Rework)
Week 11- PPC Advertising, Promotions, Social
Week 12- Account Health Check
Week 13- Store Building
Week 14- List building & Dream 100
Week 15- Retail
Week 16- More marketplace platforms
Week 17- Exit
Week 18- Overview