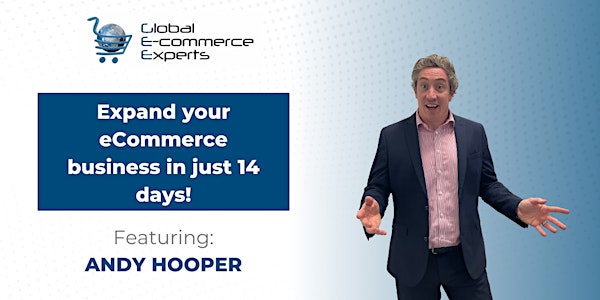 Global E-commerce Experts - Expand your eCommerce business in 14 days!
Ever thought it would be possible to expand your eCommerce business into EU/UK marketplaces in just 14 days? Let us teach you how!
About this event
Are you a eCommerce business owner but failing to successfully introduce your products into EU/UK marketplaces quickly?
Do you sell on amazon but fail to stand out from the crowd to become the next category giant?
Or, are your fulfilment capabilities limiting your ability to generate more sales?
Then this bi weekly webinar series is for you!
Who are Global E-commerce Experts?
Like most good businesses Global E-commerce Experts was conceived in response to a perceived gap in the marketplace. We observed that whilst many eCommerce sellers in the US really wanted to expand into the EU they were put off by the potential issues and hurdles that needed to be overcome in order to establish themselves there.
We are a one-stop-shop destination for any eCommerce Seller providing a total end to end solution, offering; VAT and Tax services, 3PL Storage and Fulfilment via our Warehouse (UK&NL) and eCommerce Account Management services...just to mention a few.
Why should you attend this webinar?
This webinar series will be hosted by Andy Hooper, our CEO, presenting to you his extensive knowledge of eCommerce marketplaces in a bid to successfully guide eCommerce business owners, like you, on your expansion journey! If you feel you need some guidance towards expanding your brand or seeking some encouragement to take the initial step into new marketplace territories, then we are here to provide you with that. This webinar series will focus on how to overcome challenges and hurdles involved with expanding into EU marketplaces, showcasing tools and practices you can utilise to achieve a successful expansion in just two weeks!
On that note, we would love to invite you to join us every Tuesday 5-6pm (BST) to present to you the secrets to a successful eCommerce businesses...
...We look forward to guiding you on your expansion journey!