Description
Registration is now closed! Thank you for all the love! We had planned to have the reg last longer, but we maxed out team allowances!
Are you ready for the 2019 Global Cyberlympics? Get ready to bring your A-game because registration is officially open! This year's finals will be hosted at the Region of Durham, City of Oshawa, Canada in collaboration with the City of Oshawa and SiberX!
The Game Structure:

Team Registration Open May 6th, 2019
4-6 Players per team
18 years or older to play
Team Registration Closes
Online Elimination Round Begins
Starts on Sept 7th at 0000 UTC until Sept 7th at 1200 for a total of 12 hours.



If you're not sure what that means for your local time, use:

Time and Date

.
Finals in Durham, City of Oshawa, Canada
The Finals
Sit down…plug in…start hacking…
If only it were that easy! In true warl0ck gam3z style, EC-Council Foundation's Global Cyberlympics Finals for 2018 started with a set of challenges in a box that spanned from old school forensics to hacking a Bluetooth lock. What's in the box? Simple things to get the teams started such as network and building diagrams, a dossier, a magazine for some light reading, a Bluetooth dongle, UV light, USB thumb drive, and a bunch of shredded paper.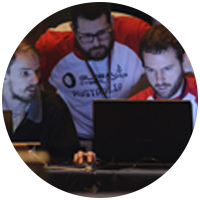 Teams were required to reassemble their shredded document to retrieve a t0k3n that was left behind. Next was determining which printer the dossier came from and where it was located on the network using the UV light and yellow dot forensics. Then, without touching the Bluetooth lock, teams had to open it using only their computer, a PCAP file, and Bluetooth dongle.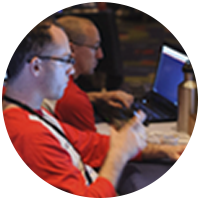 For those teams that successfully opened the lock, they were then required to demonstrate the methods used in order to receive the networking gear which would get them access to the game board. From there, teams saw challenges ranging from network packet analysis, system exploitation, reverse engineering, malware analysis, and digital forensics along with physical challenges such as lock picking.
If you were there congrats, if you weren't 2019 could be your year!