Global CyberLympics 2018

Thursday, September 13, 2018 from 9:00 AM to 5:00 PM (EDT)
Event Details
Global CyberLympics is an online ethical hacking, computer network defense game, dedicated to finding the top computer network defense teams. Teams are made up of 4 to 6 players, and each round serves as an elimination round until only the top teams remain. The winning teams from every region are invited to play the game live in person at the world finals.
Cyberlympics is proud to announce that registration is open for the 2018 games! This year's finals are tentatively scheduled to be held on site at Hacker Halted in Atlanta, Georgia, USA. We are currently negotiating with a couple other potential hosts but we didn't want to delay the registration any longer, so if the venue for the finals changes we will alert you immediately!
The Online Elimination Round
The Qualifier is a single 12-hour contiguous block of time that will take place on August 4th, 2018 beginning at Midnight UTC and will end at 12PM UTC. Teams will partake in a number of challenge categories such as Digital Forensics, Network Exploitation, Web Applications and Service Exploitation.
The Finals
True to an "Olympics" style competition, in 2017 the games opened with a "Mystery Box" challenge! Teams had to create an on-the-fly set of lockpicks to remove the ring from a padlock and determine the 16 digit number on Agent Smith's Platinum credit card issued from the illustrious warl0ck gam3z. Sound easy enough? Let's see what the box contained: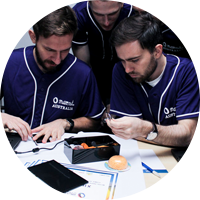 A Platinum credit card, one AA battery, a small nail, a set of old-school headphones, bag of silly putty, grinding stone, padlock with a ring on it, roll of tape, a pencil, a sticky note pad and a Lego figurine character.
Once those two tasks were complete, teams were awarded with their network gear to get logged in and pursue challenges on the board. As teams navigated their way through system exploits they eventually found that TorraBot Enterprises and GGoCySEA had partnered up to create a cryptocurrency dubbed TorraCoin.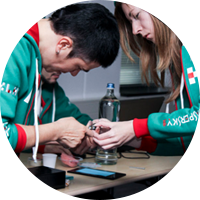 Teams then had to figure out how to mine TorraCoin which equated to points on their overall score at the end. The TorraCoin infrastructure had an established blockchain, mining pools, gambling site and marketplace all within the closed loop competition network.
Successful teams required a combination of skillsets in several areas such as of out-of-the-box thinking, digital forensics, system exploitation, web exploitation and physical security just to name a few.
We are constantly striving to make Cyberlympics challenging and fun so join in 2018 to see what we have in store for this year!
Terms & Conditions
Teams - Individuals must be part of a team to compete, as there are no individual events in Global CyberLympics. Each team must have a minimum of 4 players, and a maximum of 6 players.
Teams must consist of members who represent the same country. Each team must pick a team leader and team name.

Eligibility - All participants in the Security Challenge must be at least 18 years old. 

Withdrawal - If a team withdraws from the competition, all fees paid will be forfeited. A replacement team will be selected to take the place of the withdrawing team.

All Rights Reserved - Global CyberLympics and its entire entity reserves the right to remove any teams at any time due to inappropriate conduct as rules and game organizers.
By submitting your registration, you are agreeing to the rules here.
When & Where

Georgia International Convention center
2000 Convention Center Concourse
Atlanta, Georgia 30337


Thursday, September 13, 2018 from 9:00 AM to 5:00 PM (EDT)
Add to my calendar
Organizer
EC-Council Foundation is a non-profit organization founded by EC-Council to raise awareness of cyber safety issues for the global community while unifying global cyber defense. EC-Council Foundation's mission is to create a safer cyber world, by using our programs and events to advocate safer online activities.
Cyber security statistics show that the majority of security breaches are: low in difficulty, take a long time to discover, are discovered by outside parties, and are perpetrated by outsiders.Through our programs, we aim to stop malicious hacking at its core cause, while creating an opportunity for ethical hacking to be accepted and practiced without any discrimination, across all geographical boundaries for the purpose of understanding what it takes to protect and secure critical information and assets.