Global CrisisCamp Day - Washington DC

Saturday, September 25, 2010 from 10:00 AM to 5:00 PM (EDT)
Event Details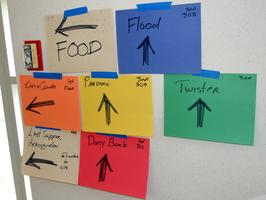 CrisisCamp DC in collaboration with the World Bank's Global Facility for Disaster Reduction and Recovery is pleased to join her CrisisCamp communities in Toronto, Calgary, London and virtual participants around the world for Global CrisisCamp Day being held on September 25, 2010 as day of learning and community development. 
In Washington DC we will work to refine and further develop the Washington DC CrisisCamp community and provide contributions to the development of CrisisCamp-In-A-Box based on our lessons learned. 
This event welcomes anyone who wants to contribute to an open and collaborative discussion as well as the need for technical assistance such as coding and usability. 
CrisisCamp is also a Coalition Partner in support the US-based National Preparedness Month activities to support preparedness and community resilience activities. For more information visit www.ready.gov
About Global CrisisCamp Day
Global CrisisCamp Day will be hosted by CrisisCamp communities in London, Toronto, Washington DC and Calgary on September 25, 2010 to encourage people to lead CrisisCamps and volunteer their expertise and skills at CrisisCamp events to create innovative approaches, resources and tools for crisis response and global development. 
 
Global CrisisCamp Day activities will include training new volunteers on open tools such as Ushahidi (including Crowdmap), OpenStreetMap, Sahana and CrisisWiki as well as inventorying existing resources and the development of training tools to build the first CrisisCamp-In-A-Box toolkit to be released in early January 2011. The CrisisCamp community aims to provide new CrisisCamp organizers with mentorship, tools and tips on how to organize a CrisisCamp, training materials on open technology tools, lessons learned from past CrisisCamp events and a toolkit for the development of technology prototypes. 
CrisisCamp encourages virtual participation. To register to participate virtually please register at http://globalcrisiscampday.eventbrite.com/

If you are interested in becoming a CrisisCamp organizer or are interested in the development of a CrisisCamp in your area let us know by connecting with Heather Leson at heatherleson (at) crisiscommons.org 
CrisisCamp communities have been active in the response to the Haiti and Chilean earthquakes and the Pakistan Floods. CrisisCamp events have provided surge capacity and training for existing organizations such as Ushahidi and OpenStreetMap as well as the development of new tools such as Tradui, a mobile Kreyol translation or problem solving such as a solution to extend of long distance Wi-Fi in Port au Prince to crisis response organizations operating on the ground. 
 
Follow us on Twitter @CrisisCamp or join the CrisisCommons Google group.

About Us
CrisisCamp a global network of hybrid barcamp/hackathon events which bring together people and communities who innovate crisis response and global development through technology tools, expertise and problem solving. Since 2009, CrisisCamp volunteers have created crisis response and learning events in over 10 countries with volunteers of all backgrounds who collaborate in an open environment to aggregate crisis data, develop prototype tools and train people on how to use technology tools and problem solving to aid in crisis response and global development. 
 
CrisisCommons, borne from the CrisisCamp movement, is a concept that is being exploring how a commons-based approach can provide long term sustainability for the CrisisCamp community as well as other volunteer technology communities and support shared knowledge, collaborative tools, open development, project management and data to crisis response organizations in civil incident management and global development as well as leverage capabilities and capacities of academia and private sector. 
 
The founders of CrisisCamp partnered in early 2010 with the Woodrow Wilson International Center for Scholars under a grant from the Alfred P. Sloan Foundation to explore a commons-based approach with the CrisisCamp community as well as other volunteer technology communities, crisis response organizations, academia and the private sector. Results of this work will be available on www.crisiscommons.org in late October 2010. 
Attendee List
Sort by:

Date

|

First Name

|

Last Name
When & Where

World Bank - "I" Street Location
1850 I St NW
Second Floor
Washington, DC


Saturday, September 25, 2010 from 10:00 AM to 5:00 PM (EDT)
Add to my calendar