Global Careers Boot Camp

Thursday, May 3, 2012 from 5:30 PM to 8:00 PM (EDT)
Event Details
Do your ambitions lie beyond U.S. borders? Working overseas is an exciting adventure, but preparing for an international career can be a daunting task.

In this course, we will explore:

•    The wide array of international opportunities: What are the career options? Where are the jobs? How can my degree help me?
•    How to prepare yourself to pursue a global career: What internships are most valuable? Should I pursue graduate school?
•    What international employers are currently recruiting for: Receive resume and cover letter tips, networking advice, and application guidance
•    Realities & misconceptions of a global career: What is the lifestyle? What salaries can I expect? What are the caveats?
•    How to navigate your career & establish yourself within an international market

Who should attend?

•    Undergraduate Students considering an international career
•    Graduate Students considering or preparing for an international career
•    Professionals interested in transitioning to an international career

All attendees receive:
•    The FPA Global Careers Boot Camp Tool Book
•    Enrollment in the Foreign Policy Association Global Jobs email alerts
•    Free half-year digital subscription to Foreign Affairs magazine
•    Light food and drink during a networking/Q&A session
INSTRUCTOR
Nina Segal
International Career Consultant
Nina Segal is an international career consultant who has worked with a range of non-profit and international organizations, including UNICEF, UNESCO, the Institute for International Public Policy, and Realizing Rights. Ms. Segal was also the Assistant Dean and Director of Career Services at Columbia University's School of International and Public Affairs prior to launching her individual career consulting practice, and also spent two years at an international global relocation firm.
Ms. Segal's areas of expertise include: self-assessment, career change/transitions, resumes, interviewing, and networking, among others. She is a published writer on a wide range of articles on international career development, and she co-authored International Jobs: Where They Are and How to Get Them, 5th and 6th editions – an authoritative guide on how to embark upon a global career.
GUEST SPEAKER
Marc St. Hilaire
Coordinating Advisor, Center for Undergraduate Fellowships & Research
George Washington University
Marc St. Hilaire is the Coordinating Advisor at the George Washington University (GWU) Center for Undergraduate Fellowships and Research (CUFR), where he advises and assists undergraduates and recent graduates in applying for national and international fellowship and research opportunities in a variety of fields.
Prior to his position at the CUFR, Mr. St. Hilaire was an advisor in the Office for Study Abroad at GWU. Before coming to GWU, Mr. St. Hilaire worked for the Institute of International Education, one of the oldest and most experienced non-profits in the field of international educational exchange and training. He is currently completing his MA in international education at GWU, where he also earned a graduate certificate in career and workforce development, and previously obtained his BA in international affairs from the University of Colorado at Boulder.
Mr. St. Hilaire is also the recipient of an Institute for International Public Policy (IIPP) Fellowship and a Fulbright International Education Administrators Award. He remains active in promoting fellowships and international career opportunities to young leaders, presenting regularly to programs such as the Rangel International Affairs Summer Enrichment Program and has served as a panelist at the National Association of Fellowship Advisors Bi-annual Conference.


When & Where

Carnegie Endowment Conference Center
1779 Massachusetts Avenue NW
Choate Room
Washington, DC 20036


Thursday, May 3, 2012 from 5:30 PM to 8:00 PM (EDT)
Add to my calendar
Organizer
Foreign Policy Association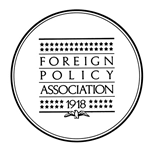 Founded in 1918, the Foreign Policy Association serves as a catalyst for developing awareness, understanding of, and providing informed opinions on global issues.

"In a democracy the Government functions with the consent of the whole people. The latter must be guided by the facts." – Franklin Roosevelt
REFUND POLICY:
Please note. Full refunds are available up to 72 hours before an even. There are no refunds within 72 hours of an event.