Description



The Global Capital Summit is a premier gathering in where the most forward-thinking global investors meet Silicon Valley's leading venture capitalists to connect with and learn from the next generation of world-changing companies who are shaping the future of their industries. Hundreds of investors from China, India, Israel, and more will gather at F50's Global Capital Summit to discover trending Silicon Valley innovation before these technologies take to the global market.

GCS finds and connects the next generation world-changing companies with global capital & partnerships to power their long-term impact. The summit will feature around 50 extraordinary startups, with 500+ attendees from the venture capital and global investment ecosystem, including select VC executives, influential long-term investors, corporate ventures and corporate executives, asset management companies, and a group of high potential local CEOs.
This is shaping up to be an extraordinary event and we would love to have your participation.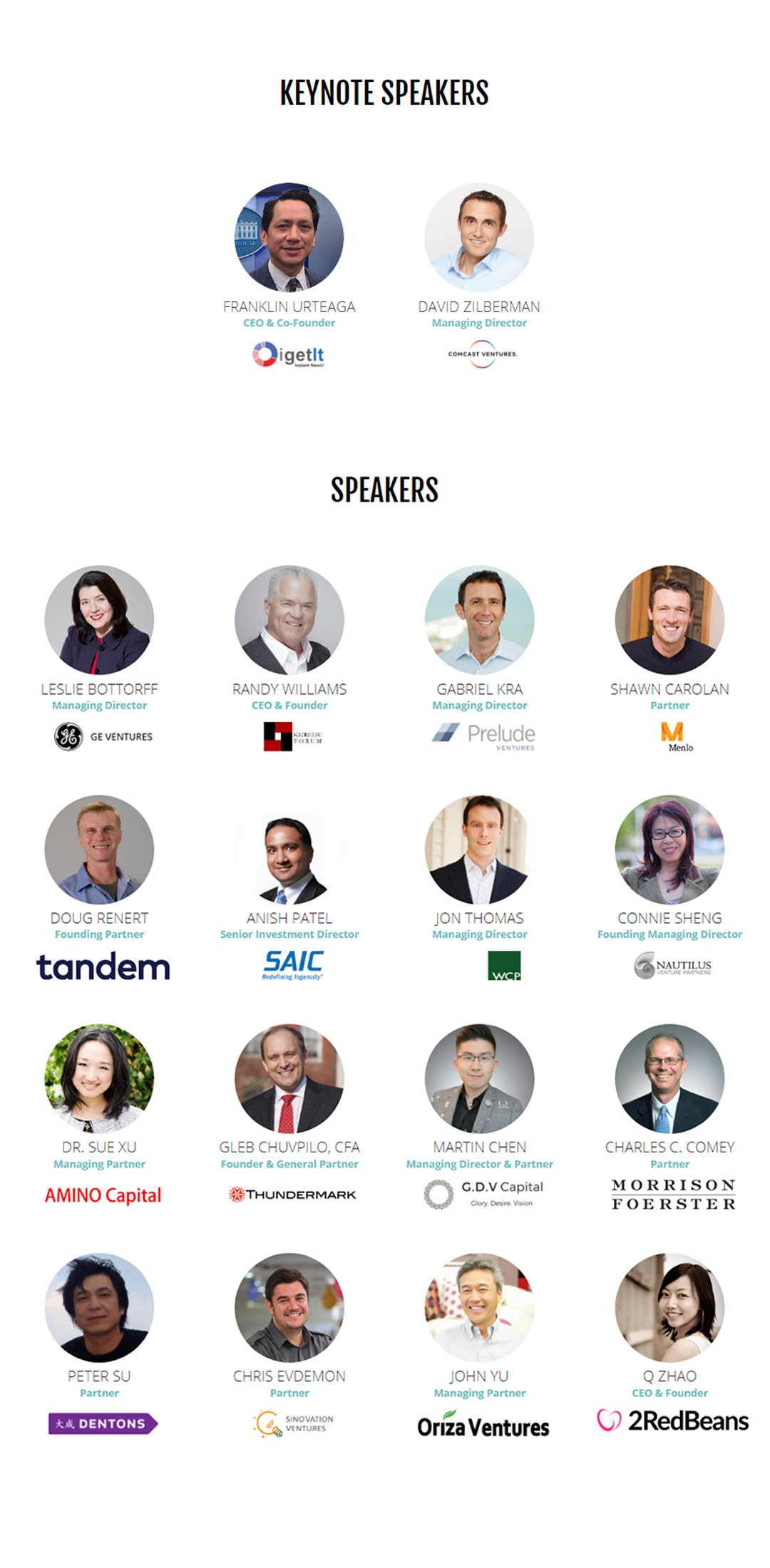 SPEAKERS and VIP GUESTS:
Franklin Urteaga, Former Whitehouse Technology Advisor to President Clinton
David Zilberman, Managing Director, Comcast Ventures
Hans Tung, Managing Partner, GGV Capital
Tom Giles, Executive Editor, Bloomberg

Jon Thomas, Managing Director, Woodside Capital Partners

Peter Su, Partner, Dentons

Dr. Xiaohua Yang, Professor of International Business

Wendy Kok, Venture Partner, Mighty Capital

Anish Patel, Senior Investment Director, SAIC Capital

Ying Wang, Managing Director, Fosun Kinzon Capital

Charles Comey, Partner, Morrison & Foerster LLP

Shameem Ahsan, General Partner, Fenox Venture Capital

Rami Cohen, MD, CEO & Founder, Telesofia Medical Ltd

Jun Li, Founder and General Partner, Wisemont Capital

Randy Williams, CEO & Founder, Keiretsu Forum

John Yu, Managing Partner, Oriza Ventures

Shawn Carolan, Partner, Menlo Ventures

Doug Renert, Co-Founding Partner, Tandem Capital

Nan Zhou, Investment Director, Baidu Investment

Renee Wang, CEO & Founder, Castbox

Wei Jiang, Venture Partner, Zhen Fund

Alexander Girau, CEO & Founder, Advano

Chris Evdemon, Partner, Sinovation Ventures

Nate Evans, CXO and Co-Founder, Fictiv

Leslie Bottorff, Managing Director, GE Ventures, Healthcare

Hyunjun Park, CEO & Co-Founder, Catalog Technology

Martin Chen, Managing Partner, G.D.V Capital

Virgil Zhang, CEO & Founder, Archer Software Corporation

Mona Li, CEO, HYSTA SVC Inc.

Walter De Brouwer, CEO & Co-Founder, Doc.ai

Q Zhao, CEO & Founder, 2RedBeans

Radhika Iyengar-Emens, Managing Partner, DoubleNova Group

Shelley Zhuang, Founder & Managing Partner, 11.2 Capital

Chris Pickett, CEO, DigiLens

Connie Sheng, Founding Managing Director, Nautilus Venture Partners

Gabriel Kra, Managing Director, Prelude Ventures

Dr. Adrian Kaehler, CEO, Giant.AI

Diane Ding, Managing Director, Ding Ventures

Thad Price, CEO, Talroo

Hank Stringer, CEO & Founder, Stringer Executive Search Services

Karsten Temme, CEO, Co-Founder, President and Board Member, Pivot Bio

Dr. Chao Wang, CEO & Founder, Ambilight Inc.

Ron Zaidman, MBA, MTCM, President & CEO, Five Branches University

Guy Blanchard, CFO, AeroFarms

Robbi Magnuson, President, EFD Corporation

Keegan Kirkpatrick, CEO, RedWorks Construction Technologies, Inc.

Olgica Bakajin, CEO, Porifera Inc.

Ned Tozun, CEO, d.light

John Webley, CEO & Founder Chairman, Trevi Systems Inc.
REGISTERED ATTENDEES:
Ling Gan, SF Holding, Deputy GM
Pramod Gosavi, VMware, Corporate Investments
Tracy Wang, ZZ Ventures, CEO
Allen Yang, Red Harp Corporation, CEO
Houman Haghighi, Qualcomm Ventures, Head of Business Development
Patrick Berbon, China Materialia VC fund, Managing Partner
Laura Collins, BDO USA LLP, Director
Cynthia Carrillo, Greater Sacramento Economic Council, Regional Director, Bay Area
Shirley Deng, Tencent, Business Development Manager
Sabya Das, Moneta Ventures, Partner
Jeff Chien, Plug and Play Tech Center, Head of China Partnership
Ludovic Copere, Sony Innovation Fund, Director
Mike Xu, Fosun Capital, Managing Director
Rose Gong, Fosun Capital, Managing Director
Hao Chen, DL Capitals, investor
Dmitry Alimov, Frontier Ventures, Founder
Norm Gitis, Lymo Ventures, Managing Partner
Steve Bernardez, ONSET Ventures, Partner
Wanlin Wang, Bibox, Co-Founder
Laird Cagan, RocketSpace Capital, Managing Partner
Helen Liang PhD, FoundersX Ventures, Managing Partner
Ann Shin, D.Ed, Fenoxvc, General Partner
Elise Huang, Gopher Asset, Managing Partner
Alfred Chu, DIR Ventures, Partner
Andra Keay, Silicon Valley Robotics, Managing Director
Zhen Fang, Jupai Investment, Executive President-U.S Branch
Elaine Mo, Ascend Capital Partners, Vice President
Tim Kazurayama, Presidio Ventures, INC., Sr. Director
Robin Li, GGV Capital, GGV Capital
Benjamin Xu, XCapital Management, Managing Partner
Alexis Ji, Illumina ventures, Partner
Henry Wong, Garage TechVentures, Managing Director
Bill Liao, BDO USA LLP, Partner, China Desk Lead
Zhen Cao, JD Capital, JLab, Investment Director
Walter Liu, MediaTek Ventures, Investment Director
David Chen, HYSTA, Chairman
Gordon Wan, Zenity Ventures, Investment Director
Michael Novikov, Knowledge investments, knowledge investor
Robbi Magnuson, EFD Corp., President
Stefon Crawford, General Motors Ventures, VC Analyst
Gregory Castle, Anorak Ventures, Managing Partner
Radu B. Rusu, Fyusion, CEO
George Chen, Nautilus Venture Partners, Principal
Shuo Zhang, AuGC BioFund, Managing Partner
Regina Leung, Bay Angels, Executive Director Health Tech
Jun Hou, Fosun, Managing Director
Ben Shih, Icon Ventures, Partner
Yi Zhao, Westlake Ventures, CEO
Sylvia Chen, CyberPulse Limited, VP of Finance
Garrett Vygantas, OSF Healthcare Ventures, OSF Healthcare Ventures
Eric Ball, Impact Venture Capital, General Partner
Sean Jiam, NetApp, Inc., Senior Director, Corporate Development
Carol Mao, Fusion Fund, Vice President
Brett Brown, Xsolla Capital, Managing Partner
Eve Muradyan, Xsolla Capital, Director of Strategic Engagement
Ephraim Lindenbaum, Advance Ventures, Managing Director
Matt Cook, Braveship Media, Founder and CEO
Vadim Tarasov, Satellite Capital, Managing Partner
Bill Wang, 360, President, Overseas Gaming
Amy Gu, Hemi Ventures, Managing Partner
James Zhang, Shanda Group, Executive Director
Jeff Heely, MainBrace Capital, Founder
Danil Kislinskiy, IBConsulter, Founder
Lisa Gao, China Mobile Tech USA, President
Tony Ng, Mandra Capital, VC
David Austin, Machine.VC, Managing Director
Hermann Liu, Andra Capital, Managing Partner
Jasmine Zhang, Westlake Ventures, General Manager of Westlake Accelerator
Derek Acree, Finova Financial, Chief Legal Officer
Chenxu Zhang, Peakview Capital, Senior Investment Manager
Vivian Ling, Dragon solutions, CEO
Harper Gu, Apple Inc., SRE
Ekta Dang, Intel Capital, General Partner
Tai Hsia, XY Ventures, Managing Director
David Collier, Presidio Partners, Managing Director
Anshul Agarwal, Mitsui Investments, Director
Keyan Li, NewDo Venture, General Partner
Lake Dai, LDV Partners, Managing Director
Henry Fan, Crossvine Ventures, Managing Partners
Larry Chao, Ricoh Innovations Corporation, Head of Strategic Partnerships and Corporate Development
Brewer Stone, Nfluence Partners, Partner
Jack Jia, GSR Ventures, Partner
Yiting Wang, Cybernaut Westlake Partners, Investment Manager
Ben Stanzl, EIC, Managing Director
Wayne Zhang, LDV Parnters, Founding Partner
Ariel Arrieta, NXTP Labs, Managing Partner
Andy Wu, Suning International, Director of Corporate Development and Venture
Orrin Ailloni-Charas, angelMD, Chief Medical Officer
Zahava Stroud, Angel Launch, Investment Director
Luke Tang, TechCode Accelerator(US) Inc, General Manager
Paul Tuan, Andra Capital, Managing Director
Stephen Li, Huawei, VP to TP&C in North America
Howie Xu, Genesis Capital, Venture Partner
Cindy Wang, Westlake ventures, Director
Dien Yuen, Evercore Wealth Management, Managing Director
John Ricci, US Angels, MD
Tim Kazurayama, Presidio Ventures, Inc., Senior Director
Xi Fang, Button Capital, Managing Partner
Lily Lee, Button Capital, Founding Partner
Jake Yu, Peregrine Ventures, Managing Partner
+ 300 More...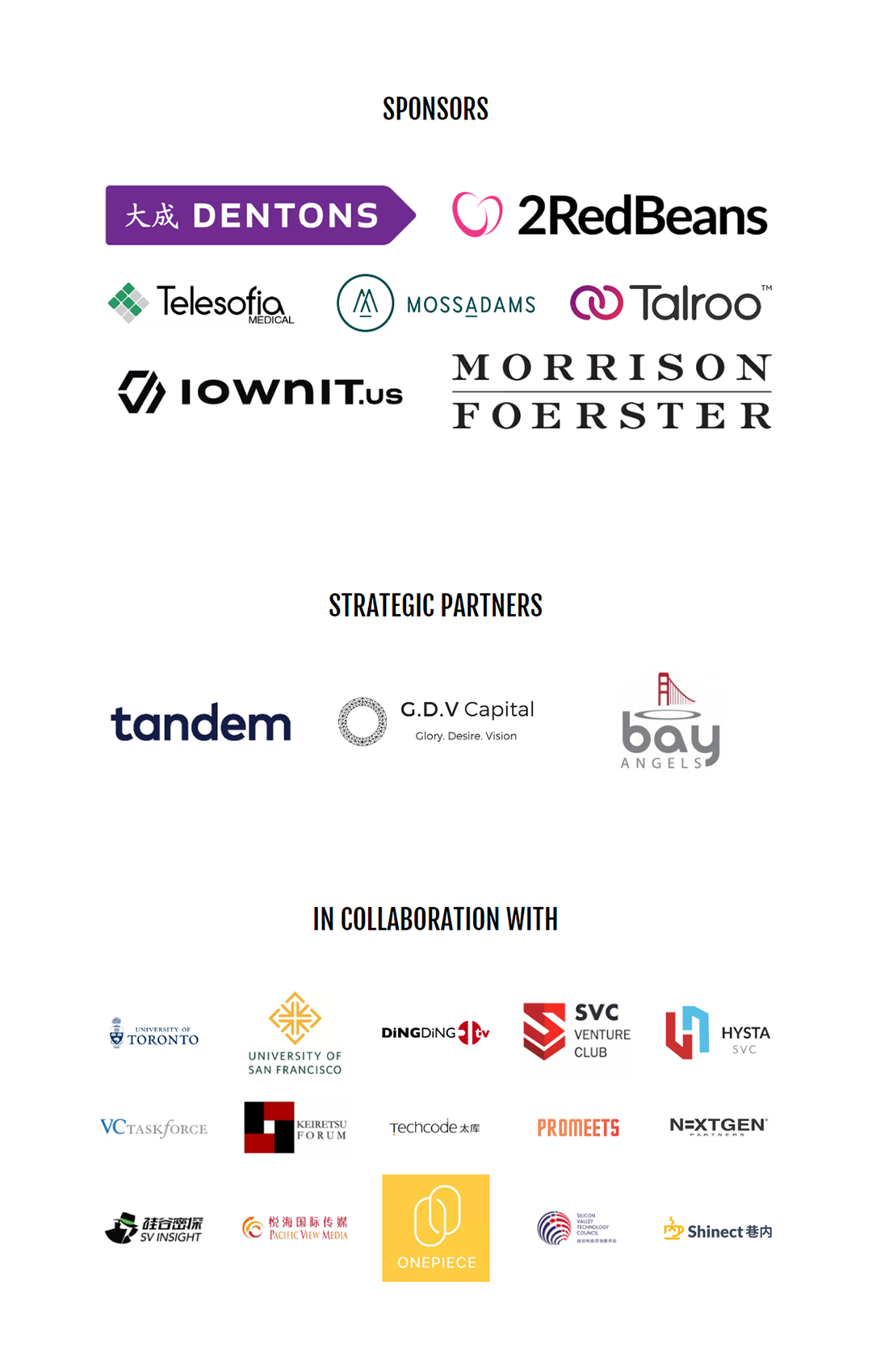 June 26 Global Capital Insider Private Reception
August 1 Global Capital Insider Private Reception
September 1-9 F50 Connect, Target City: Shanghai, Hangzhou, Beijing
September 6 Global Capital Insider @DisruptSF
Oct 1 Global Capital Insider Private Reception
Oct 2-3 Global Capital Summit Fall
November 10-18 F50 Connect, Target City: Shenzhen, Wuhan
F50 is a venture capital platform that searches for extraordinary companies and connects them with an exclusive network of global investors, especially leading players from Silicon Valley and China. F50 identifies the most promising technology companies in North America by leveraging the collective intelligence of our investor network, corporate partners, and industry experts. F50 supports the growth of these companies together with our cross-border network of VC, PE, corporate, and strategic investors in global market development & strategic partnership.


Space is limited and this summit will be at capacity. For further information or questions, please visit f50.io/gcs18 or contact us at info@f50.io.
Date and Time
Location
Refund Policy