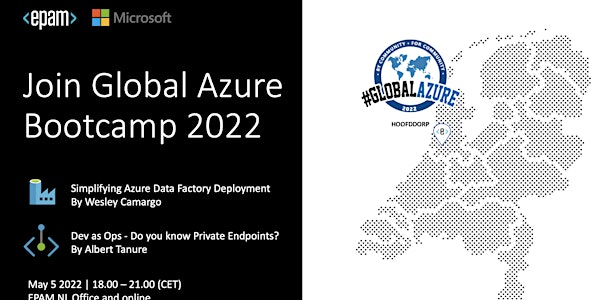 Global Azure 2022 - Netherlands
Global Azure 2022 - Netherlands
When and where
Location
EPAM Systems Netherlands B.V. 1 Mercuriusplein 2132 HA Hoofddorp Netherlands
About this event
The Cloud Explorers are excited to bring you a Dutch local edition of Global Azure 2022. This is a free event and open for everyone to join us in person (with free pizza! :-)) or via our live stream!
We have two Microsoft MVP's Albert Tanure and Wesley Camargo who are thrilled to present you the following sessions:
Dev as Ops - Do you know Private Endpoints?
The purpose of this presentation is to peak curiosity of developers about issues related to infrastructure, an important part of the cloud environment. I will present an approach to using App Services in the cloud, connected to a database, using VNet and private endpoints.
By: Albert Tanure
Live streaming: https://www.youtube.com/watch?v=ta43-Auf9bw
Simplifying Azure Data Factory Deployment!
Working with Azure Data Factory, you probably noticed that the deployment process is quite a "unique approach". Comparing it to an API or website deployment that generates ARM Templates, it raises the question "Why is it so different and difficult to deploy to ADF?". Well, it doesn't have to be…
By: Wesley Camargo
Live streaming: https://www.youtube.com/watch?v=eumJ5Gsc4Po
Agenda:
18:00 - 18:20 - Walk meet and greet
18:20 - 19:00 - Dinner
19:00 - 19:40 - Dev as Ops - Do you know Private Endpoints?
19:40 - 20:00 - Break
20:00 - 20:40 - Simplifying Azure Data Factory Deployment
20:40 - 21:00 - Networking & closure
About our speakers
Albert Tanure is a Microsoft MVP and has more than 19 years of experience in the IT field, with a development background and currently working as an Enterprise Architect at a company in the Netherlands. He is the creat0r of the YouTube channel Code FC..
Wesley Camargo is a Microsoft MVP in Developer Technologies with DevOps as a main area. Graduated from Instituto Federal de São Paulo with over 12 years of experience in projects in several countries, in areas such as Cloud, DevOps, Development, Infrastructure, Agile Process, and Team Leadership. His focus is on Azure Cloud and DevOps.
He is always willing to share knowledge with the community through lives, events, and blog posts, and has as the main goal to improve the DevOps process in companies, automating everything as possible to make everyone's life easier.
Word of thanks
Our thanks to our companies that support us in organizing this event: